A man who was adopted as a child from South Korea faces deportation after almost 40 years living in the United States.
According to NBC News, Adam Crapser, 41, is expected to be deported to South Korea after an immigration judge ruled against allowing him to remain in the United States.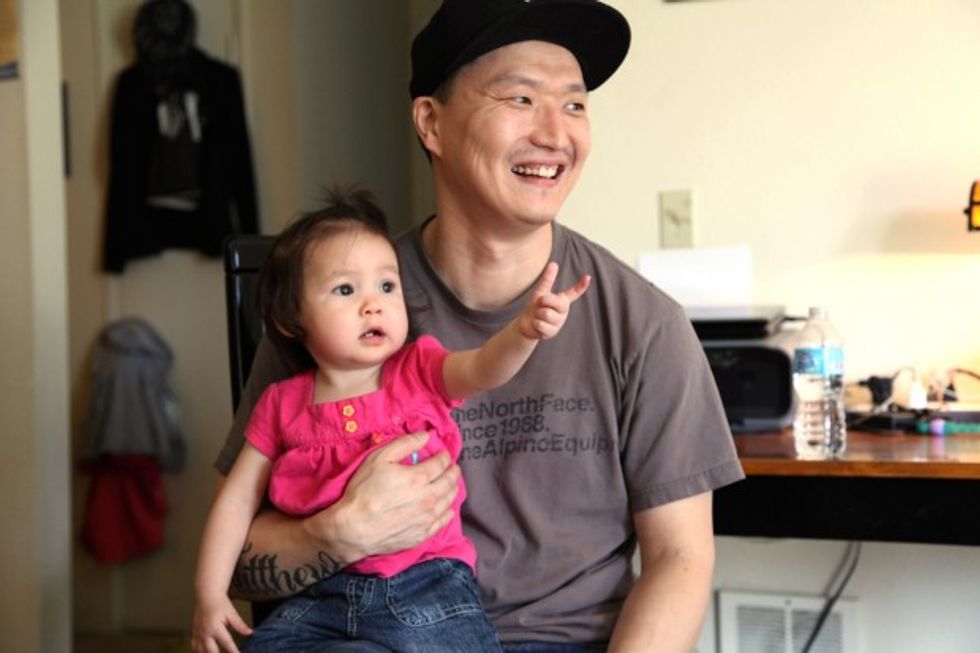 In this March 19, 2015, file photo, Korean adoptee Adam Crapser poses with daughter, Christal, 1, in the family's living room in Vancouver, Wash. Crapser, a South Korean man who was flown to the U.S. 37 years ago and adopted by an American couple at age 3 has been ordered deported back to a country that is completely alien to him, Wednesday, Oct. 26, 2016. (AP Photo/Gosia Wozniacka, file)
Crapser was adopted by American citizens at the age of 3 who did not apply for his naturalization. They later abandoned him.
After spending time in the foster care system, Crapser said he was placed with a family who abused him. Thomas and Dolly Crapser were later arrested on charges of child abuse and rape, according to the Associated Press.
As a teenager, Crasper reportedly broke into the couple's home to retrieve items that he said came with him from South Korea, including a Bible. He was convicted of burglary. The conviction was the first of several run-ins with the law.
Crasper told The Guardian in an interview that "most people don't understand that I didn't ask to come here."
He said he filed for a green card in 2012, but his criminal record was revealed during a background check.
"I got placed with some idiots, but I went on to live my life the best I could," he said, adding, "It obviously wasn't good enough."
Crapser will likely be deported within three weeks.
He said his first order of business will be to "try to find a place to stay and rent a room," which he says will be difficult since he doesn't speak the language. He is also concerned about finding a job.
"I have to see if there are English-speaking [jobs], or it's going to be really difficult," he said.
He said he hopes to spend time getting to know his biological family in South Korea, and his birth mother has been located.
"I think she is happy to see me," he said.