A new poll released Thursday confirms what many voters from both parties have suggested: Almost anyone would perform better against the other party's nominee than their party's current nominee. The poll, conducted by the Associated Press/GFK, shows Democratic nominee Hillary Clinton with a commanding 13 percent lead over Republican nominee Donald Trump.
However, the poll also asked likely voters about a hypothetical matchup between Clinton and Republican vice presidential nominee Gov. Mike Pence (Ind.), and in that pairing, Clinton leads by only four points. The survey likewise asked about a hypothetical matchup between Trump and Democratic vice presidential nominee Sen. Tim Kaine (Va.), and in that matchup, Kaine led Trump by an astounding 16 points.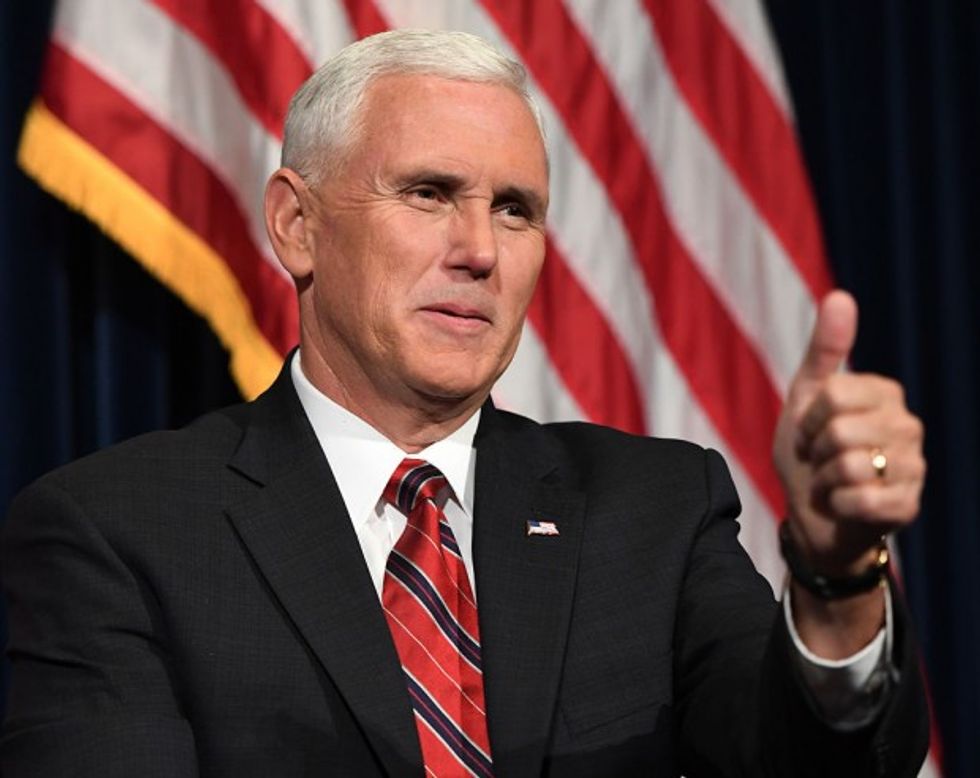 Indiana Republican Gov. Mike Pence (Mark Ralston/AFP/Getty Images)
This poll mirrors the findings of polling taken during the primary season, when Trump consistently polled worse against Clinton than his Republican primary challengers, including Texas Sen. Ted Cruz, Florida Sen. Marco Rubio and Ohio Gov. John Kasich. Likewise, Clinton consistently polled worse against all the potential GOP nominees than her Democratic primary opponent, Vermont Sen. Bernie Sanders.
Many party insiders on both sides of the aisle have lamented both privately and openly that the two parties' nominees are both the weakest and most unpopular nominees in recent history. This dynamic is likely part of the reason that polling shows third-party candidates receiving their highest level of support since independent candidate Ross Perot's run in 1992.
However, the poll shows that the main reason Hillary appears to be leading Trump is that Democratic and Democratic-leaning voters are more willing to hold their nose and vote for the Democratic nominee than their Republican counterparts:
The new poll found evidence that Trump's struggle stems from particularly weak support among Republican and Republican-leaning voters. Pence, who isn't as well-known on the national stage, is considered more attractive to many Republican loyalists who cannot stomach the prospect of a Trump candidacy.

"Pence is sane," said poll respondent William Goldstein, a 71-year-old from Long Island, New York, who voted for Mitt Romney four years ago. "He certainly would give me a reason not to vote for Hillary."

The poll reveals that Republicans generally like Pence better than Trump. Eight-one percent of Republican likely voters have a favorable view of Pence, while 68 percent say the same of Trump.
Clinton is viewed favorably by about 80 percent of Democrats, according to the poll.