After being charged in New Jersey with unlawful possession of a weapon, Philadelphia Eagles wide receiver Josh Huff said he carries a gun for his family's protection, as well as his own.
"I'm a professional athlete. What professional athlete don't have a gun?" Huff said Wednesday, Philly.com reported. "I have a wife and I have a son at home, and my job is to protect them at all costs. My job is to protect myself as well."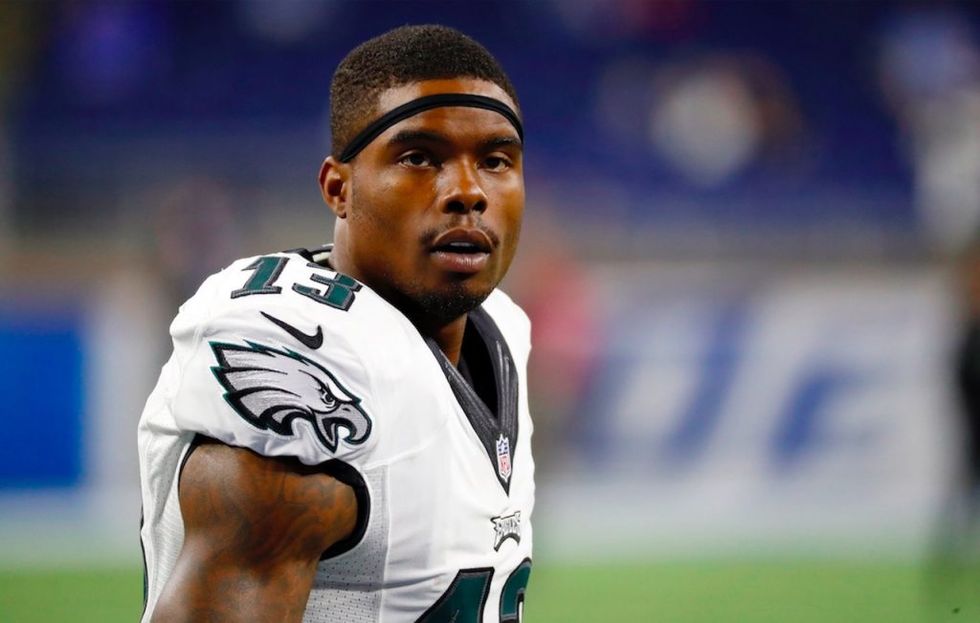 Philadelphia Eagles wide receiver Josh Huff (AP Photo/Paul Sancya, File)
Huff is licensed to carry his 9mm handgun is his home state of Texas, his lawyer Fortunato Perri Jr. said. But while Pennsylvania recognizes Huff's license, New Jersey's strict gun laws do not. Philly.com reported Huff said he's aware of those laws, but not aware enough.
Huff was stopped for speeding around 11 a.m. Tuesday on the Walt Whitman Bridge, which connects New Jersey with Philadelphia. Perri said Huff's gun wasn't loaded. He also faces charges for a magazine found with six hollow-point bullets and a disorderly persons offense for having less than 50 grams of marijuana.
Huff told Philly.com "there's always somebody out to get you" in his hometown of Houston. "I felt my life has been threatened, and that's why I have a gun and I have a license," he continued to the outlet, adding that he's lost friends to gun violence for being in the wrong place at the wrong time.
Asked why he was speeding across the bridge, Huff told Philly.com, "I'm getting on home to my wife, just like anyone would get home to their pregnant wife."
More from Philly.com:
Huff practiced Wednesday and will play Sunday against the New York Giants, coach Doug Pederson said. The Eagles are letting the legal process take its course. Huff apologized to owner Jeffrey Lurie, Pederson, and his teammates. He spoke with Pederson on Wednesday and was seen chatting with Lurie at practice.

Huff said he knows his actions have consequences, and he will accept whatever comes his way. That could include discipline from the NFL in addition to any punishment from New Jersey. The state has strict gun laws.

Huff was at the team facility Tuesday morning, but he indicated that the incident did not happen directly after leaving the facility. Huff said he did not have the gun at the facility.
"I'm not Gilbert Arenas, bro," Huff told Philly.com, referring to the former Washington Wizards player who once brandished a gun in the locker room. "I'm not going to bring a gun on the premises. I'm not going to bring a gun and put my teammates in jeopardy or anything. That's not me. It's solely for protection."
Pederson is a hunter and owns a gun, Philly.com said. But the coach told the outlet he doesn't "necessarily understand why [the players] need guns outside of maybe sport hunting or whatever."
"Is it something that I condone? Is it something that I would expect? No, it's not," Pederson told Philly.com, adding, "They need to know that the decisions and choices they make away from this building are going to affect them as a player, it's going to affect eventually the team, and I think eventually it's going to affect their future as a player in the NFL."