CHESTER COUNTY, Pa. — The Trump campaign is becoming more and more confident about its chances in Pennsylvania — a crucial battleground state that hasn't gone red since George H.W. Bush won it in 1988.
The public polls don't look good — Democratic presidential nominee Hillary Clinton leads in a head-to-head by 3.8 points on average, according to Real Clear Politics' data. And in a four-way matchup taking into account third-party candidates, she leads by an average of 3.4 points.
But Republican nominee Donald Trump's campaign staffers are seeing something in their internal polling that gives them hope for a win in the Keystone State — which with its 20 Electoral College votes is tied for the fifth-most valuable state by electors.
"It's a place where Donald Trump, especially of late in our internal polls — and the external polls are catching up to that now — is doing much better than Mitt Romney and John McCain did here," Trump campaign manager Kellyanne Conway told TheBlaze Thursday at a rare public appearance by Trump's wife, Melania Trump.
"Hillary Clinton is way beneath the margins that President [Barack] Obama realized in Pennsylvania both in 2008 and 2012," Conway added. "So we feel good about it."
If Trump were able to pull off an upset victory in Pennsylvania, it would alleviate some of the make-or-break pressure to rack up electoral votes from other swing states such as North Carolina or Florida.
And Clinton's campaign doesn't seem to think that the state, which has gone Democratic for the past six election cycles — or every one since Bush's 1988 election — is in the bag.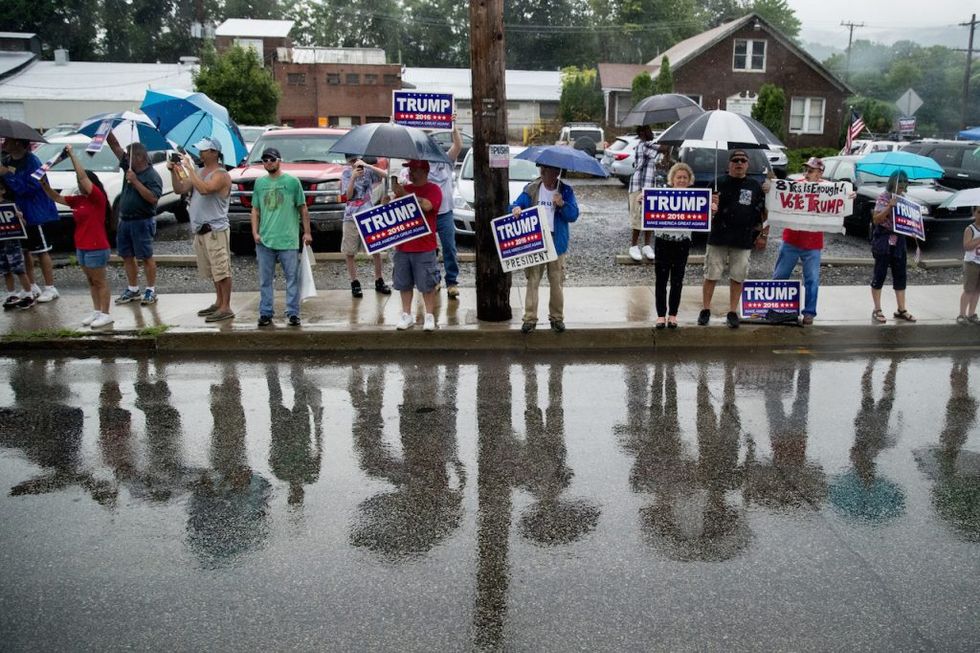 Trump supporters stand on the sidewalk as Democratic presidential candidate Hillary Clinton's campaign buses make their way to an event at Johnstown Wire Technologies in Johnstown, Pennsylvania., in July. (AP/Andrew Harnik)
Clinton's campaign will hold two big events in Philadelphia this weekend — a Stevie Wonder concert on Friday and a Katy Perry performance that Clinton is scheduled to appear at on Saturday. Clinton will also hold her final, Election Eve rally in the Democratic stronghold of Philadelphia on Monday — appearing with Obama and first lady Michelle Obama. And Vice President Joe Biden, a Pennsylvania native, will campaign for Clinton in the state's capital of Harrisburg and his hometown of Scranton on Sunday.
Those are some seriously big guns — not exactly the movements of a campaign that's confident in a victory in Pennsylvania when there are plenty of other swing states she could be focusing on.
The Trump campaign has also been deploying significant resources in the state, including sending Melania to Philadelphia suburb Berwyn for her first speech since the Republican National Convention in Cleveland in July. Trump's vice presidential pick, Indiana Gov. Mike Pence, has been spending much of his time in the state, with another event in Moon Township Thursday night.
Trump himself will appear at a rally Friday at 7 p.m. at the Giant Center in Hershey.
"We'll be back," Conway explained to TheBlaze, adding that the campaign is feeling confident about its chances here. "We're feeling great — it's why we keep on returning here and deploying our best assets here."
[graphiq id="fTGMDbJwc7j" title="Pennsylvania RCP Poll Average - Clinton vs. Trump vs. Johnson vs. Stein" width="600" height="555" url="https://w.graphiq.com/w/fTGMDbJwc7j" link="https://www.graphiq.com" link_text="Visualization by Graphiq" ]
And there's another, more practical factor at play — a strike by public transportation workers in the Philadelphia region that could impact voter turnout in the state.
According to NPR, members of the Transport Workers Union Local 234 and the Southeastern Pennsylvania Transportation Authority, known as SEPTA, have not been able to reach an agreement on a new contract.
As a result, more than 5,000 transit workers have gone on strike, which could impact some voters' ability to get to the polls to cast a vote.
The Philadelphia Inquirer reported that the number of voters impacted by the strike is not known. But the polls are only open from 7 a.m. to 8 p.m. — and a delay in workers' transit plans may have an actual impact on turnout. Still, most voters live within walking distance of their polling place, the Inquirer reported, so the number of impacted voters "is thought to be small."
Trump could potentially benefit from lower voter turnout especially in Philadelphia, where registered Democrats significantly outnumber registered Republicans, and public transit is a major form of transportation.
Former Gov. Ed Rendell (D-Pa.) told KYW-TV that he's concerned about the impact the strike could have on voter turnout.
"This will hold down the turnout in Philadelphia and the Philadelphia area," he said. "I guess that would be good for Donald Trump. Who knows? A strike like this usually gets settled. Now, usually. When I was governor, there were two SEPTA strikes and we settled them both within 12 hours of the union going out on strike.
"If it exists until next Tuesday, it's real problem," Rendell said. "And a real plus for Donald Trump."