LINDENHURST, N.Y. — It started simply enough — a single yard sign in support of Republican presidential nominee Donald Trump.
From there it grew to more signs, homemade decorations, fake graveyards and banners. It grew to catching the attention of neighbors and drawing in passersby who stopped to take photos and chat politics.
And on Saturday, it grew some more as it finally culminated into a rally and parade as hundreds of Long Islanders marched through Lindenhurst's streets for Trump.
It was four days before the election and neither Trump nor any of his surrogates were on hand at Duffy's Ale House Saturday, but that didn't stop the celebration. Country rock music blaring from the speakers of an elderly deejay, some of Trump's most ardent supporters meandered outside the bar, sipping beers and waving signs at cars barreling down the road.
Sean Murphy, a self-described "union guy," told TheBlaze that he began to put up Trump yard signs only a few months ago. And as his display grew, so did the efforts to get him to remove the signs along the highway, including calls into the police station.
"It started off very negative. We had a little fightback with the village, with the town," Murphy said. "We had a fightback with the police because Hillary fans were relentless. But the police are all Trump fans. We know that, but they have to be quiet about it."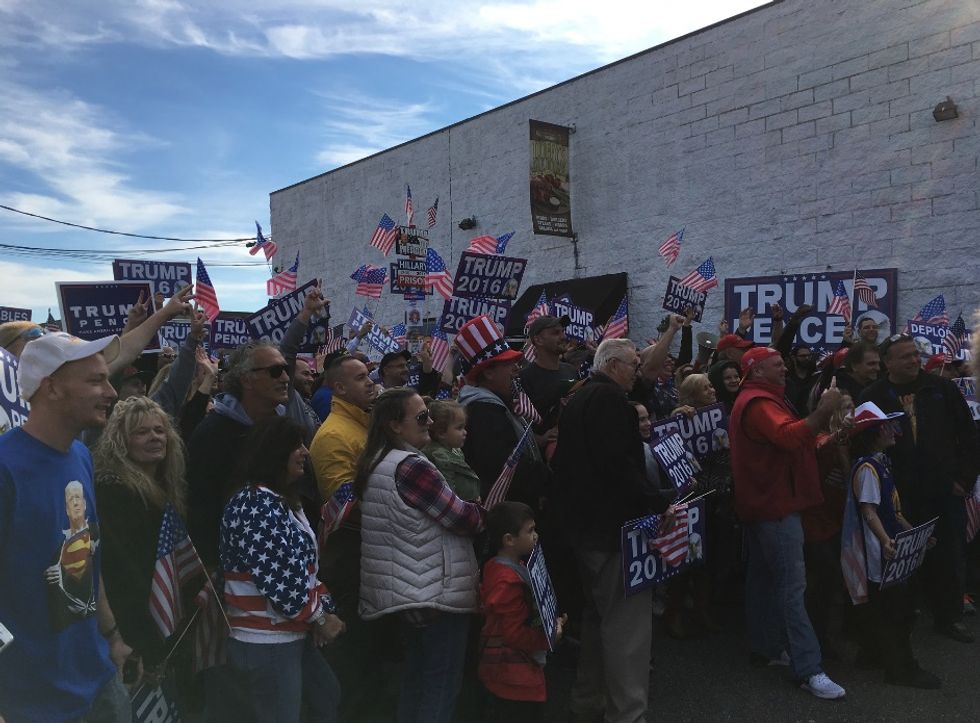 Kaitlyn Schallhorn/TheBlaze
But with the pushback, came the support, especially in the community, and thus a rally for the GOP nominee commenced the weekend before the election.
Murphy, along with Eileen Fuscaldo, organized Saturday's event which drew upwards of 250 people, according to law enforcement officials who were on hand to lead the parade and keep the peace.
"It's a movement. We're moving mountains," Murphy said. "I'm a Democrat. I'm a union person. Most of my coworkers here are union Democrat guys who are all voting Republican" this year.
Fuscaldo is also known for her pro-Trump display at her home in nearby Bellmore. The small woman provided much of the signage and displays that sat in front of Duffy's Ale House, including a graveyard that featured the 2nd Amendment and Benghazi victims on headstones.
In one weekend alone, Fuscaldo told TheBlaze she had 300 visitors come by her home. At night, as the family takes down the anti-Clinton displays, she plays songs such as "Proud to Be an American" and "Amazing Grace."
"People come out, and they can say what they want without fear," Fuscaldo said of the visitors who come to her house. "We don't just put the signs up for you to look at. We're there if you want to talk. I'll go outside, my husband goes outside every single day. We started it, and we're going to finish it. People need to talk."
Like Murphy, Fuscaldo isn't a lifelong Republican. In fact, she voted for President Barack Obama in 2008 and 2012.
"See Obama, when he spoke, I believed him," she said. "I heard him speak. He spoke well, and I believed him. After his first four years, I knew something was amiss, and I knew he was here for a different reason other than running America the way it should be run."
Trump parade in Long Island is underway pic.twitter.com/iyrYV3Yh2N

— Kaitlyn Schallhorn (@K_Schallhorn) November 5, 2016
With a few days to go before the election, Trump trails his Democratic opponent in most polls, but you wouldn't expect that at Saturday's events. Like Fuscaldo, many of the attendees shrugged off the polls as "misleading" or "peddled by [major Democratic donor] George Soros."
Saturday's celebration was every bit as much anti-Hillary Clinton as it was pro-Donald Trump. Chants of "lock her up" immediately followed the slightly off-key but still every bit as patriotic singing of the national anthem, almost as if the chant was an added verse to "The Star-Spangled Banner."
"Do you know how many people she has killed? Nearly 100, and you might be next," an unidentified Trump supporter told TheBlaze as the chant subsided.
Karen Piscopo of Lindenhurst said that she supports Trump mainly because of how much she distrusts Clinton.
"She will destroy this nation, and she will continue Obama's legacy, and I don't want that," she told TheBlaze in an interview prior to the parade's start. "I want my children to enjoy the life I had as a child. I felt safe in this country; I no longer feel safe."
Paraders were overwhelmingly greeted with a cacophony of car horns and shouts of "Trump!" along the route which stretched for more than one mile. Even those along the way who rolled their eyes at the sight were mostly good-natured.
"It's a good thing I didn't wear my Hillary shirt," one woman joked to her friend on the sidewalk of a residential neighborhood.
Jimmy Bautista, who owns and operates his own travel agency, peacefully stood outside his business as the parade passed — both of his thumbs pointed downward.
A legal immigrant from El Salvador, Bautista told TheBlaze he could not support Trump as he is a "nasty man."
"He thinks he is god of the world, but he is crazy," Bautista said. "He thinks he knows the law better than an attorney."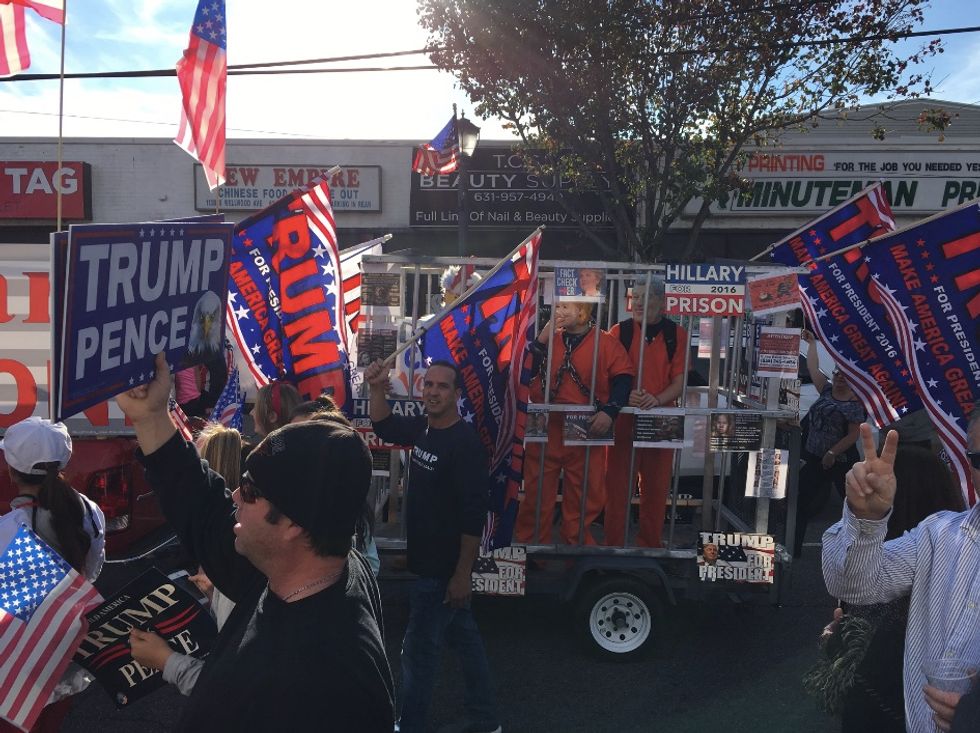 Kaitlyn Schallhorn/TheBlaze
But like many of those out and about in Lindenhurst, Bautista was neighborly about the event and his fatherly pride won out as he changed the conversation to boast about the successes of his children — one a teacher, one a lawyer, one a CPA — instead of Trump.
One woman, however, was an anomaly, as her anger with the Trump supporters boiled over. She threatened those who walked on the sidewalk outside of the Lindenhurst Motel along Montauk Highway.
"F**k Trump," the woman yelled as she peered over the fence of the motel. "Your crowd needs to go."
The woman initially agreed to speak to TheBlaze about her disdain for the Republican nominee but changed her mind as more parade-goers walked past.
"I don't care about Trump, but I'm about to spit on you, and that's my right," the woman told a veteran Trump supporter and this reporter. "I don't want to speak to no reporters or none of that. I don't care about any of this s**t. F**k Trump, I hope he loses and y'all can all suck my dick and die."
The woman's armed male companion also declined to speak to the press but heckled Trump supporters as they walked past the motel's fence.
More vitriol for the event spewed on social media as well:
Literally 2 minutes from my house. I've never been more disgusted https://t.co/9zMnTFK5Fj

— Phil (@Phil) 1478400852.0
i am so sad that i live here https://t.co/2XUHdCCYmQ

— Name (@Name) 1478468781.0
Trash, gtfo 🚮🚮🚮🚮🚮🚮🚮 https://t.co/Lps30jXfsh

— Diana Cat (@Diana Cat) 1478489230.0
Other Twitter users apparently had a plan for the parade, had they been in the vicinity:
So tempted to take off work and really run all of them over. https://t.co/6k2KdmelGG

— carolyn 🇬🇹 (@carolyn 🇬🇹) 1478446745.0
A village along the southern shore of Suffolk County, Lindenhurst boasts a population of just more than 27,000 — 92.1 percent of that white — according to the 2010 census.
Economically, those on Long Island need a "savior," an older white man, who asked not to be identified, told TheBlaze. Standing in the middle of a blocked-off street next to the bar, the Lindenhurst resident quickly downed the rest of his Bud Light, nestling the now-empty clear plastic cup with four others.
"I'm not sure I'm going to be the best person to talk to. I'm not as gung-ho about Trump as the rest of these nuts are. I'm a Democrat," he explained, "but we need someone to pay attention to us, to help us. It sure as hell isn't Hillary."
"I think Trump really could be our savior," he added, as the afternoon sun glistened off a white sports car, a blonde, buff Jesus atop a Pegasus dramatically painted onto its hood.
Duffy's Ale House, the site of the rally, was seized by the state in 2013 for non-payment of taxes.