It might have been the most painful bet he ever lost.
Zach Cobert of Rock Island, Iowa, supported Vermont Sen. Bernie Sanders for president, but now he's getting a tattoo of President-elect Donald Trump on his lower back.
Why? Because as Cobert might tell you, a bet is a bet.
That's right. Cobert promised a friend that he would get an imprint of the billionaire businessman turned politician if he won the election.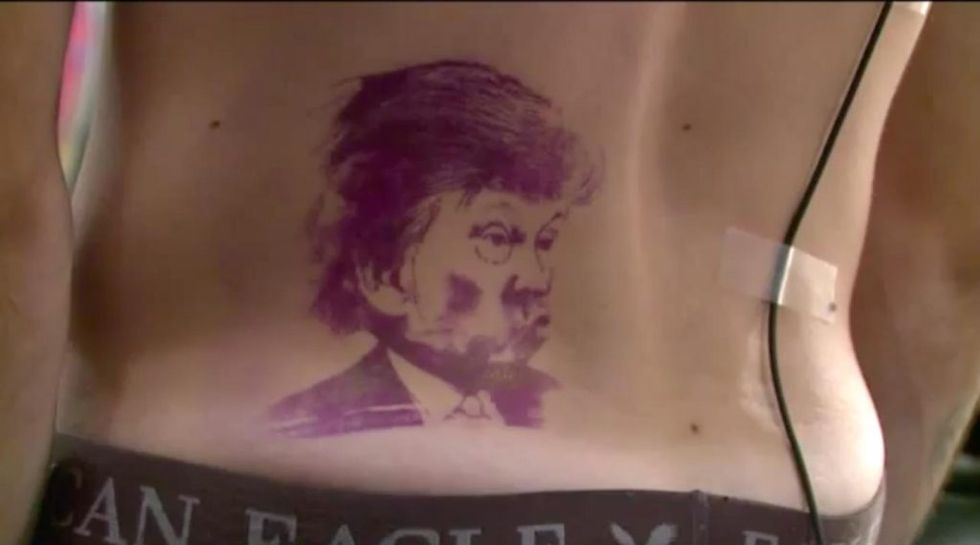 Image source: WQAD-TV
"I'm thinking about my life, how it went wrong, now I'm getting a Trump stamp," Cobert told WQAD-TV.
But not only did Cobert stay true to his end of the deal, he also live-streamed part of the process using Facebook Live.
"The stupidest thing I've done for views," Cobert said of the video, which attracted thousands of eyeballs. (Content warning: strong language)
Cobert and his girlfriend, Jenni Gang, were at the tattoo parlor for hours, but the body art still isn't finished. Cobert was told to come back at a later time for the rest of the ink, WQAD-TV reported.
So what does Gang think about her boyfriend's misfortune?
"I'm not happy with it, no," she said. "I have to look at it forever."
(H/T: The Hill)