More than half of Americans are more confident in President-elect Donald Trump than they were before the election, a new Gallup poll found.
According to the poll, 51 percent of Americans said they are more confident in Trump's ability to lead the country, while 40 percent are less confident.
Predictably, Trump and Democratic presidential nominee Hillary Clinton supporters differed in their confidence of the president-elect. Ninety-five percent of those who voted for Trump expressed confidence in the Manhattan businessman whereas 19 percent of Clinton voters could say the same.
In comparison, 75 percent of Clinton voters said they have less confidence and 2 percent of Trump supporters said the same.
But the increase in Americans more confident in Trump following the election is similar to an increase in confidence former Presidents Bill Clinton and George W. Bush experienced.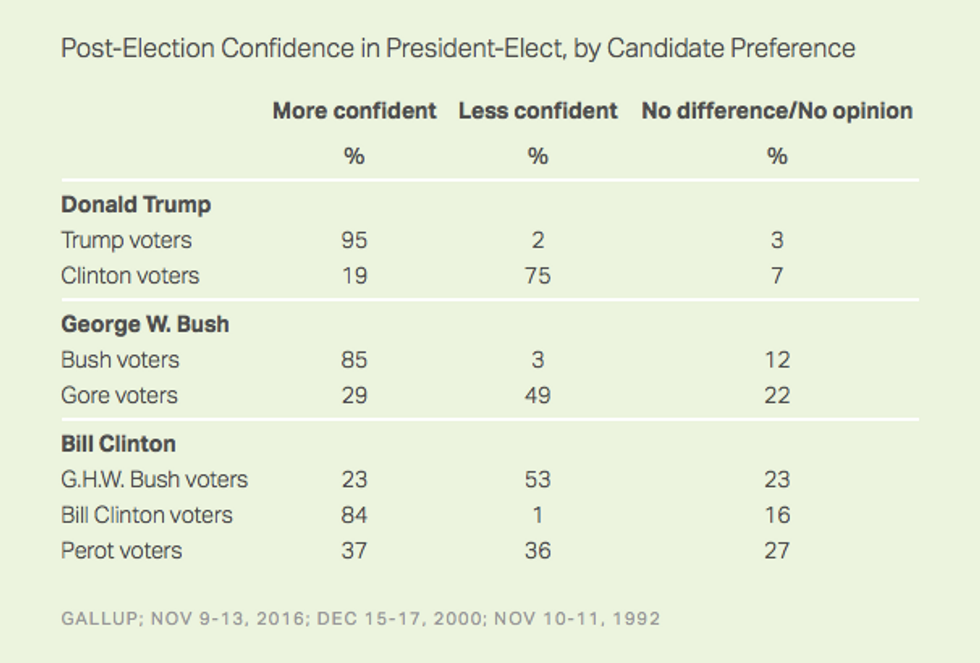 Image via Gallup
Notably, however, the percentage of Trump voters who said they are more confident in him is significantly higher than the percent of Bush or Clinton voters who said they were more confident in their respective candidates.
And the percentage of Hillary Clinton voters who said they are less confident is significantly higher than those of Bush's or Bill Clinton's opponents.
The poll surveyed 1,019 adults across the country by phone from Nov. 9-13.