A total of 12,029 Granite State residents chose to cast a write-in vote for president in the swing state's competitive presidential race, according to data provided by the New Hampshire secretary of state's office — and more than one-third of those voters were "feeling the Bern."
Former Democratic presidential candidate Vermont Sen. Bernie Sanders received 4,493 write-in votes in New Hampshire, approximately 37 percent of all write-in votes cast in the state.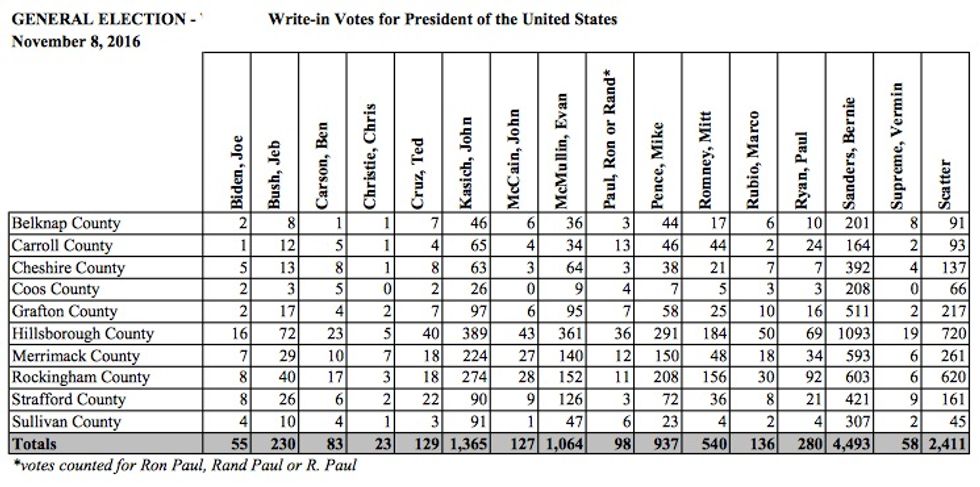 Image source: New Hampshire Secretary of State's office, sos.nh.gov
Former Republican presidential candidate Ohio Gov. John Kasich received the second-highest number of New Hampshire write-ins with 1,365. Independent presidential candidate Evan McMullin was third with 1,064.
Several other former Republican presidential candidates also received write-in votes, including former Florida Gov. Jeb Bush, Dr. Ben Carson, New Jersey Gov. Chris Christie, Florida Sen. Marco Rubio and Texas Sen. Ted Cruz.
The Republican Party's 2008 nominee, Arizona Sen. John McCain, received 127 write-in votes, and the 2012 GOP nominee, former Massachusetts Gov. Mitt Romney, received 540 votes. Romney's 2012 running mate, House Speaker Paul Ryan, received 280 votes.
And 937 New Hampshire voters opted for Mike Pence, the man who would become vice president-elect.
Vermin Supreme, who runs for president every four years while wearing a boot on top of his head and promising Americans free ponies, earned 58 votes, which put him ahead of Christie -- a fact he made sure to note on Twitter.
I beat Christie. https://t.co/7pOosK7jiQ https://t.co/Cp66WUzgXZ

— Vermin Supreme (TM) (@Vermin Supreme (TM)) 1479261533.0
New Hampshire's WMUR-TV reported that "the total number of 2016 presidential write-ins far exceeded the write-ins cast in 2012, when 2,573 votes were cast."
According to the New York Times, Democratic nominee Hillary Clinton won the state with 348,521 votes and received its four electoral votes. Trump trailed by a mere 2,732 votes at 345,789. He was followed by Libertarian candidate Gary Johnson with 30,827 votes and Green Party candidate Jill Stein with 6,416 votes.