Only one customer was inside Porfirio's II Pizza and Pasta with a pair of employees Tuesday night when the slow-moving evening at the Levittown, Pennsylvania, eatery suddenly picked up speed.
Two men wearing face masks, gloves and dark clothing with hoods up entered the restaurant brandishing handguns, Middletown Twp. Police Lt. Stephen Forman told WPVI-TV.
"Everything happened so fast," Porfirio's co-owner Alex Lara told the station. "Everything got crazy."
Police told WPVI the gunmen were yelling commands at the customer — and he indeed put his hands up and backed away. But apparently that wasn't enough for the intruders, who police said began pistol-whipping the customer.
The victim, however, wasn't about to play one anymore.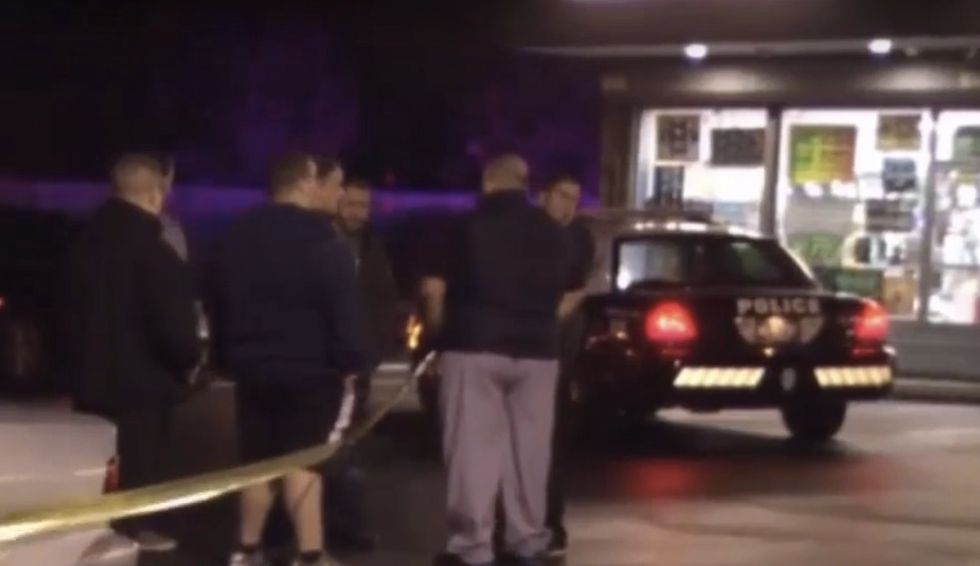 Image source: WPVI-TV
"When the armed suspect looked away for a moment, the customer pulled out a .45 caliber handgun from beneath his jacket," Bucks County District Attorney Matt Weintraub told WPVI. "He shot the man who had just pistol-whipped him once in the torso, killing him."
Then the customer took aim at the other intruder — who was pointing a gun at a clerk — and fired twice. The second suspect fell through the pizza shop's front door, officials told the station.
The killed intruder was identified as 24-year-old Shawn Rose, police said. His brother, 22-year-old Justin Rose, was listed in critical condition at a Philadelphia hospital, according to the station.
The customer refused medical treatment for head cuts and bruises, WPVI said.
"He was pistol-whipped," Forman told the station. "They were very aggressive. He was in imminent fear of his life and believed that was his only option to get out of there that night."
Philly.com reported that the customer's concealed carry permit was recently expired but no charges would be brought against the 35-year-old man.
"He is a lifelong, law-abiding citizen, and yes, you do get credit for that," Weintraub told WPVI. "A business owner who had the gun solely for his own protection, and thank God he did."
Security video captured the attempted robbery, pistol whipping and shooting, officials told the station. And as it turns out, police told WPVI the guns the brothers used are airsoft guns.
After the terrifying ordeal, the pizza shop's other owner has nothing but praise for the armed customer who saved the day.
"To me his is part of the family, now," Gilmer Porfirio told WPVI. "He's a hero."