As expected, President-elect Donald Trump met with former Massachusetts Gov. Mitt Romney and Reince Priebus tonight in New York. The location was a secret, but CNN reporter Jim Acosta happened to be dining at Jean Georges in New York City when the trio walked in. The enterprising Acosta pulled out his phone and promptly began to live tweet the details of the meeting that he could see in a furious string of tweets:
Acosta's tweets started circulating around Twitter like wildfire, and he had an unprecedented scoop, until someone on Trump's staff apparently noticed them, and this happened:
Well, now Trump knows the meeting isn't private anymore, but at least Acosta was the only member of the media present at an exclusive meeting. Of course, it wasn't long before word got out that three of the most recognizable people in the world were at the restaurant, and the AP was even able to arrive and snap a photo.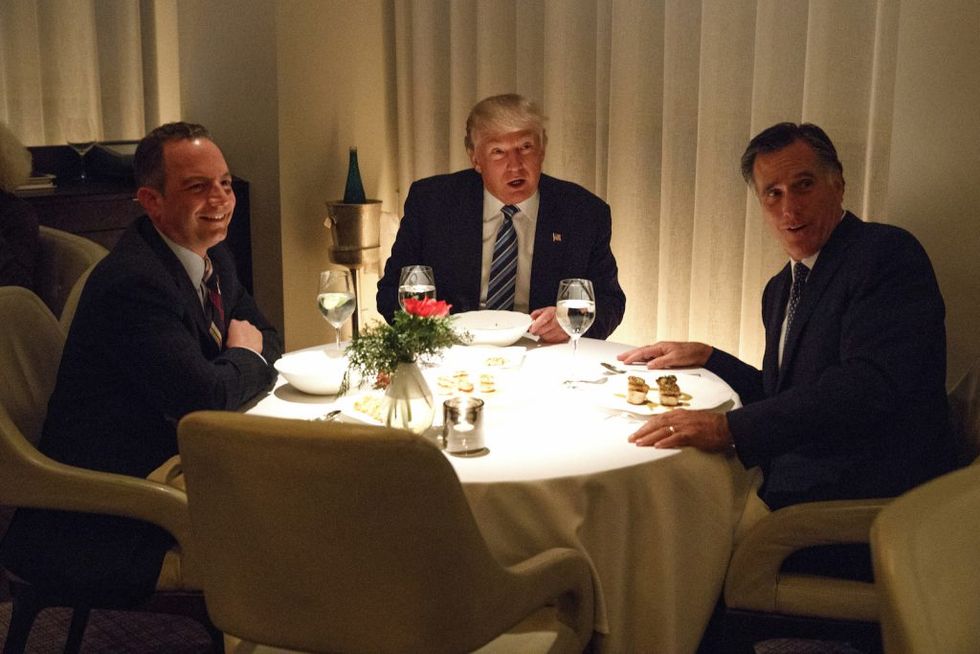 President-elect Donald Trump, center, eats dinner with former Republican presidential nominee Gov. Mitt Romney, right, and Trump Chief of Staff Reince Priebus at Jean-Georges restaurant, Tuesday, Nov. 29, 2016, in New York. (AP Photo/Evan Vucci)