American University students were asked on video who they view more favorably — finally dead Cuban dictator Fidel Castro or Republican President-elect Donald Trump.
Given the rabid praise some on the left have lavished upon Castro following the murderous despot's demise, the way your garden-variety college student is given to reply to such a question shouldn't be a surprise.
But it's still fun to stop, point and giggle, ain't it?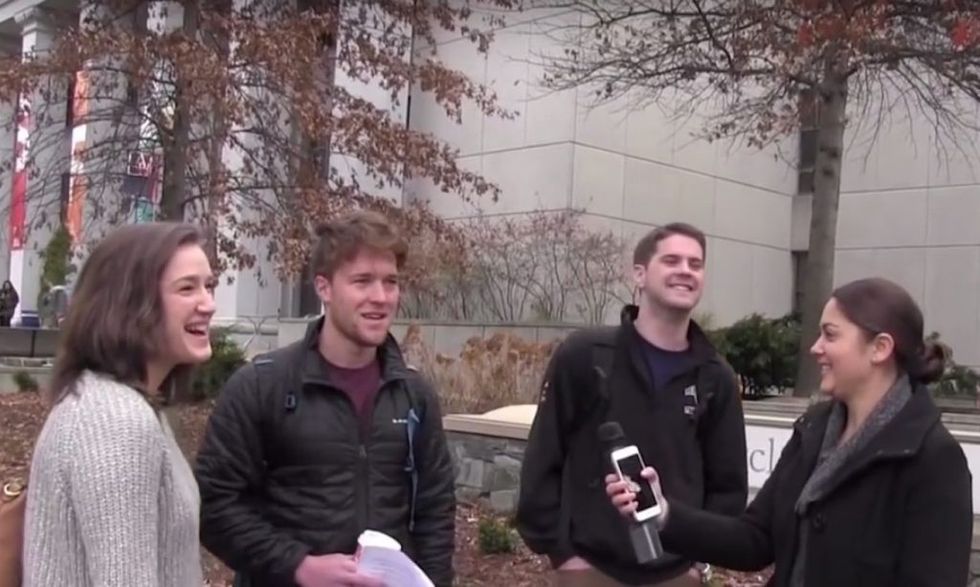 Image source: YouTube
OK, to be fair, a number of students acknowledged it was a difficult question to answer. Heck, one even admitted Castro was "really, really bad for the world" (but still wouldn't weigh in if Trump was better).
Then, the inevitable.
"Uh, I mean, right now I don't think Donald Trump is very good, and I know that Fidel Castro has done some good things for the world," one student finally conceded, "so I'd say he's proven himself, at least in the long term, to be more favorable in my opinion than Donald Trump."
"He was a remarkable leader in many ways," another student opined about Castro, adding amazingly that he "changed Cuba in so many ways that really made possibilities for the Cuban people nearly endless."
"I would say, like, at this very moment, I have, um, a better opinion of Fidel Castro," yet another student replied.
Another observed that if Trump's "administration is anything like he said it will be, then I think that Fidel Castro will absolutely have been a better leader to the Cuban people than Trump will be to the U.S., just based on his statements alone."
Check it out:
(H/T:
Campus Reform
)