San Francisco 49ers quarterback Colin Kaepernick was benched during Sunday's game with the Chicago Bears after he set a new NFL record — one he never hoped to achieve.
According to ESPN, Kaepernick was benched in favor of backup Blaine Gabbert at the beginning of the fourth quarter because through the first three quarters of the game, he had been sacked five times while throwing for a grand total of only four yards.
It was the first time in NFL history that a quarterback threw for fewer than five yards and was sacked five times in a single game.
Kaepernick only made a single completion through the first three quarters and ended with a QB rating of only 39.6 — dismal, to say the least. With the five sacks, at the time of Kaepernick's benching, the 49ers had negative 21 yards of net-passing, according to ESPN.
Still, the embattled quarterback said he was "surprised" when he was told by his coaches to head to the bench.
"It wasn't something I was expecting," Kaepernick said after the game, according to ESPN. "I am always prepared and ready to do everything I can to help this team win."
The game, which was played in Chicago at Solider Field, featured an NFL winter staple: the snow game. The inclement weather, Kaepernick said, partly played into his poor performance.
"More than anything, it's tougher throwing a wet football, but once again it's something that we have to be better at in being able to handle that," he said.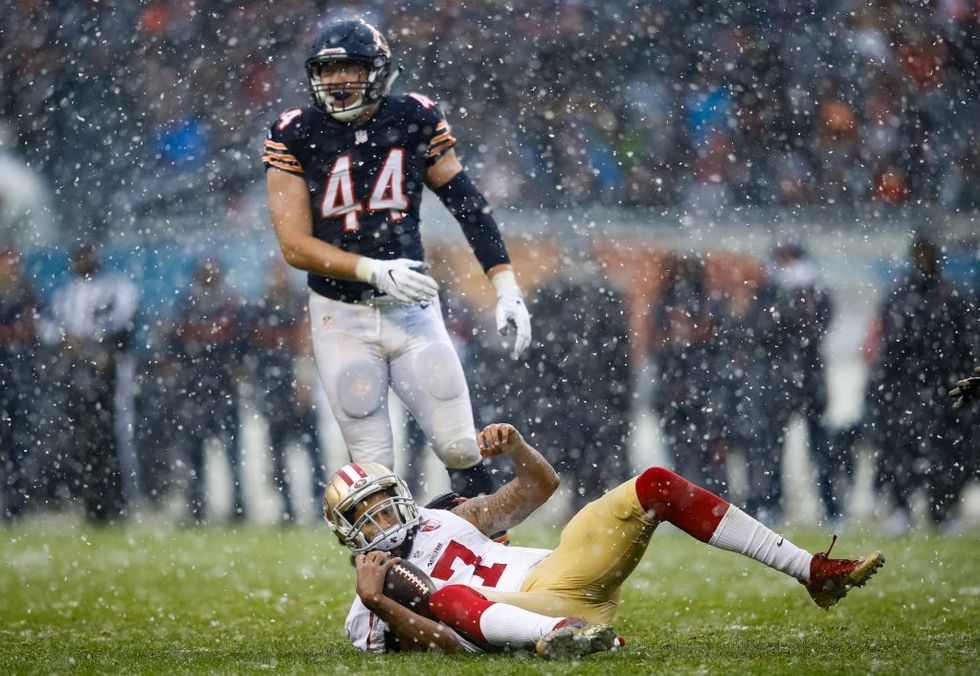 Quarterback Colin Kaepernick of the San Francisco 49ers lays in front of Nick Kwiatkoski of the Chicago Bears in the third quarter at Soldier Field in Chicago on Sunday. (Joe Robbins/Getty Images)
For what it's worth, Gabbert threw an 18-yard pass on his first play of the game, finishing the matchup with four completions of 10 attempts.
Kaepernick became a polarizing figure earlier this NFL season after he took a knee during the national anthem of a pre-season game in August, alleging a protest over American police brutality. It goes without saying that many have become anti-Kaepernick, and they took to Twitter Sunday to voice their affirmation with Kaepernick's benching:
I was excited to hear that Colin Kaepernick got benched. Now he can kneel during the whole game. America is applauding! #SF49ers

— George Thomas (@George Thomas) 1480936680.0
Colin Kaepernick is proving to be much better at kneeling than playing QB. He became first NFL QB in history to throw for fewer than 5 yards

— Bill Moody (@Bill Moody) 1480938687.0
@TimTebow @Kaepernick7 how about this idea benching Kaepernick and San Fran signs up Tim Tebow instead to lead the team??!!

— Brian_Big Dad GA (@Brian_Big Dad GA) 1480938547.0
Kaepernick made headlines again last month after he praised Cuban dictator Fidel Castro during a pre-game press conference after a Cuban-American Miami Herald sports writer questioned why Kaepernick wore a shirt adorned with Malcolm X and Castro.
The 49ers lost again Sunday, the 11th straight for the team — a franchise record.