Nathan Morton often heads to the clubhouse of his California apartment complex to get work done since his upstairs neighbors "agitate constantly."
But the calm he sought was interrupted by a pair of liberals offended by Morton's #BuildTheWall T-shirt. Morton posted a YouTube video Friday showing the resulting 10 minutes of tag-team harassment, threats and provocation he endured from the hovering pair as he sat calmly on a couch.
One of the harassers — a woman who spoke in a heavy accent and claimed she's Mexican — accused Morton of racism as she moved closer and closer, placing her cellphone inches away from his face and body.
A second subject — a bearded man — stared Morton down and constantly cursed him out, as if he wanted the object of his attacks to stand up and start a physical altercation.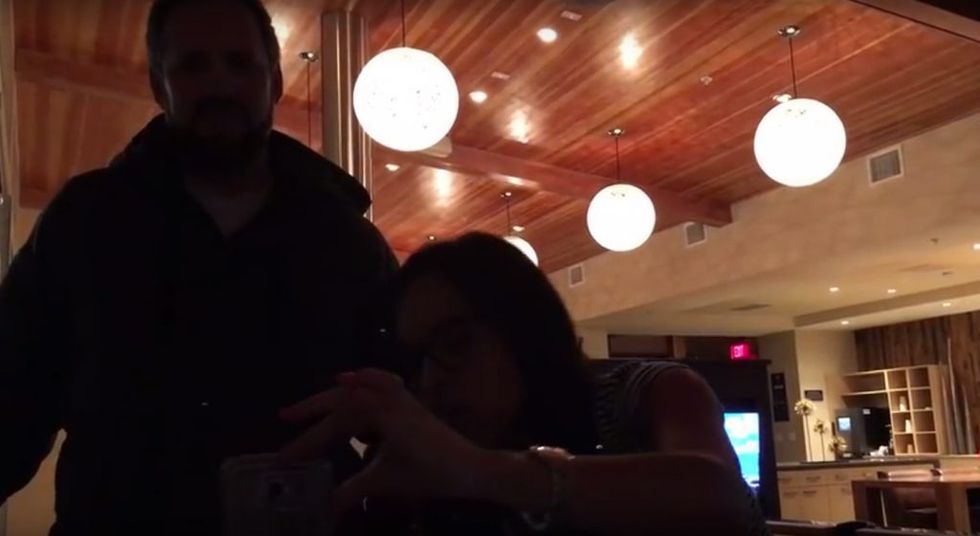 Image source: YouTube
"Don't wear s**t like that around here, dude," he said as he stood above Morton and called him a "f***ing d**khead."
The man also threatened Morton if he posted his video ("Put that on YouTube. I f***in' dare you.") and tried coercing him to leave the clubhouse ("F***in' go home. Get the f*** out of here, f***head.").
Somehow Morton manged to avoid responding in kind and instead calmly — almost languidly — repeated his request for the pair to leave him alone. But they refused, saying Morton invited their attacks because he was wearing a pro-Trump T-shirt.
Finally the bearded guy gave up and left, but the woman kept up her harassment, moving even closer to Morton and adding a sexual element to her attacks: "When's the last time he got laid?" she asked. Morton just started laughing.
Before being coaxed away by what appears to be her boyfriend, the woman told Morton: "I am more educated than you will ever be, and I will make more money than you will ever make."
Most comments remarked at how calm Morton remained in the face of the attacks. A Facebook commenter asked him if the video was staged, but Morton later replied, "Nope. They're really like that."
Here's the clip. (Content warning: Profanity):
(H/T:
The Daily Wire
)