The Obama family will head to Hawaii Friday for the holidays, the White House announced this afternoon.
This will be President Barack Obama's final Christmas vacation while in office before President-elect Donald Trump takes office in 2017.
Traditionally, a White House parody site, whitehouse.gov1.info, celebrates the holidays by parodying the president's trip and Photoshopping pictures as a joke — but this year that all changed. Some of those jokes led to "not-very-nice posts on Facebook and on conservative blogs," the site said, so they decided to put a stop to the tradition.
The problem of "fake news" has made the parody site more sensitive to putting information out there that could be taken as true, they said in a blog post.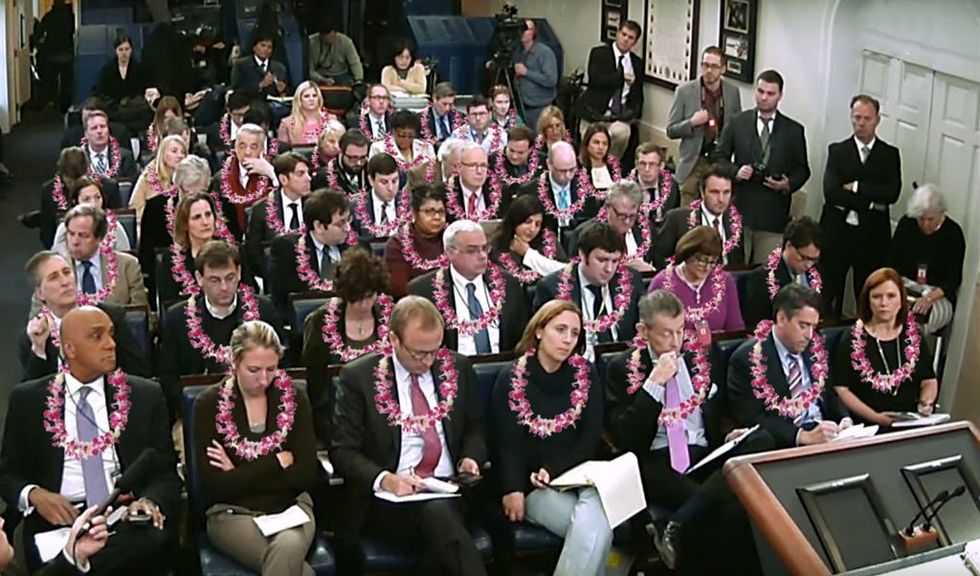 Photoshopped picture of the press pool (Whitehouse.gov)
From the White House parody site:
Over the past eight years, in a playful parody of the "openness and transparency of the Obama White House", this website has invited the American People to follow along on the President's annual Christmas Hawaii vacation. Just a bunch of ridiculous photoshops and some inside jokes. No harm, no foul.

At least that's what we believed. Except that looking back now, we do recall there were some not-very-nice posts on Facebook and on conservative blogs linking to this page as if it were factual. But we ignored those because there were other links from people who did seem to appreciate the intended humor of this website.

This year feels different. The fake news problem has taken the fun out of parody. So please don't link to this web page because it's fake. It's not The White House. And this year, we won't be "following along on the President's Hawaii vacation". We're pau. Auwe.
The Hawaiian phrase at the end of the post, "pau" means finished or done, and "auwe" is an expression used when something bad or sad has happened, meaning "oh no," or "I'm sorry, that's awful."
Air Force One will arrive at Joint Base Pearl Harbor-Hickam in Honolulu on Friday afternoon.