© 2023 Blaze Media LLC. All rights reserved.
God bless us, everyone' protests prompt second look at 'A Christmas Carol.' Then school dumps it.
"God bless us, everyone."
Even if you're not familiar with Charles Dickens' body of literary work, you know that iconic line from his classic "A Christmas Carol." Those familiar words are part of the cultural fabric the world over.
Well, it seems a couple of parents complained about those four little words in a Pennsylvania elementary school play that's been an annual event for the last four decades, WHTM-TV reported.
And wouldn't you know that got the district officials talking about the fifth-grade production at Centerville Elementary School.
Now it's been canceled, the station said.
Image source: WHTM-TV
"I was very surprised because it's been going on for decades, and it's a tradition at the school that everybody looks forward to," Jane Burkhart, who knows children at the school, told WHTM.
But while Hempfield School District officials admit complaints about "God bless us, everyone" led to a discussion about the play, they said the reason it was dumped is because preparation took up 20 hours of classroom time.
"It's not a part of the written curriculum of fifth grade, but students and teachers were required to participate in it, and we can't allow that to continue," Shannon Zimmerman, a district spokeswoman, told WHTM.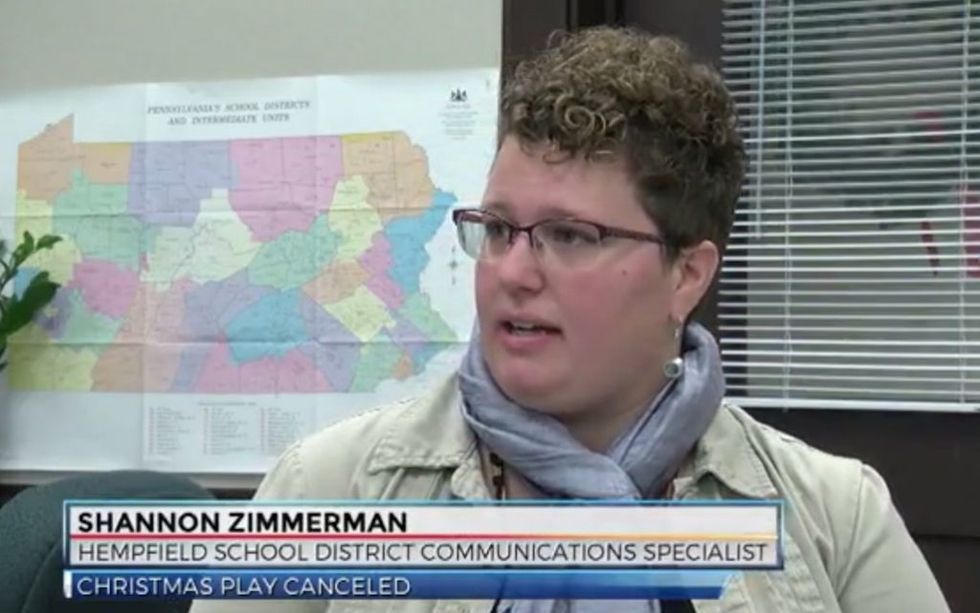 Image source: WHTM-TV
District leaders said parents are encouraged to pull together their own after-school version of "A Christmas Carol," the station reported.
Scrooge might be barking an extra "Bah, humbug!" right about now.
(H/T: Todd Starnes)
Want to leave a tip?
We answer to you. Help keep our content free of advertisers and big tech censorship by leaving a tip today.
Sr. Editor, News
Dave Urbanski is a senior editor for Blaze News.
DaveVUrbanski
more stories
Sign up for the Blaze newsletter
By signing up, you agree to our
Privacy Policy
and
Terms of Use
, and agree to receive content that may sometimes include advertisements. You may opt out at any time.