A Florida woman who is six months pregnant has found a creative, albeit immoral, way to make some extra cash this holiday season.
The Jacksonville woman posted an ad on Craigslist in which she explicitly said she does not care why or how the positive pregnancy tests are used, only that she is getting paid.
The ad can be seen below: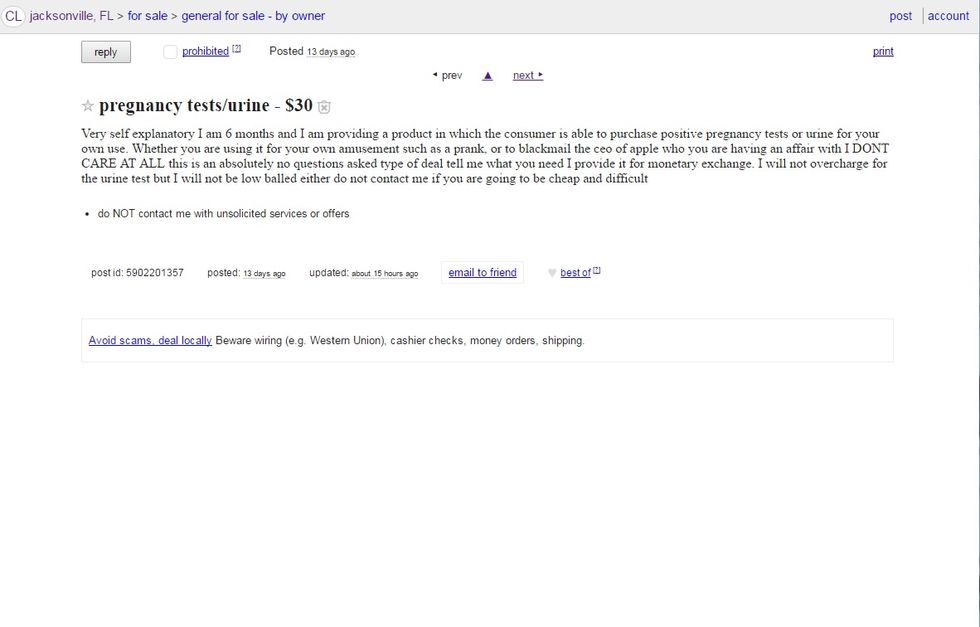 Image source: Craigslist
An employee at WJAX-TV in Jacksonville discovered the ad, and the television station decided to do some undercover investigation into the proposition, setting an intern up to meet with the woman and find out more.
The intern set up a meeting at a local pharmacy, where they purchased a pregnancy test and had the woman produce the positive test. After the transaction had been completed, the reporters revealed their true identities, and the woman agreed to an anonymous interview. She told the reporters, "I saw from other women and their experiences that it's very easy. Two hundred dollars in a day off, [for] something I have to do no matter what."
Although she explicitly states otherwise in her Craigslist ad, she added in the interview, "I don't see how you could trap a man."
"Me being in college working on a bachelor's and needing all this money to pay for a degree, this was a no-brainer," the woman added.
She also said many people contact her to purchase positive pregnancy tests, some even traveling from as far as Orlando, but she added that she makes it a point to never ask what the buyers do with the positive pregnancy tests.
WJAX-TV's "law and safety expert" Dale Carson disagreed. "Fraud is the first thing that comes to my mind," he stated. "This is the kind of thing that makes legislators go 'we need to pass a law that says you can't do this.'"