You might look forward to a Philadelphia trip to check out Independence Hall, the Liberty Bell and taste test which corner store serves up the best cheesesteak.
But what beverage will go with your meal? You might avoid the purchase of sweetened drinks, given the new city tax on them.
The tax isn't a percentage of the drink's purchase price — instead it's 1.5 cents per ounce, WPVI-TV reported. So, the fewer the ounces, the less extra cash out of your pocket. But if it's a big batch o' sweet liquid — even the artificially sweetened diet kind? Watch out.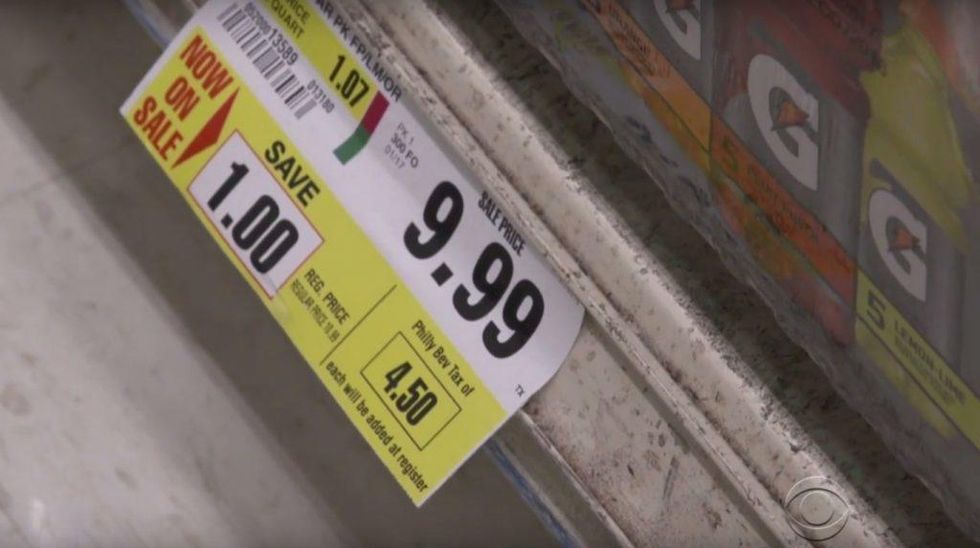 Image source: YouTube
Your standard 20-ounce soda that was $1.88 on New Year's Eve is now hiked up 30 cents to $2.18, the station said. Not fun, but not necessarily a deal breaker.
However, Chuck Andrews bought a gallon jug of iced tea that was going for $1.77 — but when he got home, the station said Andrews eyeballed the receipt and discovered it told a different story: The beverage tax added $1.92 to the cost of his iced tea.
"When I read the receipt I'm like, 'Wait a minute. I paid more in tax than I did for the product,'" Andrews told WPVI.
Check out how much extra change one customer paid for Propel water due to the tax:
Yeah, the purchase was voided.
The beverage tax revenue is aimed at helping to fund Mayor Jim Kenney's pre-K program, the station said. Total annual revenue from the tax is estimated at $91 million.
"I understand that the school systems need money," Elena Porsch told WPVI, "but there [are] other ways to go about it than to make such a drastic increase on soda."
Some stores post beverage prices on shelves without the beverage tax; others post the total of the two on the shelves, the station said.
A customer posted a photo of a 12-pack of diet green tea that used to cost $4.99 and now is $8.03, WPVI reported.
The mayor's office told the station the tax is "on the distribution of sweetened beverages from companies like Coca-Cola to dealers like supermarkets, and because it's not a sales tax ... distributors don't have to pass it on to customers."
Kenney, a Democrat who first proposed a 3-cents-per-ounce tax, got consensus with the city council to pass the measure last summer by "pegging it to antipoverty initiatives instead of sugar's harmful health effects," Philly.com reported.
Still, as you might expect, small businesses aren't happy, either.
"The businesses take a hit with profits, the customers take a hit with payment, and it's kind of a lose-lose in Philadelphia with this tax," Mike Maziarz of Franzones told WPVI.
(H/T: Conservative Tribune)