The controversial painting depicting police officers as pigs that hangs on a Capitol Hill wall has been the subject of a political tug-of-war this week.
The painting — by a recent high school graduate who won a congressional art competition sponsored by Rep. Lacy Clay. D-Mo. — was taken down by Republican lawmakers at least three times since last Friday. And Clay kept putting it back up, saying that it's a defense of the First Amendment and freedom of expression.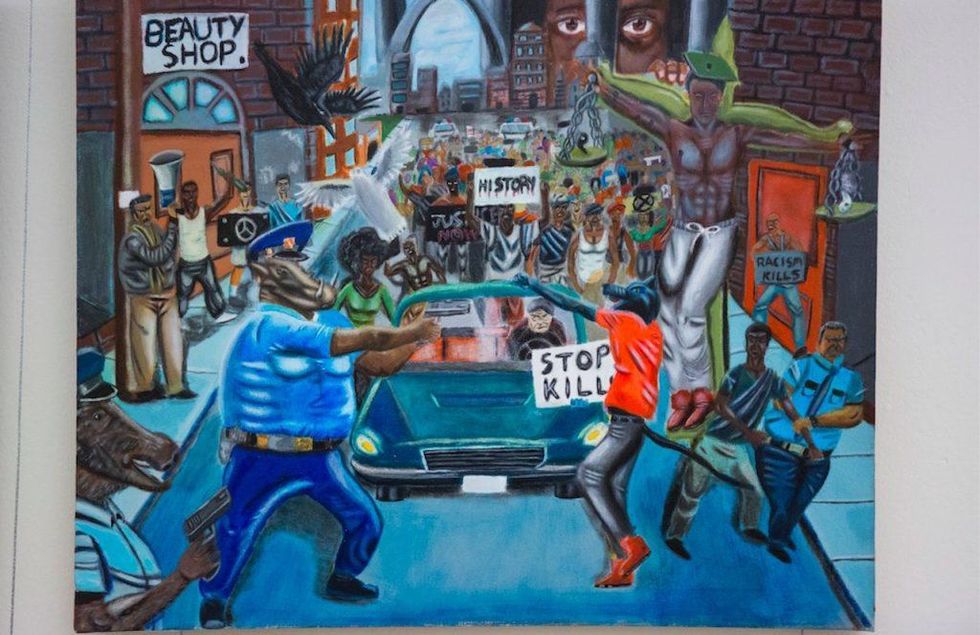 In this Jan. 5, 2017, photo, a painting by David Pulphus hangs in a hallway displaying paintings by high school students selected by their member of Congress on Capitol Hill in Washington. (AP/Zach Gibson)
Well, an apparent opponent of the painting has leveled a new strike — but it didn't involve taking down the painting at all.
A Thin Blue Line flag — a black-and-white image of the American flag with a blue line running across the middle, standing for law enforcement — was placed just above the cop-as-pigs painting, Fox News reported Friday.
If you can't beat them, join them? 'Thin Blue Line' flag placed above controversial cop painting on Capitol Hill https://t.co/8VeWztixBX

— FOX & friends (@FOX & friends) 1484308808.0
There's no telling what action, if any, supporters of the painting will take against the pro-police image that sits above it.
Things heated up last Friday after Republican Rep. Duncan Hunter of California unscrewed and took down the painting and delivered it to Gray's office. Shortly after Gray re-hung the painting Tuesday, another GOP lawmaker — Doug Lamborn of Colorado — removed it again.
"I could not, in good conscience, continue to walk by a painting that so flagrantly disrespected the brave police officers that protect us here in the Capitol and in our communities across the country," Lamborn said in a statement.
With that the chairman of the Congressional Black Caucus suggested things might have to get physical against those who continue removing the painting.
"We may just have to kick somebody's ass and stop them," Rep. Cedric Richmond (D-La.), chairman of the CBC, told Politico.
So, Gray again returned the painting to its spot Tuesday — only to have Rep. Dana Rohrabacher (R-Calif.) and Rep. Brian Babin (R-Tx.) take it down again and deliver it to Gray's office that same day.
More republicans in on the action. Rohrabacher and babin remove the painting. I was just going to get a coffee! https://t.co/CivaMHmNx7

— Jake Sherman (@Jake Sherman) 1484081744.0
"There are certain restrictions that apply," Rohrabacher said, according to the Huffington Post. "If someone wants to do this in a private gallery, they have every right with their freedom of speech. We support freedom of speech. But you don't put something attacking policemen, treating them like pigs, here in the Capitol."
And once again, Gray put the painting back up.
Clay told Politico that the painting removals demonstrate "lack of civility and decorum on the part of members of the majority party of this House."
(H/T: The Right Scoop)