© 2023 Blaze Media LLC. All rights reserved.
4th-grade teacher declares he won't show Trump inaugural speech to students — and reaction is swift
A Michigan teacher won't be showing his fourth-grade students the inauguration speech of Republican President-elect Donald Trump on Friday "given his past inflammatory and degrading comments about minorities, women and the disabled."
Brett Meteyer of Explorer Elementary School in Williamston sent an email to parents outlining his decision, noting that he will show Trump's inauguration — just not his remarks afterward. Meteyer added that he "showed the speeches of Presidents Obama and Bush in 2009 and 2005 respectively," but is "anxious" about what Trump might say, WLNS-TV reported.
A parent sent Meteyer's email to local conservative radio talk show host Steve Gruber, who has children in the same district, Williamston Public Schools, Watchdog.org reported.
"As the son of a fifth-grade teacher, it infuriates me when those in charge of our kids are trying to train them instead of teaching them," Gruber told the outlet. "I found the letter to be outrageous."
Gruber read the letter he said he received on-air and posted it to his Facebook page:
"Facebook immediately exploded," Gruber told Watchdog. "What kind of message does this send to kids? 'This president is a bad guy and kids should not watch him'? This is a piece of history, and the kids should be allowed to watch."
Gruber said he called Meteyer at his home on Tuesday to ask about his stance and that the teacher replied, "I don't need to justify what I did to you." Gruber said Meteyer also told him, "I feel good about what I've done," and that he stands by his letter.
The radio host also posted a letter he said Gruber wrote to parents just after Trump was elected in November:
Dear Parents,

No matter your opinion of our president-elect, I would like to share some thoughts that I expressed to the class this morning during a discussion of these current events. My goal was to comfort those who were worried about where this election leaves us. Several times I emphasized the point that our country has strong institutions that prevent a single person, no matter how mean or disrespectful his words are, from making sweeping changes that affect the way we live. Making your own choice about treating others with love and compassion, and doing and saying things that you know are kind and respectful is still the way we expect students to behave, despite this perhaps being a greater challenge with some of the role models children see in sports, entertainment, and yes, politics.

Working in a traditionally politically conservative community, I find that it is challenging to see diversity on the surface, necessitating a closer examination of and relationship with students to notice those particular characteristics that make them unique. While it's easy to stay right in town and conduct all one's business without leaving Williamston, I have come to know children who have friends of a more racially and ethnically diverse background, perhaps through church groups, sports teams, and scouts. Maybe your child knows someone whose skin is not the same color as his/her own, whose ancestors did not originally hail from Europe, or whose way of worshiping seems so very different. Such may be the case for your child, growing up in the shadow of the state capital and a major university with thousands of international students.

It was clear to me from the start of the day that a few of the children were deeply disturbed by yesterday's election, so I finished our morning talk by quoting Bob Marley's "Three Little Birds." "Don't worry about a thing 'cause every little thing gonna be alright."

Most Sincerely,

Brett Meteyer
Another Michigan teacher reviewed Meteyer's letter about Trump's inauguration speech and told Watchdog he was out of line.
"The letter has an obvious anti-Trump bias to it. That I have issue with," John Mulloy, a world history and economics teacher at Saginaw High School, wrote to the outlet. "Our job as teachers is to teach diversity of thought vs. what we believe in. I don't believe that I am in the business of teaching students my political bias."
Mulloy added to Watchdog that he would have gotten parental permission: "The reason why is that we are so polarized & people are so strongly either pro or anti-Trump. If his motivations for sending out the letter are true, then it is a sad state of affairs that we censor our own president."
Some parents at the school agree.
Natalie Pennington's son was in Meteyer's class last year and told WLNS he shouldn't be allowed to censor Trump's speech: "I think it's for parents to handle political things with their kids and being able to decide whether or not they watch it."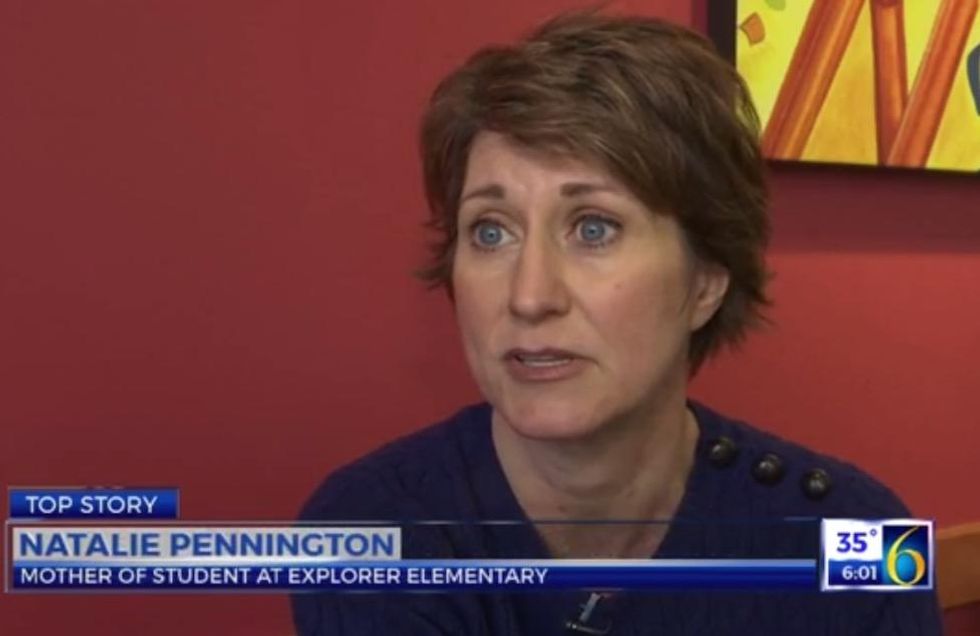 Image source: WLNS-TV
Erin Reynolds has a daughter in third grade and told the station that letting students watch Trump's speech can be a learning experience.
"It makes me sad that the kids would be shielded from that rather than giving them the opportunity to rise to the occasion and to tackle those things," she told WLNS. "Turning our back on our political process sends the wrong message."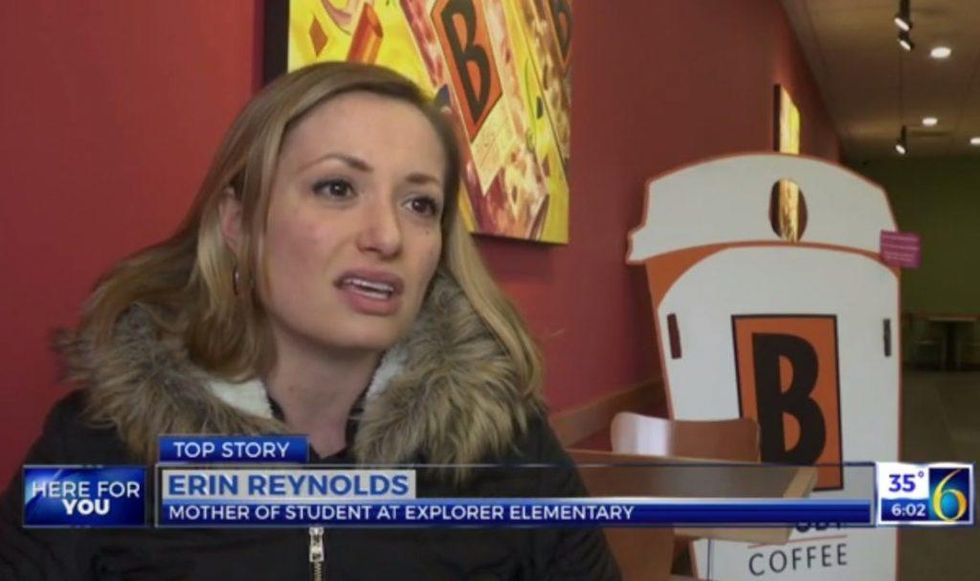 Image source: WLNS-TV
Despite Gruber's disagreement with Meteyer's decision, he wrote on Facebook Wednesday that the teacher shouldn't get in trouble for it.
"I think he should learn from this moment the same way the kids could. You see this is a teachable moment where he could talk about American history in real time but instead is choosing to teach the wrong lesson in my opinion," Gruber wrote. "I do not wish for him to be fired as some have suggested or even reprimanded in any way. I want him to understand there are many differing points of view and when he appears to choose sides it is anti-productive and not what I would call very American."
WLNS said the school district sent a letter to parents about the matter, noting that while it wouldn't specifically comment on the issue, the administration "expects teachers to represent a balanced perspective consistent with the curriculum and demonstrate good judgment in their communication with families."
(H/T: Truth Revolt)
Want to leave a tip?
We answer to you. Help keep our content free of advertisers and big tech censorship by leaving a tip today.
Sr. Editor, News
Dave Urbanski is a senior editor for Blaze News.
DaveVUrbanski
more stories
Sign up for the Blaze newsletter
By signing up, you agree to our
Privacy Policy
and
Terms of Use
, and agree to receive content that may sometimes include advertisements. You may opt out at any time.