It would seem that Richard Greenberg, creator of the parenting blog "Common Sense Dad," is a pretty big fan of former President Barack Obama.
In his Friday entry, Greenberg sounds pretty down about "saying farewell to President Obama" after eight years — and pays him some big props, calling him "one of the best parenting examples I could have ever wanted."
He then turns his attention to Obama's successor: "I, like many others am dealing with the inauguration of President Trump."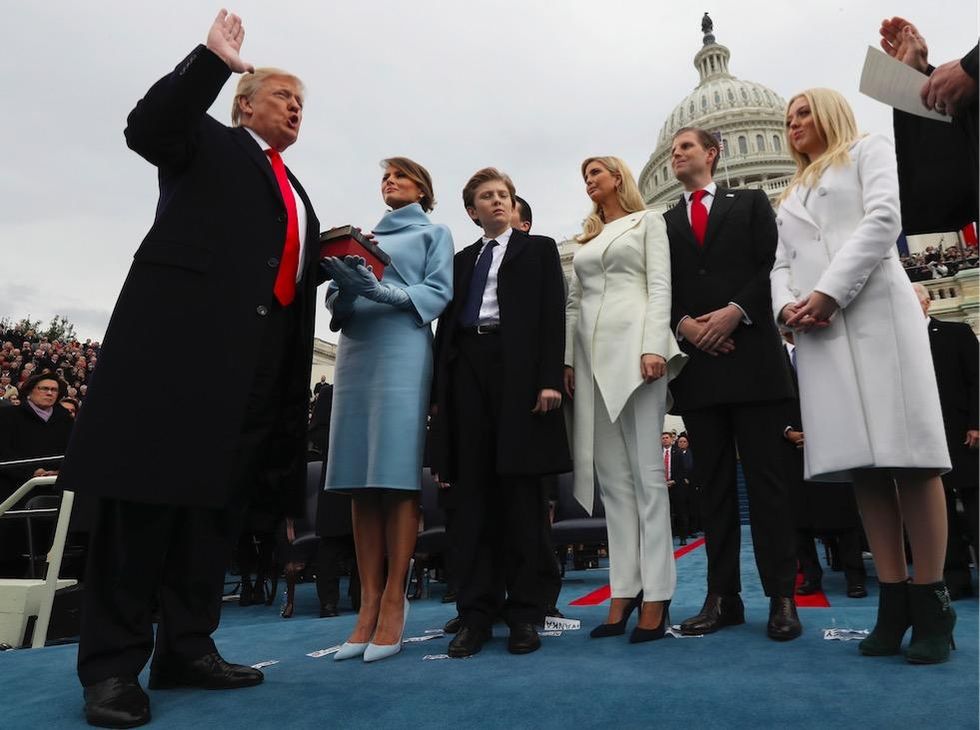 President Donald Trump takes the oath of office from Chief Justice John Roberts, as his wife Melania holds the Bible, and with his children Barron, Don, Ivanka, Eric and Tiffany on Capitol Hill on Friday. (Jim Bourg/Pool Photo via AP)
What might come next doesn't look too promising, although he appears to offer Trump the benefit of the doubt soon after — if not in a backhanded fashion.
"I am optimistic that the enormous responsibility the new President assumes will move his mind to important issues," Greenberg added, "and that he will consider the well-being of our nation in all the decisions he makes."
What he means by "move his mind to more important issues" is anybody's guess.
Amid these brand-new uncertain times, Greenberg devotes the remainder of his blog entry to answering the cries of "many parents ... asking what strategies might keep their children focused on kindness, inclusiveness, and generosity" no matter "how the the new President handles his position."
Is a plethora of positivity coming your way? Oh, yeah.
Greenberg then breaks down his "Post Inauguration Parenting: 8 Simple Tips." We'll offer the CliffsNotes version:
1. Make your home an island of sanity. The most memorable directive here is to "create a cocoon where [your kids] are accepted and loved for their compliance."
2. Teach your kids to leave a trail of people behind them who have only nice things to say. Greenberg notes that "we just came through the nastiest election in history, and if your kids don't learn to navigate the world from you, they're probably not gonna get it anywhere else."
3. Say this to your children a million times: YOU are the only person whose behavior you can control. What about after a million and one attempts?
4. Serve others, and ask your children to participate. Yeah.
5. Stay involved. An interesting suggestion here is to "be their teammate, not their boss."
6. Allow your kids to struggle and even fail. The famed maxim is included for emphasis: "If at first you don't succeed … try try again."
7. Say NO when you need to. Parents need help with this?
8. Make sure they have time to get bored. Among other things, he suggests telling kids, "'Go bang your head against the wall until you think of something to do.' Might be a good response to 'I'm bored.' It worked for my mother."
Greenberg ends the list by reminding readers that the tips apply "no matter who the President is… because, as you know, Parenting is not a democracy."
Let that last word sink in for a bit.