A black supporter of Republican President Donald Trump — who said people call him "Big Joe" — stood amid a throng of Women's March participants in Los Angeles on Saturday and gave them a tongue-lashing they likely won't forget.
It began with an interviewer asking Joe why he was there, and as he stood in the street with his bicycle, he said he was was just passing through and had "nothing to do" with the event — but said the marchers were misguided for not uniting behind Trump and giving him a chance.
At that point a woman approached Joe and argued that Trump wasn't elected: "You are on a bike, and you're oblivious!" she said to Joe.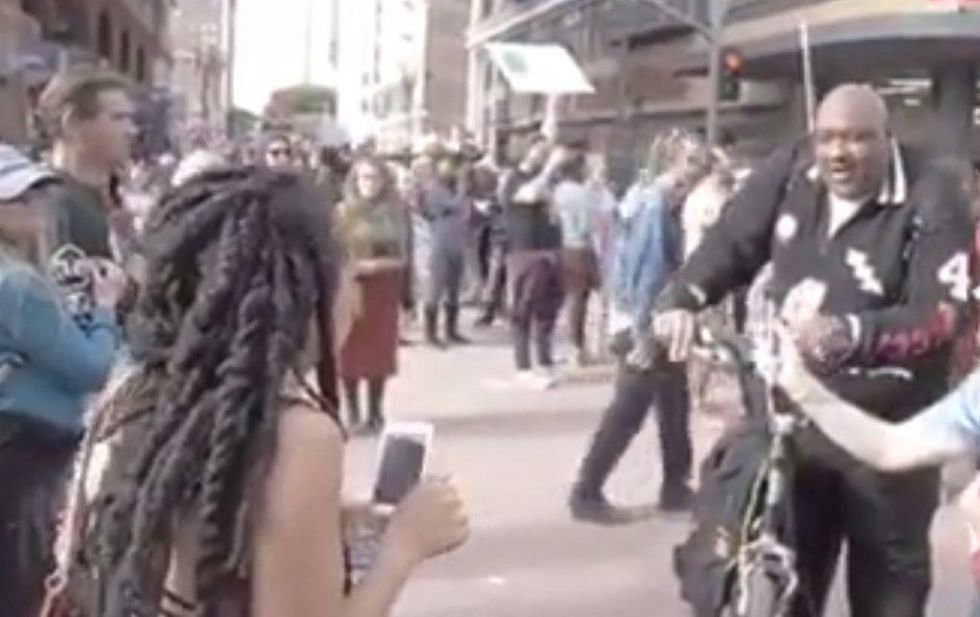 Image source: #BasedinLA video screen cap
Then the pair went at it as the camera rolled.
"Political correctness is a disease!" Joe told the woman, before bringing up Planned Parenthood and saying it's a "racist system." Joe added that the organization's founder, Margaret Sanger, "thought very little of black people. She thought they were ignorant and they shouldn't exist and reproduce."
As the crowd around him grew larger, the marchers grew much quieter in the face of what became Joe's passionate speech:
Everybody's afraid of you guys because if they stand up for Trump, they're deemed a racist ... and everybody's terrified ... because of political correctness and all this craziness! This is wrong! This is the United States of America! You say he's not your president, then you shouldn't be here! Leave! Many of the elitist Hollywood people that said they were going to leave, they didn't leave! They're protesting now! You don't like him, you don't want to be here, then leave!
Joe also warned that the marchers' actions are dividing the country and would "bring anarchy" and then "martial law," which he said would lead to their "biggest fear" — Trump as "dictator."
"People, wake up!" he yelled. "Be smart!"
Joe then told the marchers the reason so many were shocked that Trump won the election is because his supporters were "afraid to openly support him. But you know when they supported him? In the voting booth."
(Content warning: While Joe managed to keep his language clean, some march attendees just couldn't help themselves)
(H/T: BizPac Review)