Police have charged a Canadian man with assault after he was caught on video at the Edmonton, Alberta, Woman's March punching a camera held by a female conservative reporter who said the camera subsequently hit her in the face.
Jason Dion Bews, 34, is charged with assault and uttering threats, CTV News reported Tuesday.
Sheila Gunn Reid, Alberta bureau chief for Rebel Media, was covering the Saturday march and said she tried to interview Bews, who became indignant — and soon violent.
"Go away," Bews said to Reid, who was shooting video of Bews from her tripod-mounted camera. "Get out of my f***ing face. I will break your f***ing camera."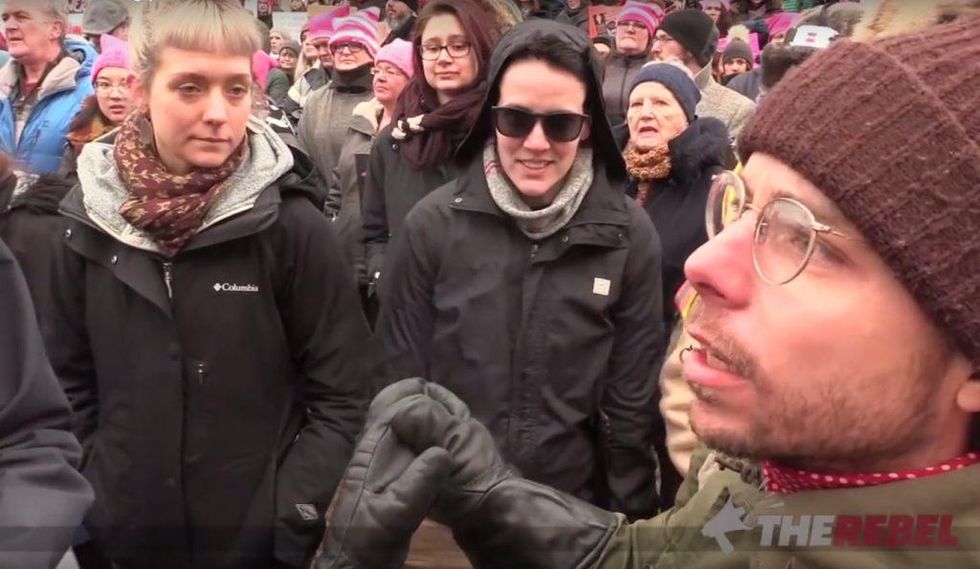 Image source: YouTube
Police said Bews struck Reid's camera, and the camera then hit Reid, CTV News reported.
A few women there attempted to calm things and apparently blocked Reid as Bews walked off through the crowd — and Reid was furious: "Hey, don't tell me to calm down! That guy just hit me in the face!"
One woman told Reid, "You deserve to be angry. You deserve to be angry. But I'm trying to make sure nothing else happens."
Here's the raw clip. (Content warning: Strong language and hipster muscle):
Reid in a later video report said that the "left-wing women there helped him get away," adding that "there was one woman there who said I was the problem. There was another man who said I provoked it all. There was another who said I incited it. One woman even blocked my camera with her sign so I couldn't film the little puke coward running way."
"Yeah, I'm the problem you victim-blamer!" Reid told those protecting the man in the raw video.
Ezra Levant, founder of the Rebel, told Metro News "there's something weird going on at a women's march when a man assaults a woman and the reaction of the assembled marchers is to assist him in scurrying away and to denounce the victim."
CTV News reported earlier that Bews spoke with the network on Monday and said he talked to police and that he wouldn't face charges.
CTV News added that Bews said he didn't hit Reid in the face, just her camera — and that he doesn't believe the camera hit Reid.
Bews added to the network that apologized via a tweet and said he'd replace the camera — and that he and his wife left their home due to threats via texts, phone calls and emails.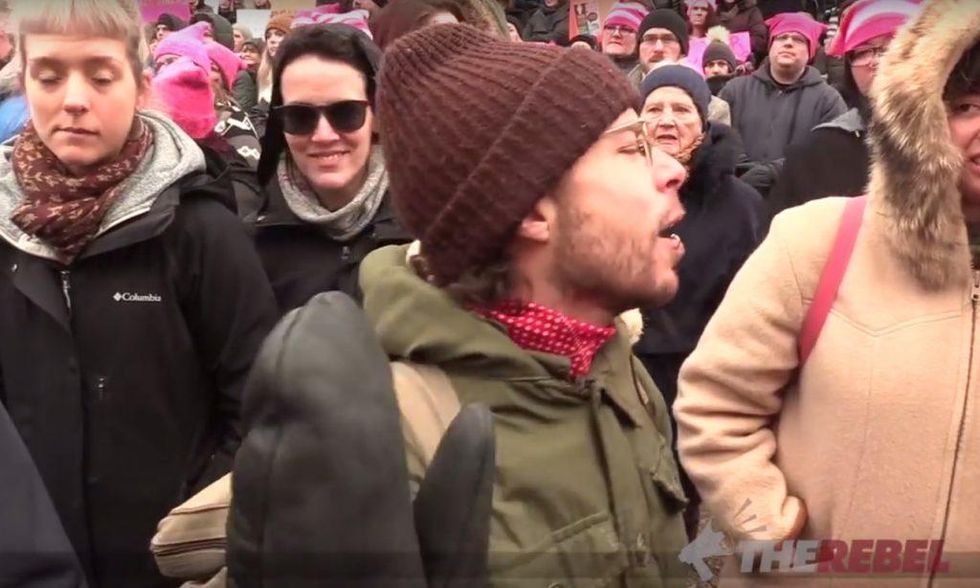 Image source: YouTube
Two people who said they saw the incident disputed Reid's claim and said she was never hit.
"He just hit the camera off the tripod … [he] didn't actually assault her in any way," a self-proclaimed witness who called herself Tiana said in a Facebook video.
"Had she been hit, there would have been a reaction," said the other self-proclaimed witness, who called himself Ezra.
Bews' violent behavior drew scorn from a couple of female Canadian columnists.
Danielle Paradis wrote that his "few short moments of ego" threw the work of the Women's March into jeopardy:
The fact is the behaviour Bews displayed on the tape isn't OK and you'd think a participant at a women's march would have the wherewithal to know why.

When the cause is women's rights that means you respect all women at the rally — whatever their reasons for attending, whatever their demeanour. If that's too difficult, maybe you don't belong there.

The sad irony is that it's often violence against women that causes trouble at progressive events. In the hundreds of Occupy camps, incidents of violence and sexual assault against women were well reported. Indeed, reports of men raping or groping women in the tents in New York's Zuccoitti Park was a part of the justification for shutting down the camps.
Candice Malcolm wrote that "modern feminism is no longer an inclusive movement to protect and improve the lives of all women."
New feminism has morphed into an anti-Western, anti-conservative ideology. It aims to undermine men—especially straight, white men—and fight against "the patriarchy," that is, the traditional institutions of society, like the family, marriage, religion and even the economy.
Malcolm added: "Some men — weak men like Dion Bews — use violence to intimidate and assert power over women."
And new feminism bizarrely enables this behaviour, ironically, even a rally for women's rights. Both at the rally, and later online, many on the left have rushed to defend Bews.

These leftist feminists have shown their true colours. They've demonstrated that feminism isn't about women, it's about politics – where a feminist man, even a violent one, comes ahead of a conservative woman.

This is the regressive left, the real source of violence and intolerance in our society.
TheBlaze's Mike Opelka interviewed Reid on the radio, and she said Bews is a "beta male" who on Tuesday "turned himself in out of complete and utter fear."
Here's the interview: