A New York state elementary school teacher gave students a flier urging readers to "shield our students and schools from President-elect Donald Trump" — and one angry parent found the flier in her son's backpack.
But the Schenectady City School District said it was an accident, the Daily Gazette reported.
A Paige Elementary School teacher gave the flier — which was placed in teacher mailboxes by a Schenectady Federation of Teachers rep — to five or six students last month, the paper said.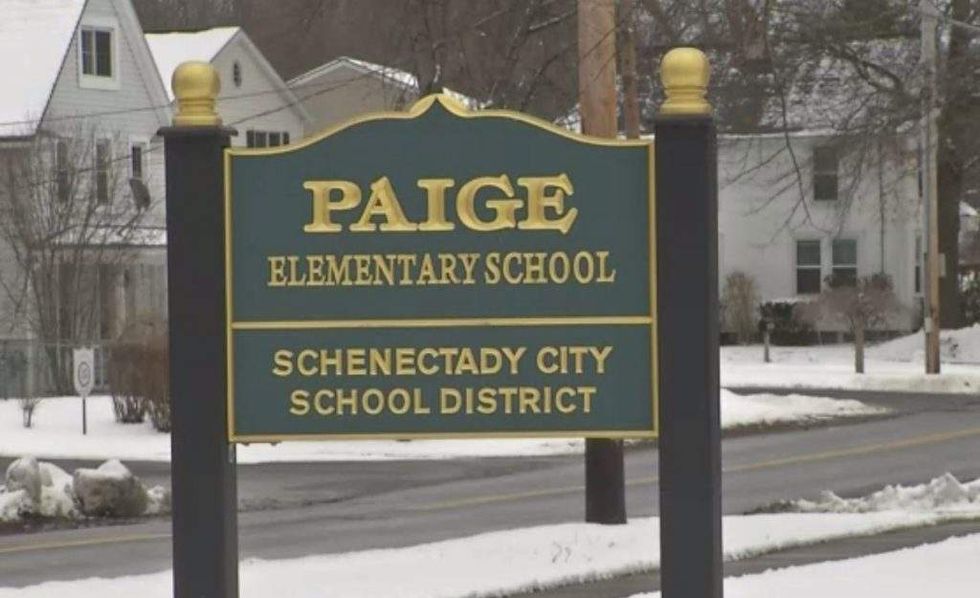 Image source: TWC News video screen cap
"She was handing the flier out thinking it was something that was supposed to go home with students," district spokeswoman Karen Corona told the Daily Gazette, adding that she suggested the teacher didn't know what the flier said.
Along with anti-Trump sentiment, the flier asks for opposition to Betsy DeVos, whom Trump nominated for education secretary, noting they "will attempt to destroy public schools" with policies "that will only serve to line the pockets of corporate profiteers at the expense of our students," the paper said.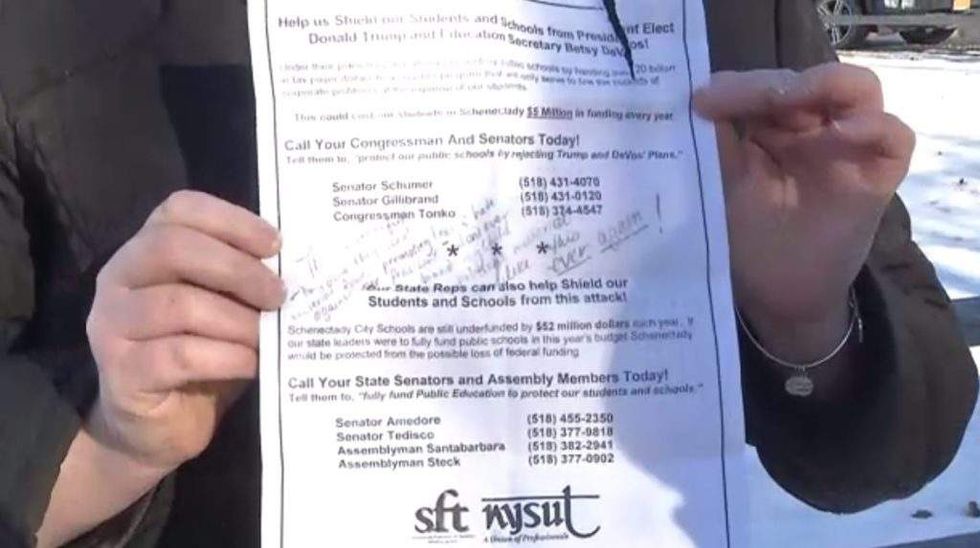 Image source: TWC News video screen cap
The flier was part of a Jan. 19 "day of action," the Gazette reported earlier, which explains why Trump is referred to as president-elect — although it mistakenly refers to DeVos as the education secretary when her nomination hasn't yet been confirmed. Teachers were supposed to distribute the fliers directly to parents as they picked up or dropped off their kids, the paper said, and perhaps talk to parents about it.
But Jolene Damian said she found the flier in her first-grade son's backpack and wasn't happy.
"I was shocked that there was material being handed to my kid that blatantly creates division between my son and his president – in his eyes," Damian, a Trump supporter, told the Gazette. "My 6-year-old just saw a big headline at the top that he needs to be shielded from his president."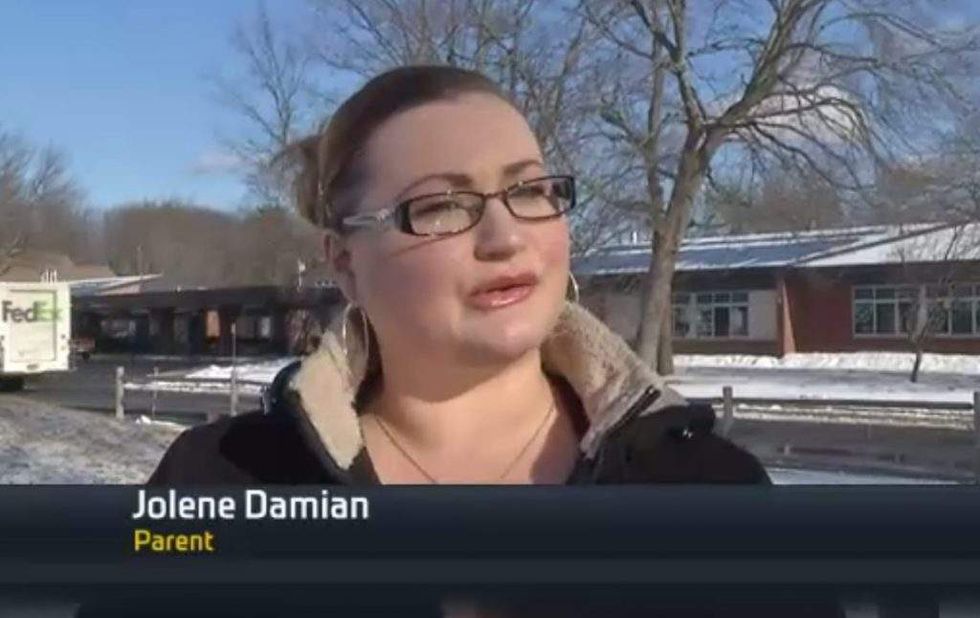 Image source: TWC News video screen cap
Damian posted a photo of the flier on Facebook along with her handwritten note: "This is shameful – how dare they send material home promoting fear & hate against our president. Don't ever hand my child political material like this ever again!"
Superintendent Larry Spring told the Gazette the flier shouldn't have ended up where it did.
"That can't get in backpacks," he told the paper. "We have to be really careful with those kinds of things. What we put in kids hands is essentially curriculum ... it can't be partisan."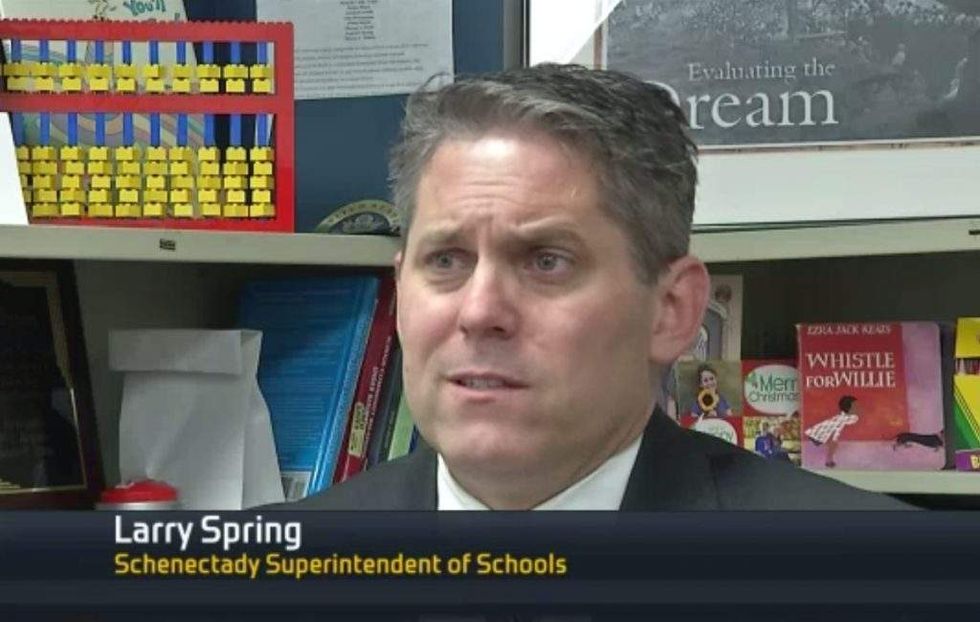 Image source: TWC News video screen cap
Corona told the Gazette the district didn't find other instances of the flier getting into students' hands, adding that the principal told staff that material for students in mailboxes must be pre-approved.
Damian on Thursday updated her original Facebook post, calling her son's teacher a "lovely woman" and noting that a union rep "was given these fliers several weeks ago and was instructed to give them to their teachers with clear instruction to hand them to parents at pick up and to open some discussion with those parents. When said Union rep failed to pass these fliers out in a timely manner she went to the school with them at the end of the day, at the very last second, and hurriedly passed these to these teachers with a quick instruction to pass them out to parents."
She added that her son's teacher "wasn't told that said material had not been approved by the administration ... and had no idea the rep failed to inform even the principal of this flier." Then Damian said the teacher "passed the 8-10 copies directly into the students mail boxes, where the children pick up their homework and artwork to bring home at the end of the day."
(H/T: EagNews)