The Harvard Computer Society created a matchmaking algorithm in honor of Valentine's Day — but the Ivy League tech whizzes apparently violated a social justice no-no in the process.
See, the app — called Datamatch — forced students to choose male or female for gender designations without offering options "for genderqueer or gender non-conforming students," the Harvard Crimson reported.
The paper added that the algorithm's website allowed students this year to elaborate on their gender identity in a text box but not until the selection of male or female was completed.
The school's Undergraduate Council was none too pleased, either, as 26 members of signed a letter rebuking Datamatch's narrow gender options, the Crimson reported.
As you might expect, the computer society's co-president was penitent.
"I, on behalf of the Harvard Computer Society and on Datamatch, take full responsibility for the exclusion that we have created on campus," Javier Cuan-Martinez said at the Undergraduate Council's general meeting on Sunday, the Crimson reported.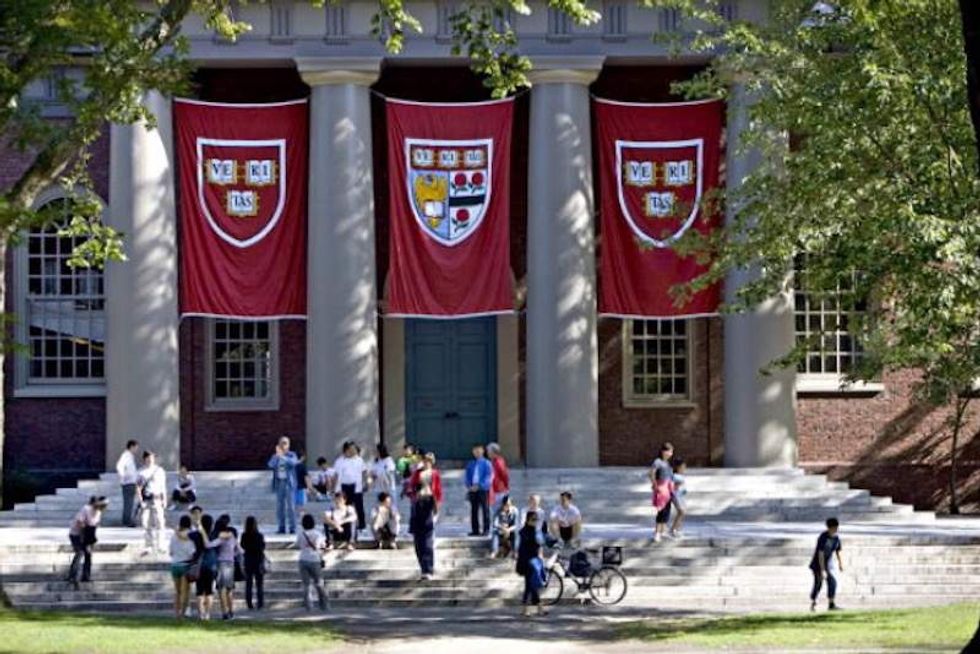 Harvard banners hang outside Memorial Church on the Harvard University campus in Cambridge, Massachusetts. (Michael Fein/Bloomberg via Getty Images)
The council's BGLTQ+ Caucus Chair Nicholas P. Whittaker offered a letter that indicated the algorithm is exclusionary, the paper added.
"I'm proposing an undersigned letter, a statement of support with the gender non-conforming and gender queer community after Datamatch implicitly excluded them from the experience," Whittaker said at the meeting, the Crimson reported. "The idea of it being romantic does not necessitate the idea that it be stuck upon strict gender bearings."
According to the paper, the letter also acknowledges that "the Datamatch team has put in a great deal of work to crafting this event, and we understand that there are technical difficulties which have, in part, led to this situation. However, we believe that the values of this College are important enough to merit full attention, and urge Datamatch to take the necessary steps to ensure that this never happens again."
Whittaker added to the Crimson on Tuesday that he intends "to push that next year Datamatch won't receive funding if they don't improve."
Nearly 5,000 Harvard undergrads signed in to Datamatch this year, the paper said.
A Harvard Computer Society member posted a Facebook update Sunday on the progress of changing the algorithm's gender selection issue, noting that one option can be immediately implemented — "no gender information will be displayed on user profiles."
Commenters offered additional perspectives, most of which were incredulous.
"You do realize there are only two genders, correct???" one commenter asked.
"I honestly can't believe that this is even real," another commenter added. "I'm not a closed-minded person, but this is just absurd. It's no wonder why so many young people are confused in this world today. Male/Female. If you don't like it, don't use the program."
(H/T: Heat Street)