A new Change.org petition calls for the end of "human black targets" at shooting ranges, citing the disproportionate number of black individuals who are shot by trained shooters than white people.
"Young black men are three times more likely to be shot by trained shooters than their white peers," the petition states, noting a "disturbing potential correlation" in that "the most popular target for shooters to learn to use their firearm is a black silhouette."
The petition cited a Dec. 20, 2016 CNN report, which points to a 2015 study by researchers at the University of Illinois at Urbana-Champaign. The study analyzed 42 other studies, and concluded that "relative to white targets, participants were quicker to shoot armed black targets, slower to not shoot unarmed Black targets and more likely to have a liberal shooting threshold for Black targets."
The Change.org petition called on the International Association of Law Enforcement Firearms Instructors to ditch the traditional black silhouette targets commonly used to train officers at police academies, among other "instruction environments."
"Unconscious bias can be deadly, and we need to fight the deadly epidemic of gun violence towards black people," the petition states. "Getting rid of black targets at shooting ranges and replacing them with variations of more diverse target designs, changing from the negative stimulus shown in the study above."
As for the petition's solution to the perceived problem? The group calls on artists from "diverse background" to create new targets "where there is more paint and less hate."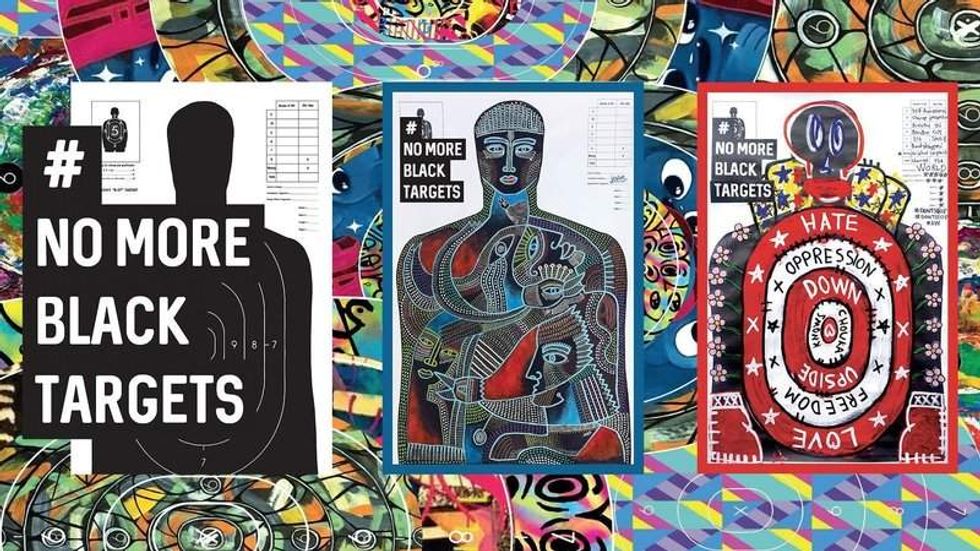 Image source: Change.org
So is it true that more black people are victims to gun violence than white people?
According to a July 2016 Washington Post report, the answer is complicated:
According to the most recent census data, there are nearly 160 million more white people in America than there are black people. White people make up roughly 62 percent of the U.S. population but only about 49 percent of those who are killed by police officers. African Americans, however, account for 24 percent of those fatally shot and killed by the police despite being just 13 percent of the U.S. population. As The Post noted in a new analysis published last week, that means black Americans are 2.5 times as likely as white Americans to be shot and killed by police officers.

U.S. police officers have shot and killed the exact same number of unarmed white people as they have unarmed black people: 50 each. But because the white population is approximately five times larger than the black population, that means unarmed black Americans were five times as likely as unarmed white Americans to be shot and killed by a police officer.
Nevertheless, the Change.org petition is intent on getting rid of black silhouette targets at shooting ranges.
The group behind the petition, No More Black Targets, which describes itself as "an advocacy campaign to raise awareness of the danger of unconscious bias and how it may be perpetuating gun violence against young black males," showcases a variety of artwork on its website and encourages supporters to create their own colorful expressions to potentially replace the black silhouettes.
The Change.org petition had just 220 signees as of Sunday afternoon. The group states on the website that it intends to deliver the names to International Association of Law Enforcement Firearms Instructors.
The IALEFI did not immediately respond Sunday to a request for comment from TheBlaze asking if it plans to yield to the online protesters' demands.
(H/T: Guns.com)