Amid the "Not My Presidents Day" protests in Portland, Oregon, against Republican President Donald Trump, police arrested seven adults and cited six juveniles, the Oregonian reported.
The offenders on Monday ranged in age from a 66-year-old woman to a 14-year-old boy, the paper said.
A senior citizen tried stopping another protester's arrest, Sgt. Pete Simpson told the Oregonian — and her face got bloodied after she apparently rolled on the ground with a cop.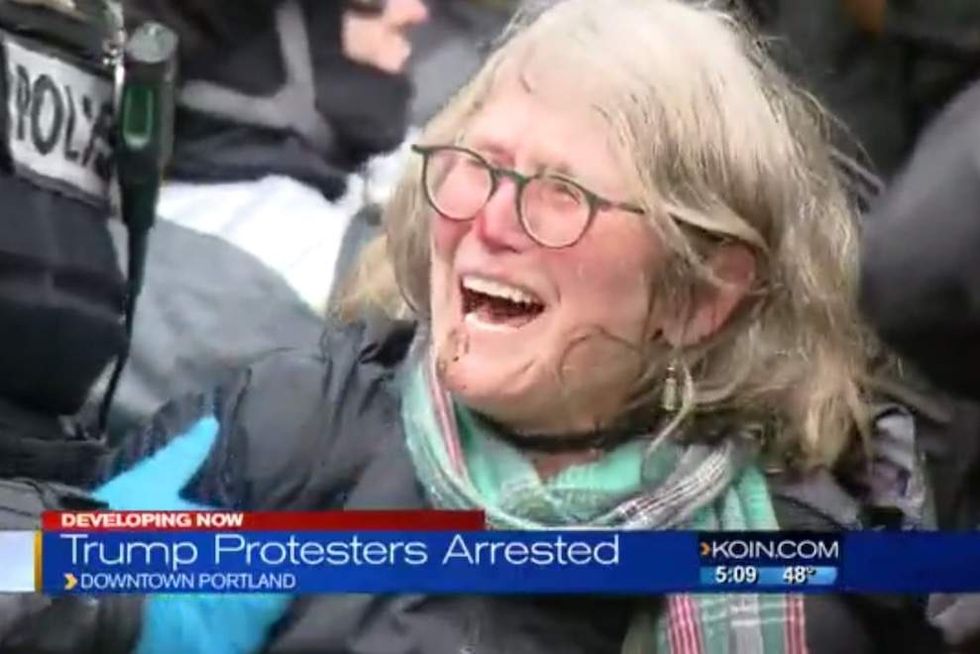 Image source: KOIN-TV video screen cap
"She interjected herself in that process and tried to assist the person, to unarrest them, if you will," he told the paper.
Police used used "limited deployment" of pepper spray and non-lethal shots during the protests, the Oregonian said — and the latter was on full display during one jaw-dropping confrontation.
A female protester aggressively approached a row of officers in riot gear on a sidewalk, got right up in their faces and issued them a double middle finger.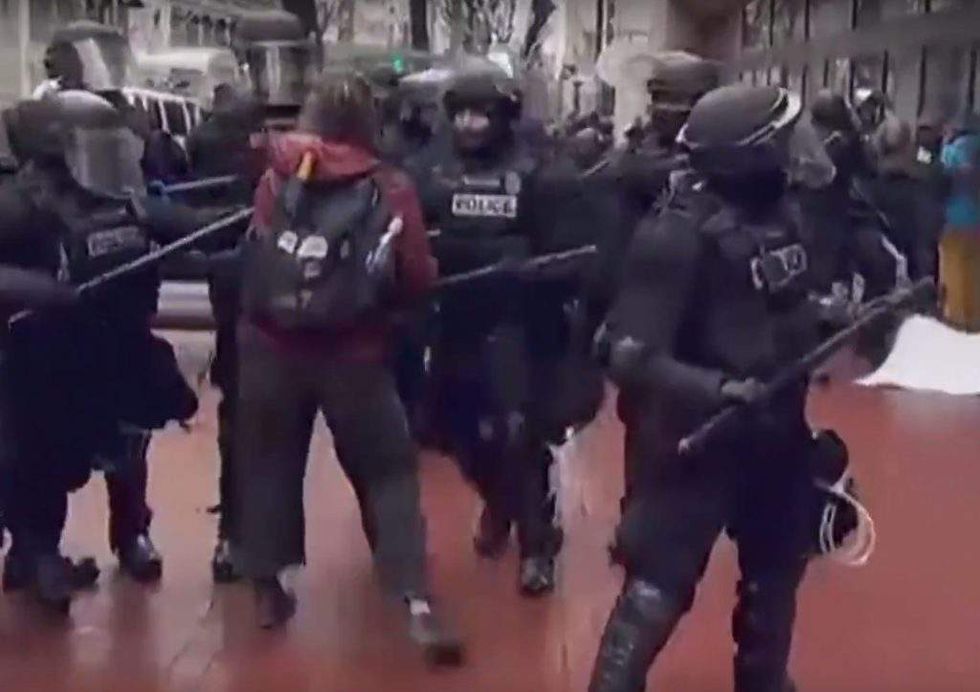 Image source: YouTube screen cap
Cops weren't having it, so they pushed the woman backward, and she tumbled to the ground.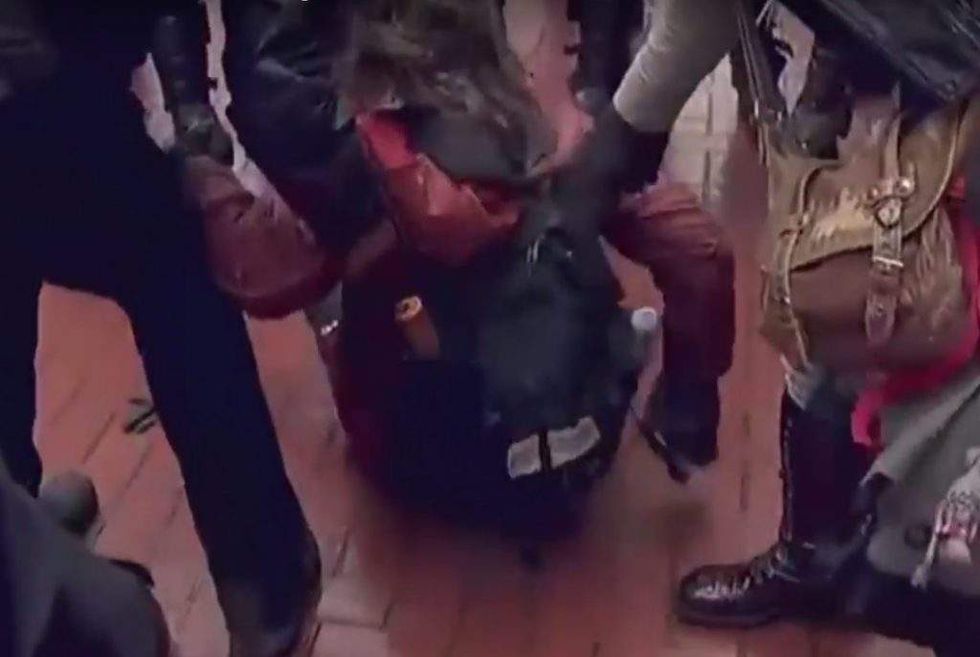 Image source: YouTube screen cap
Fellow protesters helped her up, and she got right back in their faces and raised her middle fingers at the officers again — but instead of an encore of pushing her to the ground, an officer fired a pair of rubber bullets into her torso at close range, the Oregonian reported, citing video shot at the scene.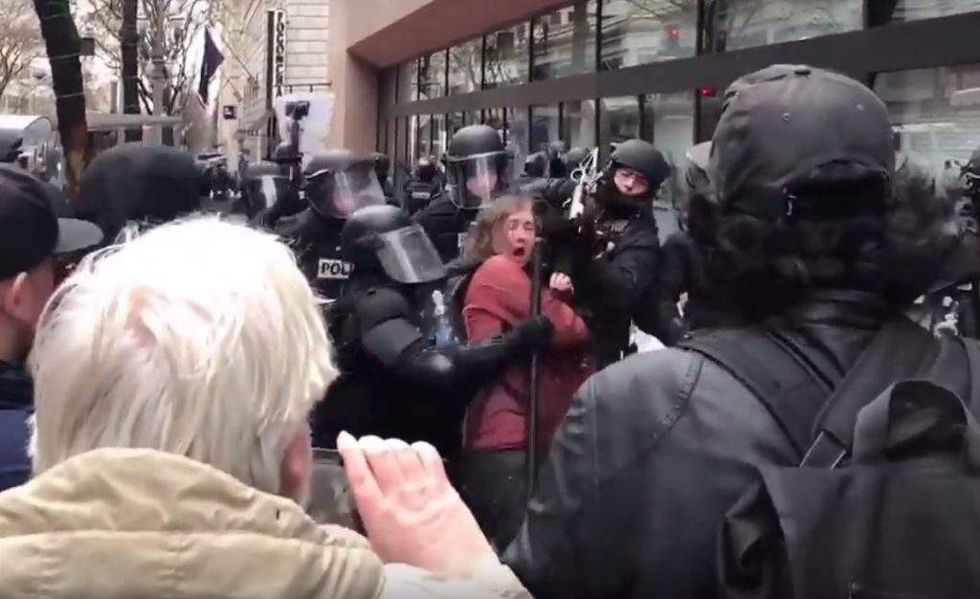 Image source: YouTube screen cap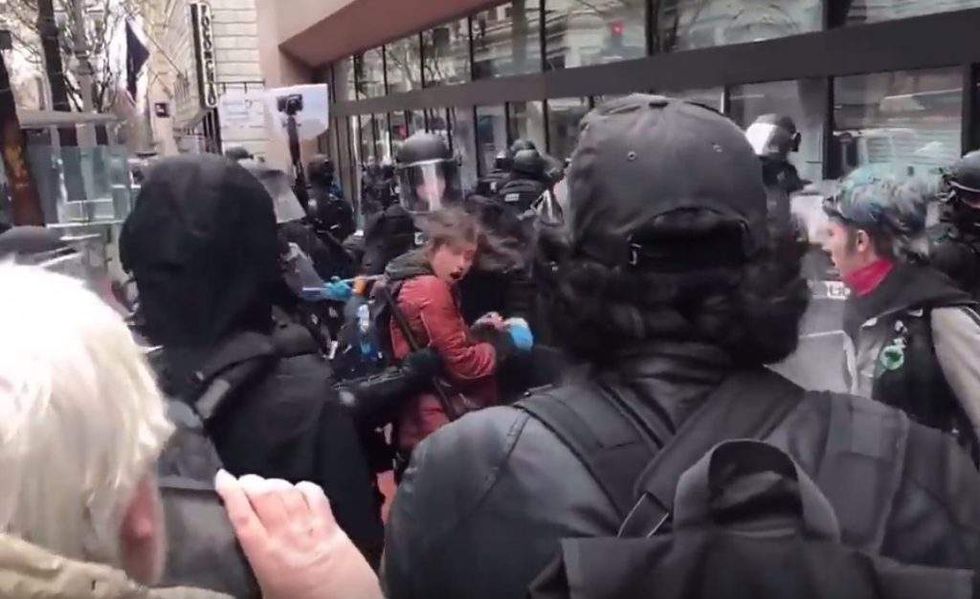 Image source: YouTube screen cap
Simpson told the paper the woman tried spitting at officers.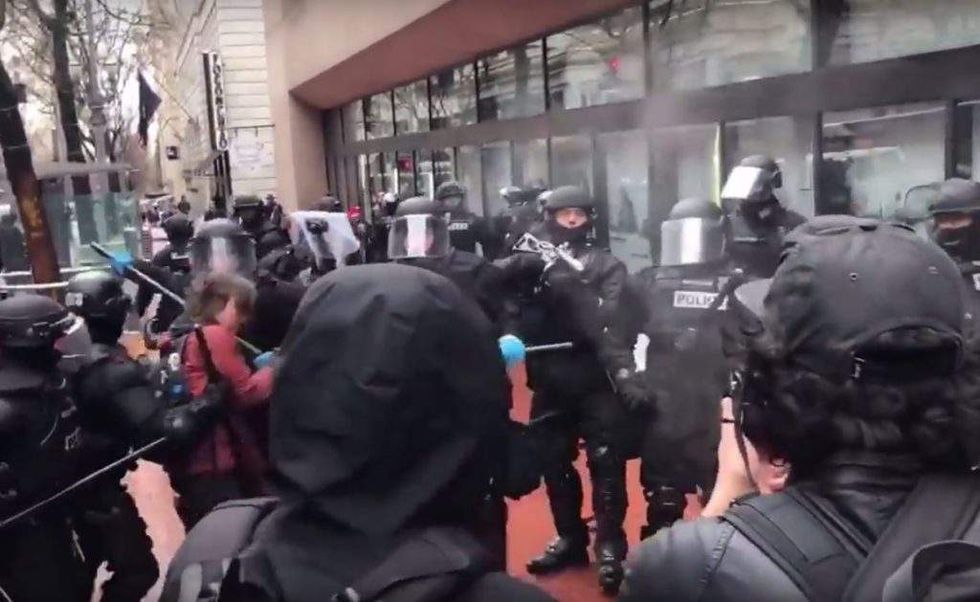 Image source: YouTube screen cap
Here's the clip. The relevant portion occurs during the first 1:15; the remainder of the video shows additional confrontations between protesters and police, some of which took place prior to Monday.
(Content warning: Lots of profanity in ol' Portland):
Here's a shorter clip from a different angle. (Content warning: Rough language again):
The American Civil Liberties Union condemned police for their actions in a series of tweets, the paper said, declaring the "indiscriminate violence against Portlanders was shameful" and that most protesters "gathered on public property on the sidewalk when they were shoved down and arrested."
The Oregonian said the 13 people arrested or detained got traffic citations for failing to obey police, but each adult was arrested for second-degree disorderly conduct.
Police arrested Margaret Ann Zebroski, 66; Heather Grace White, 42; David Johnathan Carlson, 31; Charles Ernest Stubbs, 38; Lucy Elizabeth Smith, 34; Rebecca Smith-White, 33; and an unidentified 37-year-old man, the paper reported, adding that the juveniles cited ranged in age from 14 to 17.