An elementary school teacher at a predominately Latino school in Collier County, Florida, was reprimanded last week after parents complained of a "racist" Facebook post the teacher made.
According to WBBH-TV, teacher Veronica Fleming was removed from her role at Parkside Elementary School, whose student body is 96 percent minority, as a computer lab instructor and instructional review teacher after parents discovered a post she made on Facebook where she celebrated President Donald Trump's policies on immigration.
"The funny part about immigrants staying home is the rest of us who pay for them are here to work like we've always been. Look's like less mouths to feed," Fleming wrote. "Have fun while you can. So glad to hear about mass deportation. Let's make America great again. Thanks Donald Trump!!"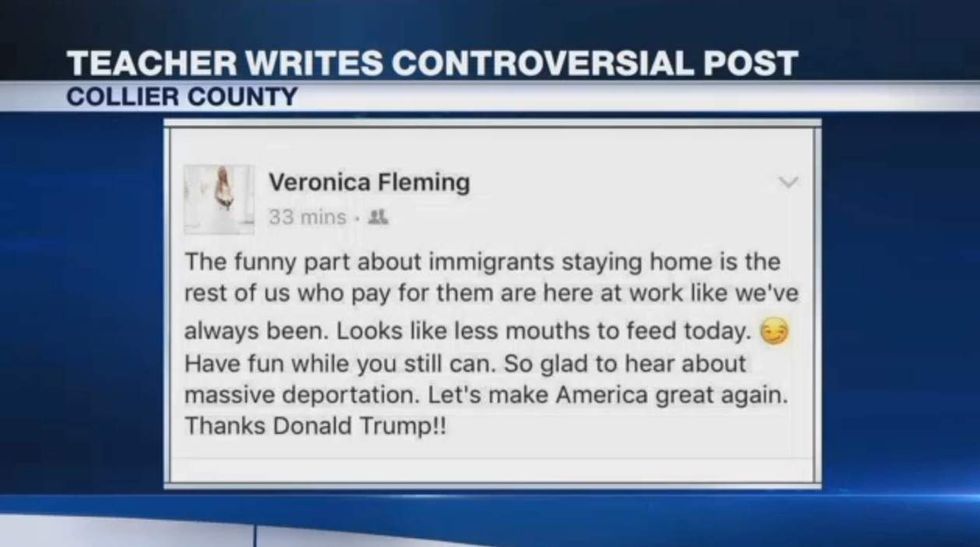 Image source: WBBH-TV
The post was reportedly made last Thursday, the same day as a nationwide protest of Trump's immigration policies called, "A Day Without Immigrants."
After Parkside principal Tamie Stewart was notified of the posting early Thursday afternoon, she contacted school district officials. That's when the district's deputy superintendent and human resources department made the decision to reassign Fleming to work at the district office pending an internal investigation.
"We greatly appreciate our parents who have communicated to the school to share concerns so that we can address this issue. I want to ensure our families that this person's individual post is not at all reflective of our school staff in any way," Stewart said in a statement to families.
Still, many families of students who attend the school are angry and want Fleming terminated.
"I would consider it really to be racist," parent Gabriella Marquez told WBBH. "I was mad — really, really mad."
"I feel offended, I feel ... my feelings are hurt, for our kids," parent Juana Perez added. "I couldn't even believe it. How could a teacher speak like that? I thought she was a good teacher, but I guess she's not."
Parents even started an online petition calling for the school district to "evaluate this instructor's explicitly racist and extreme views and proceed accordingly."
"We understand that as a private citizen Mrs. Fleming should be allowed to express herself, however, as an educator at a school composed of predominantly Hispanic, Haitian, and students of other minorities, one should always be professional and behave as an impartial authority figure that is held to higher standards," the petition reads.
The petition currently has nearly 3,200 signatures.