A Texas man said he'd seen a pickup truck apparently following him during his early morning jog to the gym Tuesday.
"He felt it was chasing him and looking at him," Lt. Chris Cook of the Arlington police told KDFW-TV.
And wouldn't you know the truck showed up again Wednesday morning?
Police told KDFW the jogger tried hiding in a parking lot — but no avail. The pickup with two men inside came after him. Then a juvenile passenger got out, brandished a gun and demanded money from the jogger, KTVT-TV reported.
But this time the jogger was prepared — and pulled his own gun from a backpack and fired 10 to 12 shots, KDFW said.
One of the bullets hit a suspect in the groin area, KTVT said, prompting him to run back to the truck, which quickly left the scene. KDFW reported that two shots hit a nearby business — but no one was at work yet — while four to five shots hit the pickup.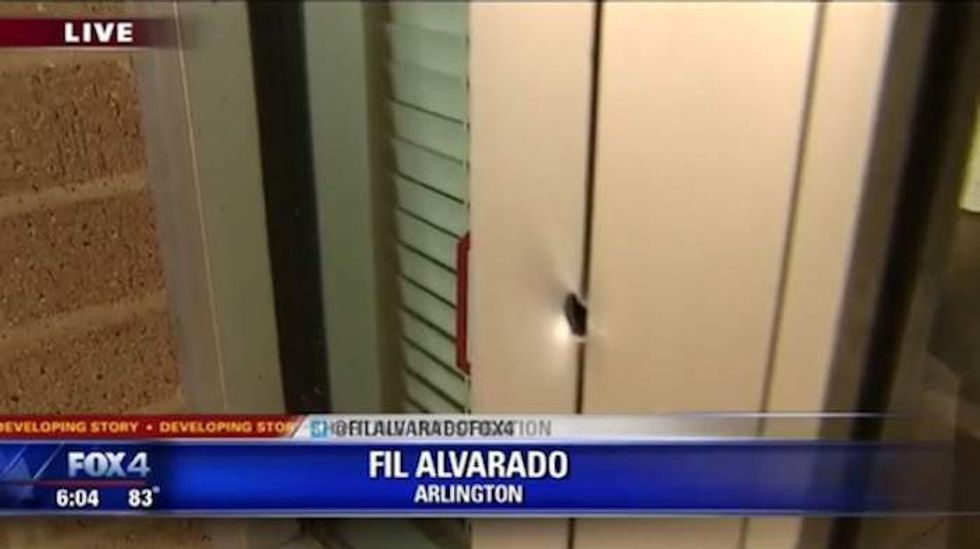 Image source: KDFW-TV video screen cap
Police later found the truck abandoned and said it had been reported stolen in Arlington last Thursday, KTVT said.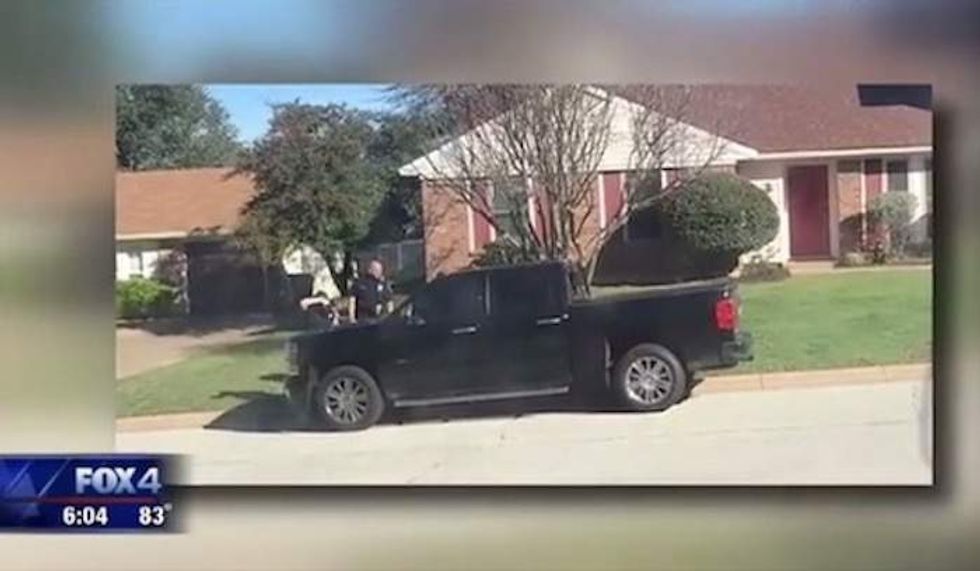 Image source: KDFW-TV video screen cap
Then came tips that the suspect exited the pickup and entered an SUV, which police also found, KTVT added. A woman was behind the wheel of the SUV, and the suspect — who speedily surrendered — was found in the passenger seat saying, "I've been shot," KTVT reported.
The 16-year-old suspect was taken to a hospital with non-life-threatening injuries, KDFW said, and released to a detention center. The station added that the suspect will likely be charged with aggravated robbery. Police are questioning the woman.
KDFW reported that the uninjured jogger was detained but later released by police — and that while he didn't have a license to carry a concealed weapon, he was acting in his own defense and hasn't been charged.