Black comic and "Saturday Night Live" cast member Leslie Jones said during a stand-up routine that she'd get violent with the next "white woman" she sees who says "black lives matter."
"If I see another 45-year-old white woman from Williamsburg saying 'black lives matter,' I'm going to punch you in the mouth," Jones said, according to the New York Times. "Stop doing that."
Jones made the remark during her set Thursday at Carolines on Broadway, the paper said.
During such political protests, Jones said she sees "not one black woman out there. Black woman at home watching 'Housewives of Atlanta,'" the Times reported.
Jones also suggested that amid the new presidency of Republican Donald Trump, there's no time for her to fall in love.
"I want to be in love," she said, according to the Times. "I want to do that, but it's 2017, and we got a pig in office. The world is about to end."
A few days after the Times story hit, Jones got into a Twitter battle with celeb blogger — and fellow liberal — Perez Hilton, who didn't find her words very funny.
As someone who's been punched, I don't find jokes about punching people funny. They're not!

— Perez (@Perez) 1488096557.0
@Lesdoggg @PerezHilton I guess I don't find #BlackLivesMatter funny. I support it and seriously. The bit seems to alienate allies. Sad.

— Perez (@Perez) 1488087868.0
Jones said Hilton — as a "white guy" — shouldn't be telling her about the importance of Black Lives Matter. And it was on: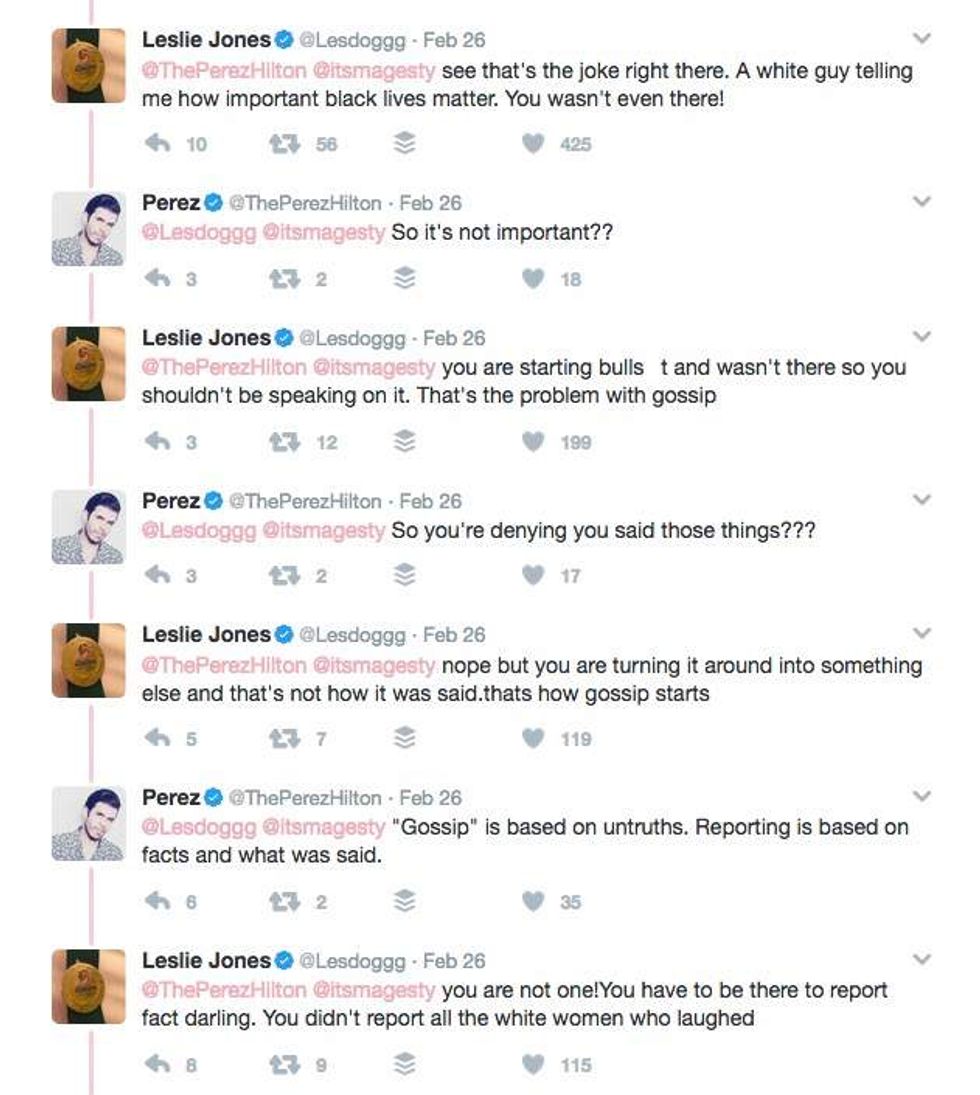 Image source (redacted): Twitter
Then Jones apparently said "Bye Felicia" to Perez — and for good:
@Lesdoggg Wow. You blocked me. Okay. And I didn't even say anything mean or hurtful about you. Oh well. It is what it is. Still unfunny.

— Perez (@Perez) 1488090225.0
This story has been updated.