Same-sex kissing was depicted in a recent episode of Disney XD's "Star vs. the Forces of Evil" — an animated series featuring two 14-year-old main characters — Glamour reported, calling the event "a first for the network."
The season 2 episode, titled "Just Friends," shows Star and Marco at a boy-band concert when audience members begin kissing, the magazine said. "Look closely, though, and you'll see what appears to be two males making out," Glamour noted, "and another shot features what looks like two women."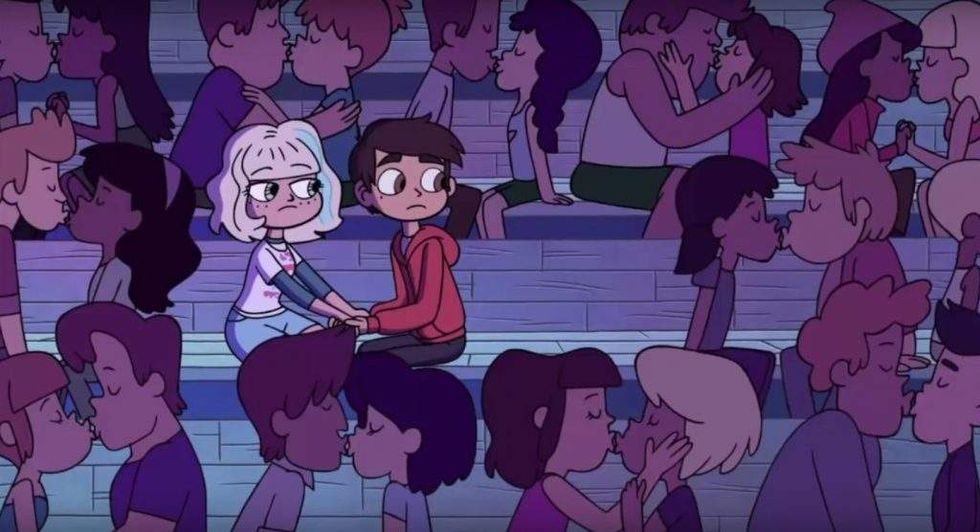 Image from "Just Friends" episode of "Star vs. The Forces of Evil." (Image source: YouTube screen cap)
The magazine said a "bonus" is that the couples "aren't diverse only in terms of sexuality but also in terms of race, age, and body type."
More from Glamour:
Diversity seems to have become more of a priority for the brand in recent years. In 2014 the live-action Disney Channel show Good Luck Charlie proudly featured a lesbian couple, whose storyline was the episode's main arc. In more subtle endorsements of equality, the Disney Channel show Gravity Falls featured two male cops who were a couple. While Disney wasn't as overt with similar depictions in Frozen, Zootopia, and Finding Dory, that didn't stop online conversations about potential same-sex relationships from surfacing. (Disney has yet to confirm these theories.) Not to mention, as Vanity Fair points out, Disney films were much more inclusive in 2016. These include recent movies like Moana and Queen of Katwe, as well as upcoming movies like The Nutcracker, which will star Misty Copeland and Morgan Freeman, and a hip-hop upgrade of Oliver Twist, with Ice Cube's name attached.
The reported same-sex kissing comes amid news that Disney XD has ordered a fourth season of "Star vs. The Forces of Evil," The Hollywood Reporter noted, ahead of its third season set to air this summer.
Here's the clip:
But that isn't all.
The director of Disney's upcoming live-action remake of "Beauty and the Beast" told Attitude he created a character who's part of "a nice, exclusively gay moment" in the movie.
Bill Condon told the outlet Josh Gad plays LeFou — a sidekick to Gaston (Luke Evans) — and that he's "somebody who on one day wants to be Gaston and on another day wants to kiss Gaston."
"He's confused about what he wants. It's somebody who's just realizing that he has these feelings. And Josh makes something really subtle and delicious out of it. And that's what has its payoff at the end, which I don't want to give away," Condon continued to Attitude. "But it is a nice, exclusively gay moment in a Disney movie."
Here's a clip:
(H/T: Todd Starnes)