After a group of Michigan high school students posed with signs reading "Trump" and "Build the Wall" in front of a pro-immigration display on campus, they were suspended for the "disrespect they demonstrated toward fellow students and staff," the superintendent told WZZM-TV.
The Grand Rapids Christian High School foursome was seen on cellphone video March 3 posing in front of a banner that read "Immigrants are a Blessing Not a Burden," courtesy of the school's social justice group Love Thy Neighbor. Superintendent Thomas DeJonge told the station the incident occurred during a pro-immigrant gathering.
But seconds after the four boys each took a knee and three of them pulled out small paper signs supporting Republican President Donald Trump, a teacher was seen moving in, grabbing at the signs and putting an end to their free-speech exercise.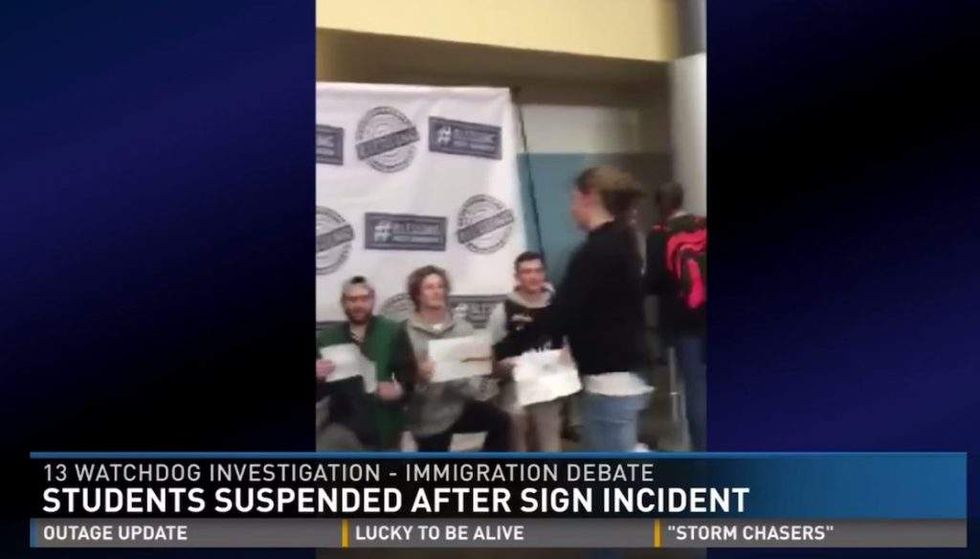 Image source: WZZM-TV video screen cap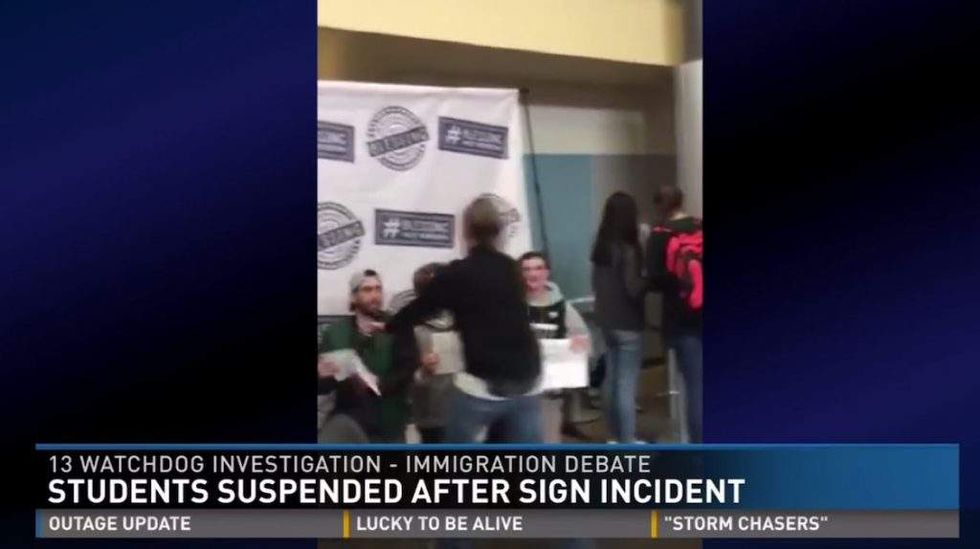 Image source: WZZM-TV video screen cap
However, DeJonge told WZZM that after the teacher departed, the four pro-Trump students "became verbally aggressive and made insensitive comments toward other students" in an argument.
"To be clear, the students were not disciplined because of having expressed their political viewpoint," DeJonge said, regarding the two-day suspension they each received, the station said. "Rather, they were disciplined because of the disruption they caused and disrespect they demonstrated toward fellow students and staff."
However, WXMI-TV reported that the four pro-Trump students said about 50 other students came at them and threatened violence, adding that they're not against legal immigration.
Also, three parents and a grandparent of the suspended pro-Trump students told WZZM that DeJonge's decision was wrong. One parent told the station off-camera that the four students "were simply trying to support the President of the United States."
Another parent told WZZM the four pro-Trump students felt they didn't have the opportunity to express their opinions and wondered why the school allowed the pro-immigration banner in the first place: "Why are they bringing this political nonsense into the school?"
Here's a statement from DeJonge to WZZM regarding the incident:
The Grand Rapids Christian High School student body is a community that reflects the diversity of opinions that are present locally and throughout our nation. Regrettably, during a student-led activity on Friday, March 3, that diversity of opinion turned to actions that were disruptive to the school environment. As a result, four students were disciplined for their actions.

Since then, those same students have apologized for their behavior and requested meetings with fellow students to reestablish the respectful culture that exists on our campus. Additionally, students have asked to establish a more formal, ongoing dialogue to help everyone in our school community understand and embrace diverse viewpoints. We are extremely proud of how our students are learning from this experience.

Ensuring strong student relationships and establishing a community where a broadly diverse student body can respectfully express opposing points of view is a core value which we will continue to embrace. To that end and consistent with our mission, we are exploring ways that we can use this incident as a broader educational opportunity for our entire school community.