Army veteran Beau Brumfield had enough.
"Two blank holes, it's been 60 something days now," he told WPEC-TV. "The Veterans Administration has been asked about it a few times, the local VA hospital has, and they haven't had any real reason other than they didn't have the picture, which is readily available."
Brumfield was frustrated that portraits of Republican President Donald Trump, along with Secretary of Veterans Affairs David Schulkin, weren't hanging in the lobby of West Palm Beach's VA hospital. And that Trump's frame has been left empty was particularly upsetting to fellow Army vet John Rourke.
"That's the person who would ultimately give the order for us to put our lives in danger," Rourke told the station, "and we believe that his picture should be displayed there proudly."
Enter U.S. Rep. Brian Mast (R-Fla.) — himself a disabled vet who lost his legs and a finger after an improvised explosive device accident in Afghanistan.
Mast's office told WPEC that several of his constituents in the military reached out in frustration over the delay in hanging the portraits, so Mast took matters into his own hands Tuesday and brought portraits of Trump and Schulkin to the VA hospital and demanded that they be installed.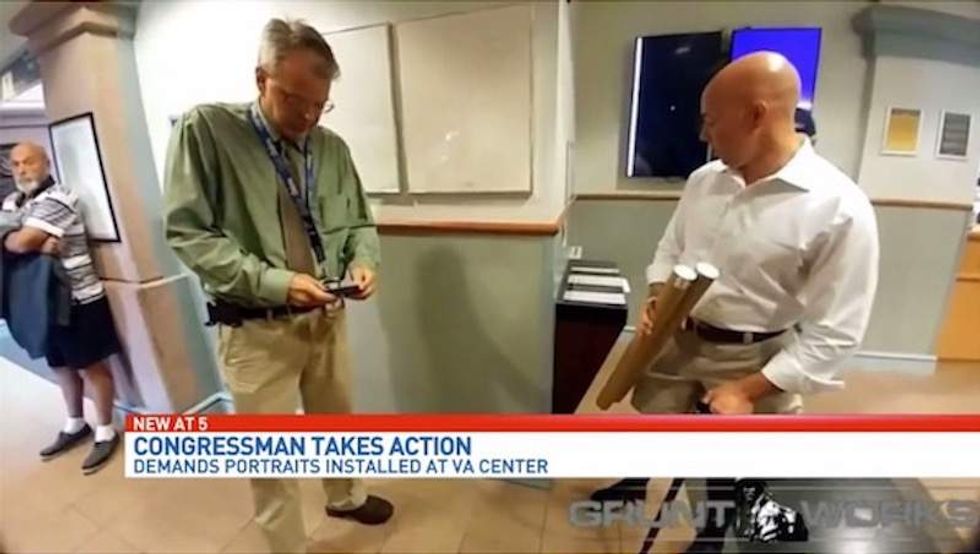 U.S. Rep Brian Mast (R-Fla.) (right) stands in front of two empty frames at the West Palm Beach VA hospital. (Image source: WPEC-TV video screen cap)
Sure enough, workers got them in the frames.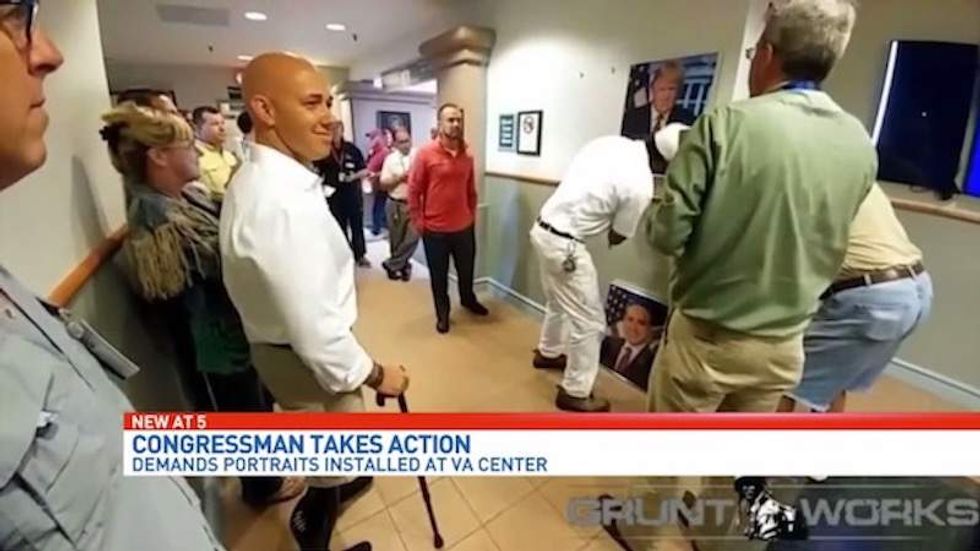 Image source: WPEC-TV video screen cap
"Proud of the fact that the local vet community got it done," Brumfeld told the station. "We walked in there, we made it happen. It was non-confrontational. It was nonpolitical. We just wanted to see it happen."
A statement from Mast's Washington office was sent to WPEC:
This morning, Congressman Mast visited the West Palm Beach VA, where he gets his own healthcare, after numerous calls from constituents that there was a delay in hanging up photos of the new VA Secretary and President — photos that are hung in every VA facility across the country. While there, he addressed the concerns of these local veterans by helping to hang the official photos of Secretary Shulkin and President Trump.
But it turns out that Mast's can-do action didn't sit well with the hospital — and the portraits were taken down shortly after the congressman left, the station reported.
Seems Mast's actions were "inappropriate," a VA spokeswoman told WPEC, and the portraits were removed because they haven't been authenticated and need to originate from the central office.