A former high school teacher claimed sexually explicit material he sent to a 16-year-old female student last fall is protected under the First Amendment, the New Hampshire Union Leader reported.
Police said Robert Todd Wiley, 63, allegedly sent photos and videos of himself "manipulating his genitals" to the female student, WBIN-TV reported. The station said that one the videos showed a "lewd exhibition of an adult male masturbating," court documents said.
The ex-Merrimack High School teacher also is accused of meeting and conversing with the student while allegedly soliciting naked photos of her, the Union Leader reported in October, citing authorities.
But Wiley's attorney insisted his client's actions are legal.
"Both parties willingly participated in these conversations and in fantasy creation — there is no element of coercion or threat to any of the conversations," Anthony Sculimbrene wrote in filings asking the court to dismiss the case, the Union Leader reported.
Sculimbrene doesn't deny images were sent, the paper said — only the charge that they're obscene.
"The images are not obscene and are thus protected speech," Sculimbrene noted, adding that nudity isn't obscene and the images don't indicate interest in abnormal sex, the Union Leader reported.
Sculimbrene argued that since state law lets a 63-year-old man and a 16-year-old female engage in non-coercive, consensual sex, "words detailing hypothetical sex acts involving a 16-year-old cannot be obscene if the act itself is completely legal," the paper reported.
Wiley taught English and philosophy at the high school for 37 years. After Superintendent Marge Chiafery removed him from the classroom last October pending an investigation, the Union Leader said Wiley filed for retirement.
Police launched an investigation after the victim's parents discovered the photographs, emails, texts and videos on their daughter's phone, the paper said, citing authorities.
Wiley is charged with felonies alleging he sent obscene material to a child and solicited child sex abuse images, the paper said. He's also charged with 14 misdemeanors, the Union Leader reported in January — six counts of obscene matter offenses, six counts of exposing a minor to harmful materials and two counts of endangering the welfare of a child. He's free on $20,000 cash bail, the paper said.
A scheduled May 8 court hearing will address the motion to dismiss, the Union Leader said, adding that court documents show Wiley has received a plea offer. The paper reported that if no plea deal is reached, jury selection will begin in July.
Here's a report from last October following Wiley's arrest: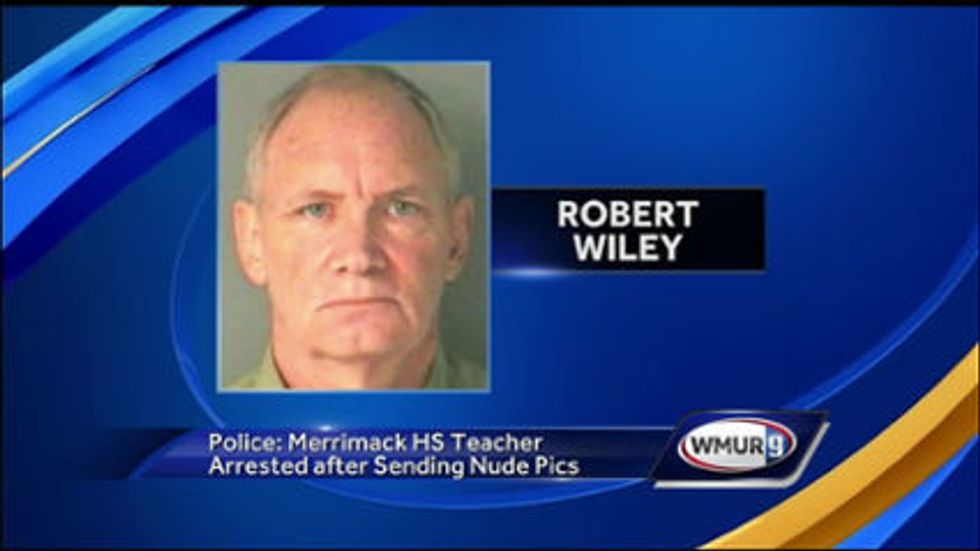 (H/T: EAGNews)