Earlier this week, liberals accused White House press secretary Sean Spicer of being racist and sexist for telling veteran White House reporter April Ryan to stop shaking her head. But newly resurfaced video reveals that Robert Gibbs, former White House press secretary under former President Barack Obama, once said much worse to the American Urban Radio Networks reporter — even comparing Ryan to his child.
Ryan asked Gibbs in December 2009 about former Obama social secretary Desiree Rogers seemingly wallowing in the spotlight at the first official state dinner of the Obama administration. Traditionally, the social secretary's responsibility at such functions is to act as a gatekeeper, ensuring that only those who were invited to the event were allowed in, according to the Washington Post.
That evening, Michaele and Tareq Salahi managed to crash the White House event, a security breach that prompted a congressional investigation. Some observers at the time, speculated the Salahis' security breach may have been a direct result of Rogers' actions.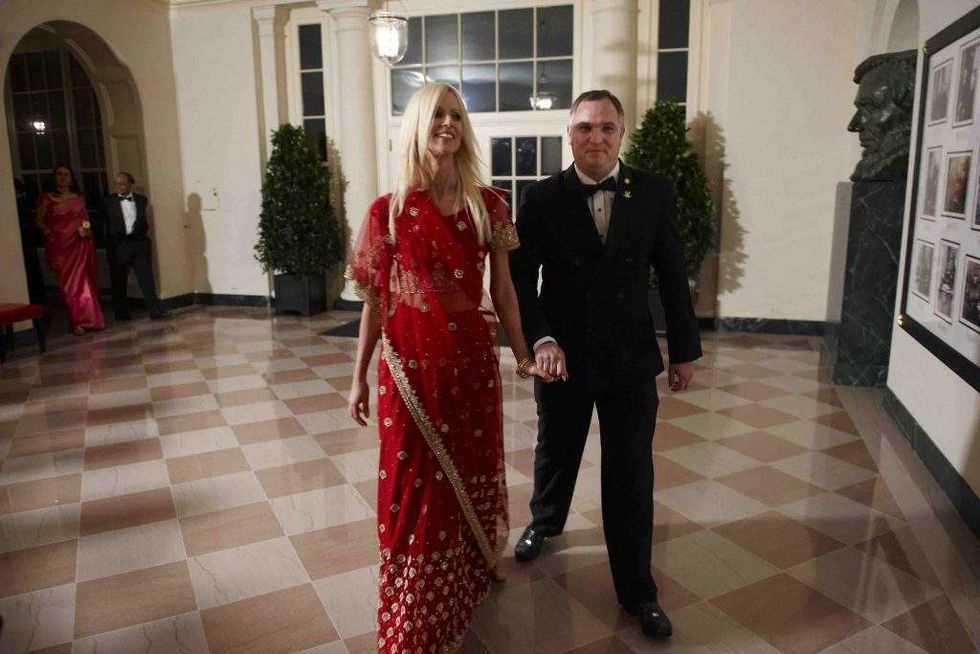 This Nov. 24, 2009, photo showed Michaele and Tareq Salahi (right) arriving for the State Dinner in honor of India's Prime Minister Manmohan Singh at the Bookseller's area of the White House in Washington, D.C. (Mandel Ngan/AFP/Getty Images File Photo)
Weeks after the incident, Ryan asked Gibbs about the stunning breach.
"Is there concern in this White House that she came out being, someone might have called her [Rogers] the bell of the ball, overshadowing the first lady," Ryan asked.
Gibbs responded, "I haven't heard that."
Ryan followed up, saying, "It's been bantered around Washington."
"That's not a station I live in," Gibbs replied.
Ryan continued to press, pleading with Gibbs to "just answer the question, please."
"Are you done speaking so I can?" a testy Gibbs shot back.
"Oh, yes, I'm done," Ryan assured.
Gibbs reiterated that he had not heard that particular criticism.
"The President, the first lady, and the entire White House staff are grateful for the job [Rogers] does and thinks she has done a terrific and wonderful job pulling off a lot of big and important events here at the White House," he said.
Ryan wasn't satisfied with that answer.
"[Rogers] came by herself to this state dinner, did the president invite her?" Ryan asked, as Gibbs attempted to call on another reporter.
"No, that's a real question. Do not fan it off," Ryan said. "Did she invite herself when the president asked when her name was going on the list, and social secretaries are the ones that put their names on that list?"
"Was she at the dinner? April, April, calm down. Take a deep breath. Now see? I do this with my son and that's what happens," Gibbs said.
That comment was followed up with a collective "ohhh" from the White House press corps.
"Don't play with me. I'm being serious," Ryan shot back.
"Was she at the dinner? Yes, she's the social secretary," Gibbs continued.
"Social secretaries are not guests of the dinner," Ryan pointed out.
Gibbs replied, "I'm going to get back to weightier topics like 98,000 men and women in Afghanistan."