A former top official in the Obama administration admitted in a report Sunday that the United States government "always knew" Syrian President Bashar al-Assad still had chemical weapons following a 2013 agreement, despite routinely boasting otherwise.
"We always knew we had not gotten everything, that the Syrians had not been fully forthcoming in their declaration," Tony Blinken, former deputy secretary of state and deputy national security adviser, told the New York Times recently.
Blinken's comments directly refute those his bosses made between 2014 and as recently as this January.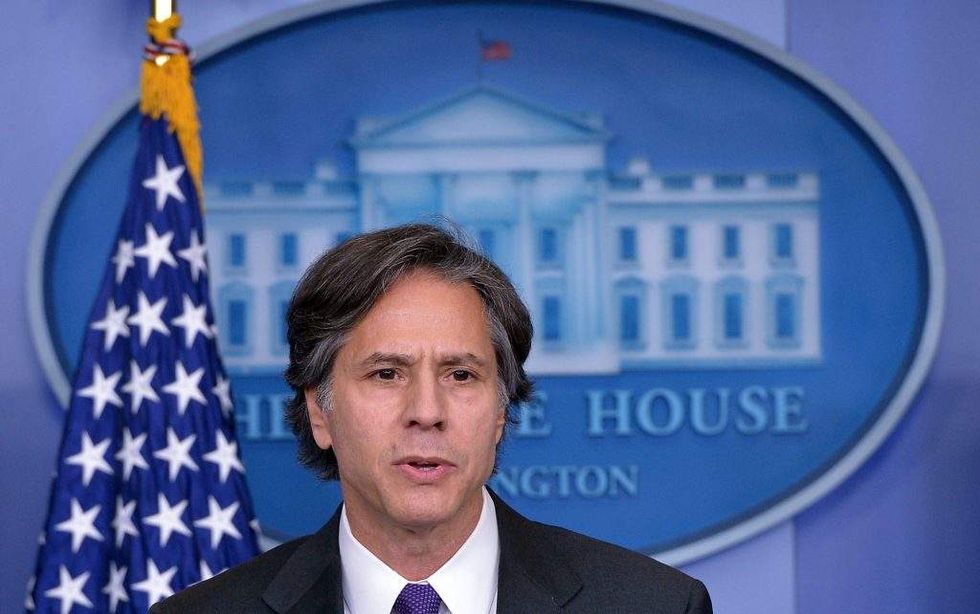 Tony Blinken, the former deputy secretary of state and deputy national security adviser in the Obama administration. (MANDEL NGAN/AFP/Getty Images)
In 2013, the U.S. and Russia inked an agreement with Syria that allegedly turned over the Assad regime's chemical weapons stockpile to the international community so it could be destroyed.
The deal came after Assad again used chemical weapons against his people — killing more than 1,000 — and crossed then-President Barack Obama's infamous 2012 "red line" policy, which vowed military intervention if Assad used chemical weapons against his citizens.
Obama and top officials like then-Secretary of State John Kerry and then-national security adviser Susan Rice said at the time the deal allowed the world to come to a peaceful agreement that both prevented more military intervention from the U.S. in the Middle East and protected the Syrian people from being brutally murdered with lethal chemicals at the hands of Assad.
Kerry said in 2014 that the agreement removed "100 percent of the declared chemical weapons out of Syria," while Rice said in Jan. on NPR the deal was "able to get the Syrian government to voluntarily and verifiably give up its chemical weapons stockpile."
But as the world found out last week, those claims are verifiably false. More than 80 people were killed and scores other injured after the Assad regime dropped bombs loaded with sarin gas — which is 81 times more lethal than cyanide — on a rebel-held city of Khan Sheikhoun in Western Syria.
The attack prompted international outrage as images and videos of convulsing children and innocent people, many foaming at the mouth, splashed across TV screens and internet feeds across the world.
For President Donald Trump, the callous assault on innocent lives was far beyond Obama's "red line." Trump responded with force, sending 59 tomahawk missiles, each loaded with 1,000 pounds of munitions, to strike the airbase that Assad had used to launch the chemical weapons attack just days earlier.
But as TheBlaze reported Sunday, evidence had already suggested the Obama administration knew there were still chemical weapon stockpiles in Syria and lied about it anyway, stemming from comments Obama officials, including former Director of National Intelligence James Clapper, made last year.
At any rate, many observers are happy that Trump finally hit back at Assad after years of inaction by Obama — including several former Obama administration officials.
"Many of us are pretty darned happy about this," a former Obama official told Defense One after the strike. "This is the action that many of us were hoping for years ago. Our hope though is that this was not an act in isolation, but a clear signal of the limits of our tolerance, and the restart of meaningful, actionable diplomacy to end Assad's tenure in Syria and bring about a peaceful political transition."
"This shows the moral depravity of the last administration," another added.
Meanwhile, fact-checking websites like PolitiFact and the Washington Post have been quick to rule Kerry's 2014 statement and Rice's Jan. 2017 claims unequivocally false in recent days.