In a new book, Philadelphia Archbishop Charles Chaput argues that there is a "growing hostility" toward religion in our culture — and the best way to combat this hostility is to faithfully practice the Christian faith.
Chaput writes in "Strangers in a Strange Land: Living the Catholic Faith in a Post-Christian World" that "religion only works its influence on democracy if people really believe what it teaches."
Speaking with TheBlaze, Chaput explained that, while "a 'post-Christian' world can't really exist as long as individual Christians and the church as a community genuinely live their faith and preach Jesus Christ," the American "leadership class is largely post-Christian."
"By that I mean that faith plays little role in shaping their approach to politics, economics, and culture," he said. "Developed countries have a growing hostility toward religion in general and Christianity in particular. And this isn't new. T.S. Eliot saw it coming 80 years ago in his essay 'The Idea of a Christian Society.' The problem is just much more pronounced now."
In the book, Chaput gives an overview of the historical occasions that lead to the reduced influence of faith in society, some of which are "the long-term consequences of the Reformation, the Enlightenment, and changes triggered by science and technology."
"The world is a different place," Chaput told TheBlaze. "It's disrupted the plausibility of many of our beliefs. And liberal political theory, which guides most democracies and seems to be neutral toward religion, actually encourages a kind of practical atheism."
One moment in history Chaput points to as a "watershed" for Catholics and Christians is the Supreme Court's decision in Obergefell v. Hodges, which legalized same-sex marriage nationwide. He argued that this case contributes to a narrative that people who hold a traditional view of marriage and sexuality are the "equivalent of racists and bigots."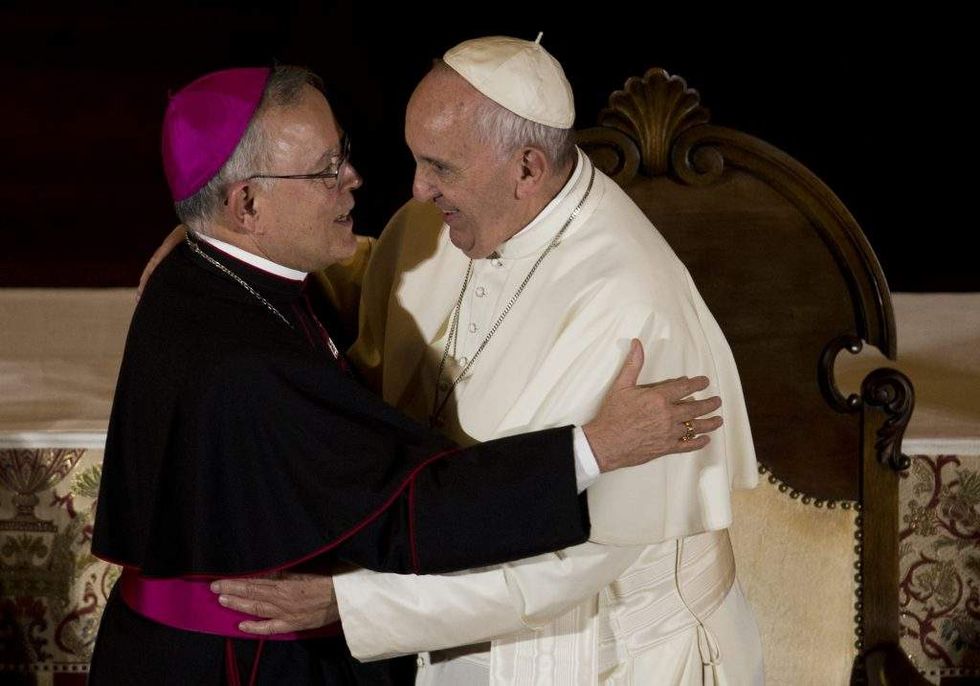 Pope Francis hugs the Archbishop of Philadelphia Charles Chaput before speaking to Bishops at St. Charles Borromeo Seminary in Wynnewood, Pa., Sept. 27, 2015. (Andrew Caballero-Reynolds/AFP/Getty Images)
He argued that the Church should take care to note that "people convert through the witness of other people" when discussing issues such as marriage, sexuality, and family.
"An advanced media culture like ours can create a huge wall of noise and distraction to drown out the teaching of the church," he said. "But it can't stop people from interacting on a personal level. This is why it's so vital for every Christian to regain a sense of his or her own missionary vocation. We can't leave the task of preaching and teaching Jesus Christ to the bureaucratic structures of a Church. The Church as a community of faith is very important, but all of us need to own the work of consciously witnessing Jesus Christ through the example of our lives. That kind of witness has real power."
Chaput said that the more Catholics "conform to the surrounding culture, the more they weaken and lose their faith." Protecting and advancing a culture of life, he said, starts at home.
"We don't need to be Amish, and we don't need to hide in the hills, but we do need to be willing to make hard choices; to separate ourselves from the way the world thinks," he said. "A church without children has no future. If we want to be build a culture of life, it needs to start with Catholic couples welcoming more children into their lives no matter what the cost and raising them in an environment of active faith."
In the book, Chaput argues, "If we truly practice the Catholic faith, people will try to silence us." To some, he said, it is not enough for Christianity to be tolerated, it must be eradicated.
"Evil talks a great line about tolerance until it gets the upper hand," Chaput explained to TheBlaze. "Then that word 'tolerance' tends to disappear. Evil can't stand the counter-witness of virtue. It's never satisfied with being 'permitted;' it needs to be vindicated — which means that good people need to be recast and penalized as 'bad.'"
"This is already happening in our mass media coverage and in our struggles over law," he continued. "So Christians need to be vigorously engaged in the political life of our country to defend our religious freedom. But we also need to remember that politics is never an ultimate answer or defense. The only sure way to protect our faith is to live it in all of our daily actions and choices, and to be willing to suffer for it."
Chaput, who was critical of both major candidates in the 2016 election cycle, said he expects President Donald Trump to have a "very mixed presidency":
I was very public in my criticism of both Hillary Clinton and Donald Trump during the 2016 campaign, though for different reasons. Neither struck me as a worthy candidate. Both had serious flaws. So I expect the Trump administration to be a very mixed presidency. I do know that scripture obligates Christians to pray for and respect our public leaders. That applied to President Obama, and it certainly applies to President Trump. Obviously, that doesn't excuse any of us from criticizing policies we believe to be wrong, and supporting policies we believe to be just.
Chaput, though, is hopeful the culture can be turned around.
"As Augustine said, we are the times, so we make the future," he argued. "Our lives matter. We're not powerless. We shape the next generation. Nothing is pre-determined except the goodness of God. But if we think of our task as needing to reverse the course of a huge, supertanker-sized nation, we'll lose heart. What we do control is the rudder of our own small boats, our own lives, and the effect they have on others. That's how societies really change course: one person and one family at a time, starting with ourselves. And that's well within our zone of influence."