With a twist in his hair and a camera in his hand, Branden Harvey, a photographer and writer, traveled the globe documenting the world's little known stories.
In journalistic terms, he searched for the buried lead — the good news trapped beneath the headline-making tragedies and the divisive politics splashed across the front page of every national newspaper.
Now the 24-year-old Harvey wants to bring the good stories to the front page — and every page — with the Goodnewspaper, a quarterly publication that will be filled with nothing but positive articles.
"I've been to some pretty rough places in the world. Places where there's a lot of brokenness, injustice, war, famine — things that are rough," he told TheBlaze. "And I've never gone to a single place where difficult things weren't happening where there wasn't an aspect of hope."
"Everywhere I've gone," he continued, "there have been people doing incredible things in difficult situations."
Harvey began a career in professional photography at 16 and went on to work with some of the biggest names in the industry. Through his work in marketing, he's had the opportunity to travel to several distant countries, taking part in numerous projects.
But in 2015, the Nashville resident had a realization: "My dream isn't to be a photographer anymore," he wrote in a blog post.
So he founded his own company, Good Good Good, and made a quote from the beloved Fred Rogers, the sweater-clad host of PBS' iconic "Mister Rogers' Neighborhood," his credo.
"When I was a boy and I would see scary things in the news, my mother would say to me, 'Look for the helpers. You will always find people who are helping,' " Mr. Rogers said.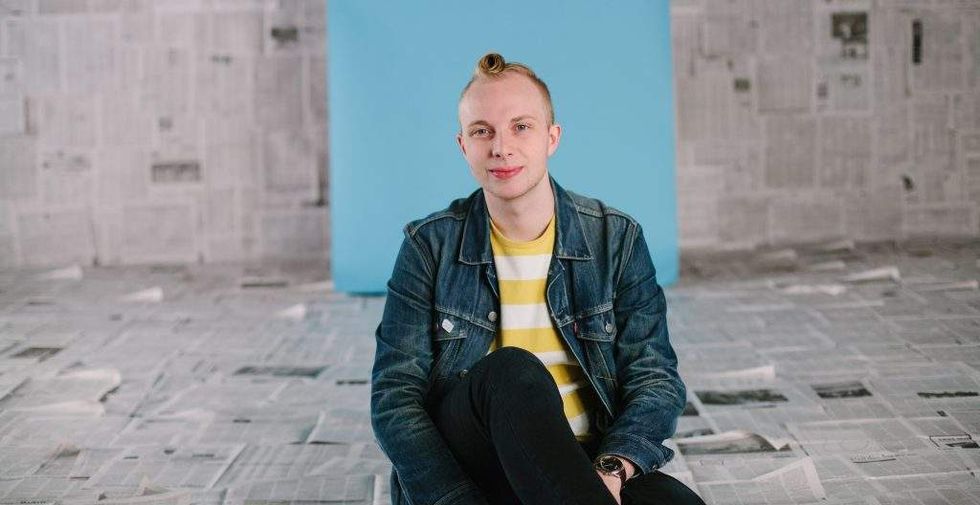 Branden Harvey, 24, was motivated to launch the Goodnewspaper following the divisive 2016 presidential election. (Branden Harvey)
With hostility at an all-time-high in 2016, Harvey found himself clinging to Mr. Rogers' message more and more, and that's when he decided to rise above the bad and divisive news and "look for the helpers" with his Goodnewspaper, which launches next month.
"[I said], 'Let's set out to look for the helpers, even in these dark situations, even when it feels like things are falling apart. There's gotta be helpers,'" he recalled. "And the beautiful, amazing thing is, since we've started doing that, we've always found them."
Harvey was quick to say he isn't dismissing the importance of being a well-informed citizen, though. Rather, he's hoping the Goodnewspaper will help readers to seek out and identify the good when they feel hopeless.
The consummate optimist has set quite a high goal for himself: To help people rewire their brains to find the good news. There's a construct in the brain called neural pathways, which are akin to superhighways filled with nerve cells, and those pathways are created over time as habits and behaviors are repeated.
"To read through [the Goodnewspaper] for a few minutes — even if it sits on your coffee table and you just pick it up every few days to read a little story here, a little story there," he said. "That actual intentionality is going to help to retrain your neural pathways in your brain to focus on hope more."
Join us in creating a newspaper that celebrates good news and provides tangible action steps to become good news. https://t.co/SC0JrT1Kl4 pic.twitter.com/Cl55Nh0FtQ

— Branden Harvey (@BrandenHarvey) March 16, 2017
The Goodnewspaper is just Harvey's latest venture into the world of good news. Every week, he produces an email newsletter called the Goodnewsletter, linking to the week's positive headlines, and he hosts his own weekly "Sounds Good" podcast, in which he talks with fellow optimists about topics like social justice, mental health, and finding the good in bad situations.
Harvey's passion for good news, he told the Religion News Service, came from his grandfather, a Southern Baptist preacher in his hometown of Pullman, Wash. And as it turns out, Harvey's not alone in his mission to spread positivity.
In March, more than two dozen evangelical leaders signed onto a letter spearheaded by California-based megachurch pastor Greg Laurie, declaring 2017 the "Year of Good News."
"I think in our particular time in America, when we have so many divisions — divisions on racial lines, divisions along political lines, divisions along so many lines — that it's very important for followers of Jesus to stand up for what we believe is good news in a bad world," Laurie told TheBlaze.
The funding for the Goodnewspaper came from a Kickstarter campaign Harvey started in mid-March and in less than three days, it hit its $26,500 fundraising goal, and by the end, it had raised more than $55,000.
As for that quirky twist in Harvey's hair, it turns out that if the photography thing hadn't work out, the Goodnewspaper founder wanted to be a surfer. As that possibility washed away, Harvey decided to cut his long hair, but he wanted to keep the dream alive. So he left his bangs long.
"Because my hair was still curly, but I didn't have enough hair, instead of doing, like, 50 tight curls, it just did one curl," he said, adding that he thought it looked silly until one day someone walked up to him and said, "Hey man, your hair is so cool. Are you trying to do that?"
Harvey rolled with it. His hair started as an accident, but it's become his trademark.