© 2023 Blaze Media LLC. All rights reserved.
Ann Coulter vows to speak at Berkeley — despite Free Speech Movement birthplace canceling her talk
Outspoken conservative commentator and author Ann Coulter promised to give a speech next week at the University of California, Berkeley, despite the school cancelling her much-anticipated event over security concerns.
"I am giving the speech," Coulter told Fox News host Tucker Carlson Wednesday night before quipping, "What are they going to do, arrest me?"
She told Carlson that school officials "kept piling on requirements, ruses ... 'You can't speak in the evening; you have to speak in the daytime when kids are in classes. We're not sure which room you're gonna use; we won't tell you 'til the last minute. You have to exclude everyone except students.' "
Yet she called Berkeley's bluff and "agreed to all of their demands" before she got a message from the school Wednesday morning about "how much they love the First Amendment and freedom of speech and they're so committed to it but 'we're just cancelling her anyway,'" Coulter told the Fox News host.
The conservative student group Young America's Foundation — the sponsor of Coulter's speech that was set for April 27 — told the Washington Examiner that Berkeley Dean of Students Joseph Greenwell emailed the group saying a "safe and suitable venue" for the event couldn't be found.
"Given currently active security threats, it is not possible to assure that the event could be held successfully — or that the safety of Ms. Coulter, the event sponsors, audience, and bystanders could be adequately protected — at any of the campus venues," the email read, the paper said.
Young America's Foundation noted that while Coulter agreed to the school's various requirements, she returned two stipulations of her own to Berkeley, the Examiner said:
1) That the University of California chancellor request that the Oakland chief of police refrain from telling his men to stand down and ignore law-breaking by rioters attempting to shut down conservative speakers, as he has done in the past; and

2) That UC-Berkeley announce in advance that any students engaging in violence, mayhem or heckling to prevent an invited speaker from speaking would be expelled.
According to the organization's statement, the school's response was "to ban her speech." It isn't clear how or where Coulter will speak at Berkeley if school officials don't make a campus building available to her.
School officials said Wednesday they hope to reschedule Coulter's speech for September and that the cancellation has no connection to her conservative stances, the Washington Post reported.
"It has nothing to do with anyone's political views. We believe in unqualified support to the First Amendment. But we also have an unqualified focus on safety of our students," Berkeley spokesman Dan Mogulof told the paper. "We are going to be making a concerted effort to explain the reasons behind this."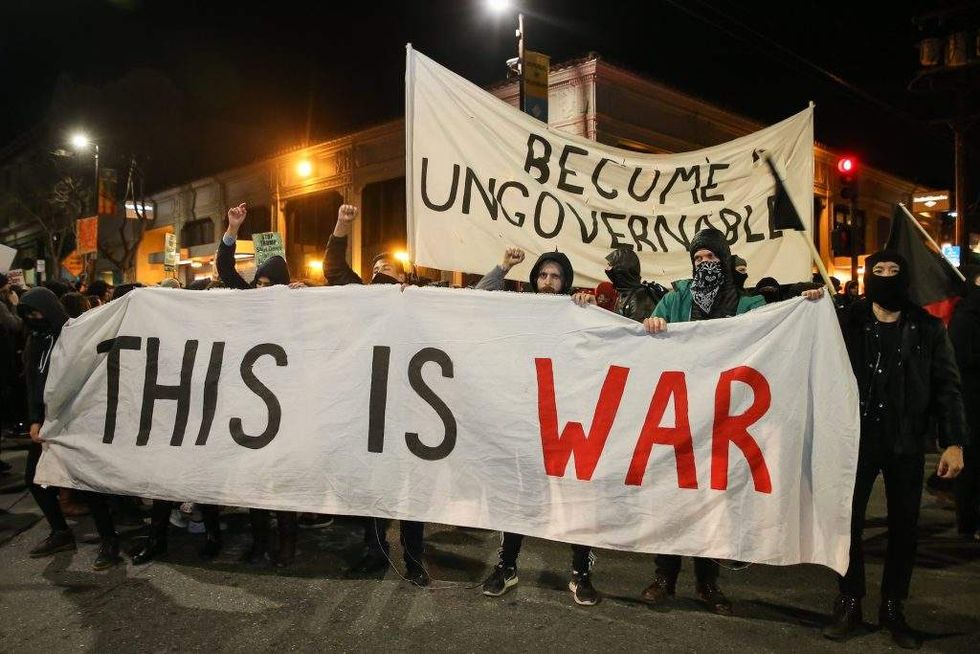 People protesting controversial Breitbart writer Milo Yiannopoulos take to the streets on Feb. 1 in Berkeley, California. A scheduled speech by Yiannopoulos was canceled after protesters and police engaged in violent skirmishes. (Elijah Nouvelage/Getty Images)
Robert Reich — a Berkeley professor and dyed-in-the-wool liberal — had sharp words on Facebook about the school's decision to cancel her speech:
This is a grave mistake. Coulter should be allowed to speak. How can students understand the vapidity of Coulter's arguments without being allowed to hear her make them, and question her about them?

It's one thing to cancel an address at the last moment because university and local police are not prepared to contain violence — as occurred, sadly, with [Milo] Yiannopoulos. It's another thing entirely to cancel an address before it is given, when police have adequate time to prepare for such eventualities.

Free speech is what universities are all about. If universities don't do everything possible to foster and protect it, they aren't universities. They're playpens.
Piers Morgan admitted in a Thursday column for the Daily Mail that Coulter is "a woman whose opinions I love to hate" but agreed that Berkeley is way off base by cancelling her speech.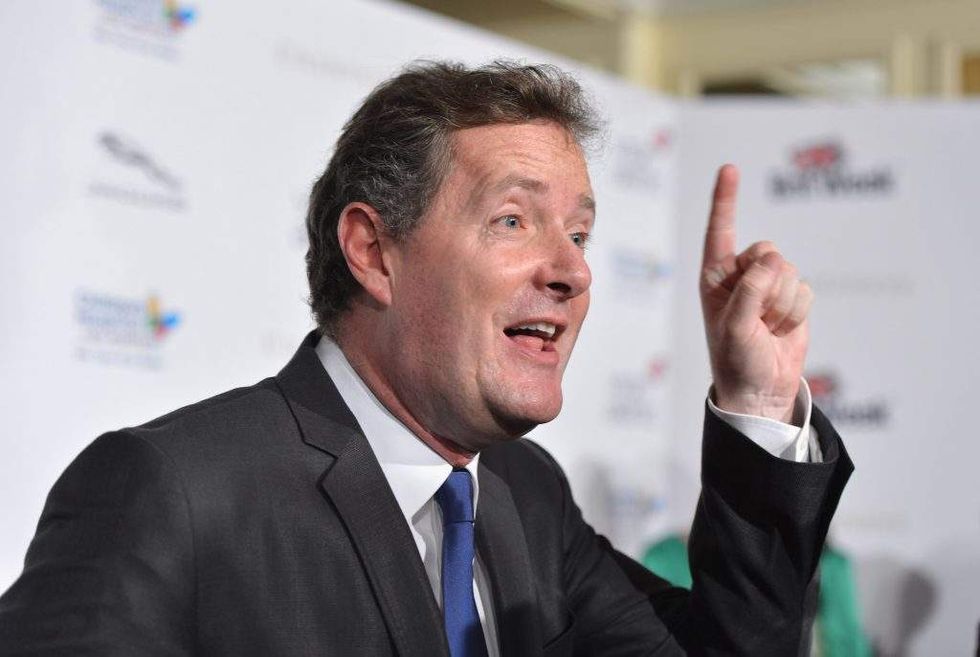 Piers Morgan said UC-Berkeley is way off base for canceling Coulter's speaking engagement. (Alberto E. Rodriguez/Getty Images)
Morgan said the "truth about many modern liberals is that they don't believe in free speech at all" except "if people agree with them." He wrote that if liberals "don't like what they're hearing, they scream and shout, punch and kick, petrol bomb and stab, and furiously demand the offender be silenced and banned."
"This dramatic shift in liberal behavior from peaceful protest to violent hateful censorship is a vile, virulent virus that first infected vast swathes of America intelligentsia and has now spread across to my own country, Britain," Morgan wrote.
Indeed, students at UC-Berkeley — despite the school being the birthplace of the Free Speech Movement of the 1960s — have had a rough time of late living up to their ideals.
HBO's "Real Time" host Bill Maher hit back against Berkeley students who protested his invitation to give the December 2014 graduation address over his hard stance against Islam. Maher ended up giving the speech despite protesters who showed up and raised signs against him.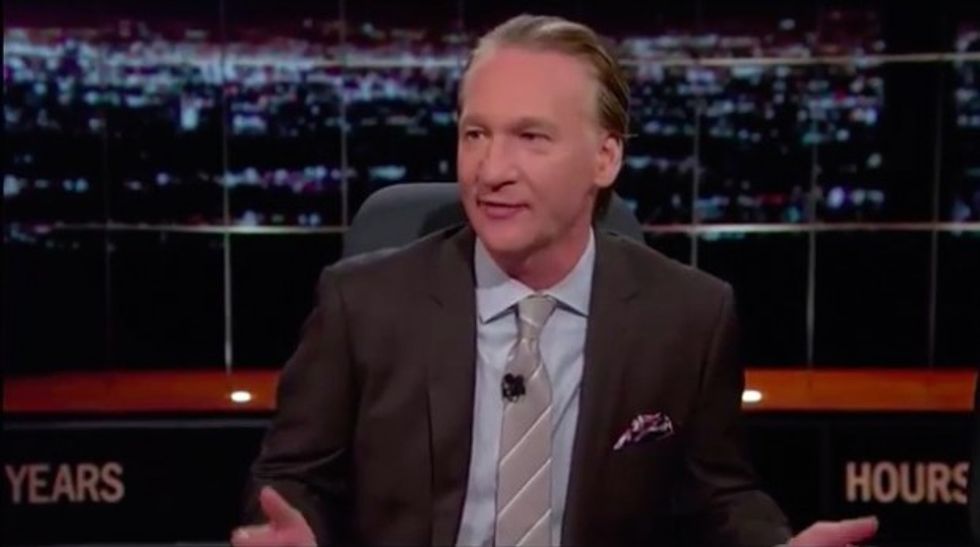 Bill Maher on the "Real Time" set. (Image source: YouTube screen cap)
Maher returned fire while behind the mic: "Liberals should own the First Amendment the way conservatives own the Second Amendment. If you call yourself a liberal, you have to fight oppression from wherever it comes … that's what makes you a liberal."
Riots took place at Berkeley in February over a planned speech by Yiannopoulos, which led the school to cancel the event.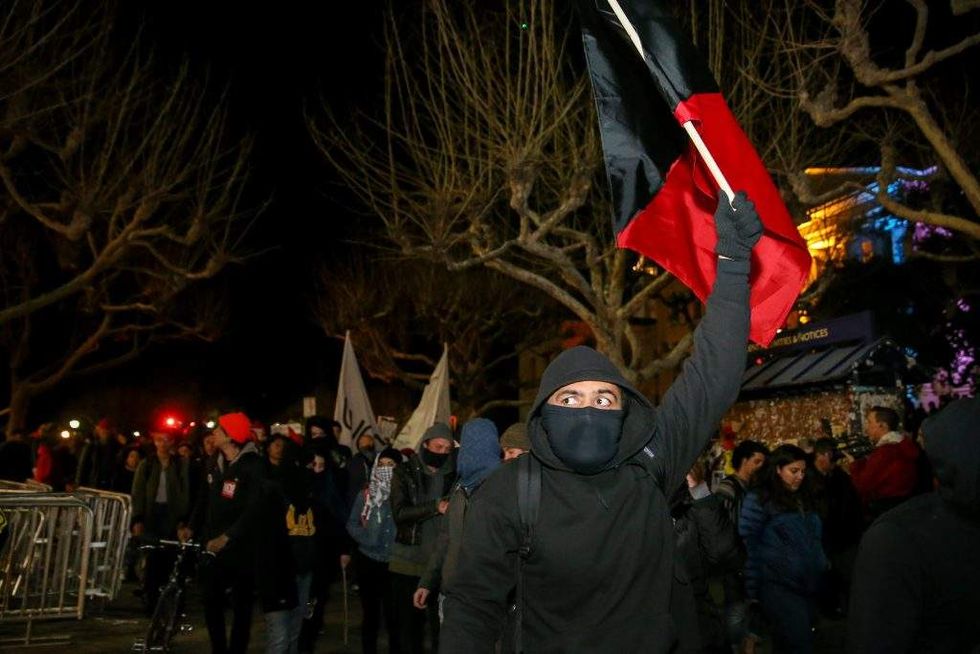 Protesters march off the UC Berkeley campus on Feb. 1 in Berkeley, California. A scheduled speech by controversial Breitbart writer Milo Yiannopoulos was cancelled after protesters and police engaged in violent skirmishes. (Photo by Elijah Nouvelage/Getty Images)
Republican President Donald Trump then threatened to defund the college.
"If U.C. Berkeley does not allow free speech and practices violence on innocent people with a different point of view – NO FEDERAL FUNDS?" he tweeted.
Other flare ups against free speech at Berkeley have ensued since, including left-wing vandals targeting Berkeley College Republicans, rioting in town in March that saw protesters beating up pro-Trump demonstrators and ripping up free-speech signs and more riots last weekend.
Want to leave a tip?
We answer to you. Help keep our content free of advertisers and big tech censorship by leaving a tip today.
Sr. Editor, News
Dave Urbanski is a senior editor for Blaze News.
DaveVUrbanski
more stories
Sign up for the Blaze newsletter
By signing up, you agree to our
Privacy Policy
and
Terms of Use
, and agree to receive content that may sometimes include advertisements. You may opt out at any time.