Anthony Daniels was supposed to be an athlete. And then a physical therapist. And then a teacher. But instead, he's making Alabama history as the state's first African American House minority leader — and also as the youngest House minority leader in Alabama history.
Daniels, a Democrat, credits "perfect timing" in part to his elevation in the state house, but the 34-year-old has a rich history of turning trials in his life to accomplishments.
At 6-foot-3 in the seventh grade, Daniels naturally became a high school basketball star, playing alongside a young Amar'e Stoudemire, who went on to play in the NBA. And when an ACL injury sent him to a physical therapist, Daniels decided after just one day that he could come up with a better regime to get him back on his feet — literally. Thus began his dream of becoming of a physical therapist.
But then, Daniels told TheBlaze, a relative sparked his interest in education. Attending Alabama A&M University, Daniels majored in elementary education and became involved with the Alabama Education Association and National Education Association where he would eventually chair its student program and oversee 1,100 colleges and 62,000 students nationwide during a stint in Washington, D.C.
"At that particular time, I decided that since I had student loan debt and there was some conversation around student loans, I would take on putting all of my resources into the college affordability campaign," Daniels said during a phone interview. "I had more than $58,000 in student loan debt so I was the perfect person to carry that issue."
Working with then-Sen. Ted Kennedy (D-Mass.) and other student coalition groups, Daniels worked toward the eventual passage of the College Cost Reduction and Access Act in 2007 that, among other things, increased Pell Grants and allowed for loan forgiveness for those working in public service for at least 10 years.
"That's what sparked my interest into politics," Daniels said.
But following the law's passage, Daniels went on to teach third grade at a public magnet school in Huntsville, Alabama, fourth grade at a Title 1 school in Huntsville and a fourth- and fifth-grade class on an Indian reservation nestled between Albuquerque and Santa Fe, New Mexico.
After that, Daniels returned to Alabama A&M to become the public university's corporate and foundation relations officer in charge of fundraising.
Not elected to the state legislature until 2014 — the same year he married his wife — Daniels said he already has a reputation among his colleagues as not being a particularly partisan person.
Instead, Daniels said, "People view me as bringing people together, and that's the perspective that both Democrats and Republicans have on me."
His mission in the state House — and as its minority leader — is certainly indicative that reputation would be accurate. Instead of championing legislation on particularly divisive issues, Daniels said his goal is to better people and his state with what he calls his "common sense politics."
"What I do in the legislature, I touch and talk to every member that is present every week, check on members of their families," Daniels said. "I'm honest with them."
Daniels, named the 2015 "Legislator of the Year,"  continued:
And my motto has always been identifying areas of common ground, that people help themselves and promote the betterment of all human beings, rich or poor, but most importantly what helps Alabama and moves Alabama forward. That's what I've always been about. I don't waste my time on silly pieces of legislation that does not create any jobs but is divisive; I don't waste my time on those pieces of legislation. Issues like marriage equality and other issues have already been settled at the federal level so the only way that those issues will be brought up is if somebody is trying to play politics, and I call them out if they do.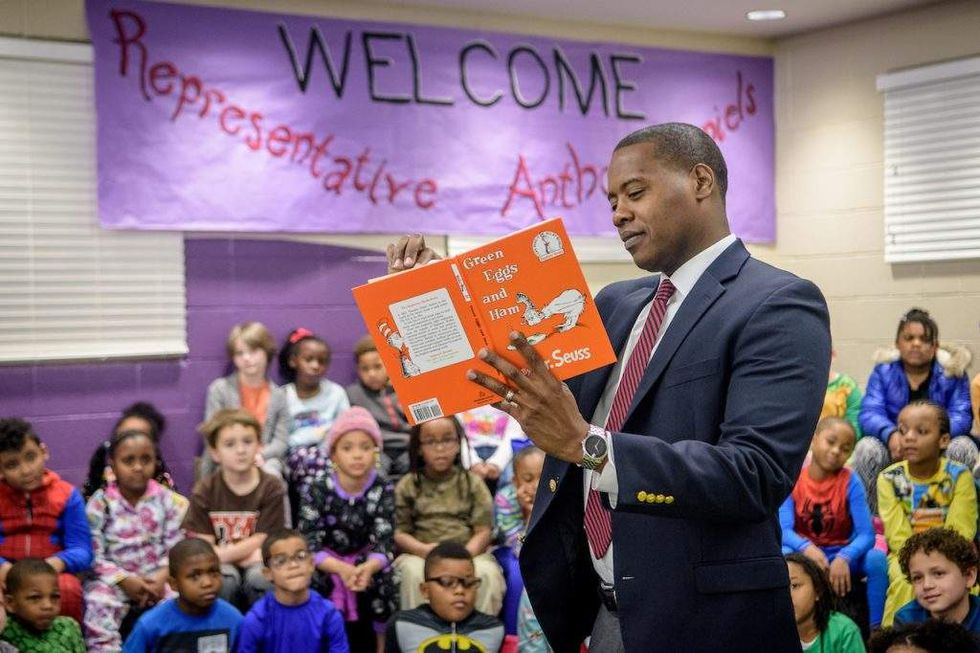 Before becoming a state representative, Anthony Daniels taught at various elementary schools in Alabama. (Image provided to TheBlaze)
For Daniels, issues such as job creation, promotion of small businesses, access to health care and education — unsurprisingly given his background — are the biggest issues in the Yellowhammer state.
"Let's focus on some things that will make the people of Alabama proud," he said.
And WHNT-TV reported earlier this year that Daniels was even open to working with Republican President Donald Trump on creating more jobs.
"If they're serious, as they said on the campaign trail, about job growth, I'm serious about job growth. And so that's something where I can see some common ground," he said. "But just to talk about it and not take the aggressive steps to make it happen, that's where we're far apart. I'm about results."
Daniels has worked to create an online legislative agenda, something the party did not have before, to better keep constituents informed. And he's working to better mobilize and utilize the members of his party.
"My staff and I started identifying best practices in other states [when it comes to particular issues] and different members [in the Democratic Party] that have expertise in those backgrounds, and we're pushing them to introduce legislation in those areas," Daniels said. "I've got members doing unified town hall meetings across the state, each delegation working together and doing town hall meetings so they're in tune more with their district and pushing and promoting our agenda."
"We're working to unite the party," he added.
Becoming Alabama's youngest and first black House minority leader was not at the forefront of his mind, Daniels said.
"I was in the right place at the right time," Daniels said, adding that he did have to win an election in the house before becoming minority leader. "I've been an educator so there's a lot of passion and interest, of course, in helping people. But being a businessman and a fundraiser are all of the ingredients that a leader needs to have if you're going to lead a major party."
And the Alabama Democratic Party is certainly behind him.
"[The party] is very proud of the accomplishments of Rep. Anthony Daniels. As a young man, he has certainly made history in a number of ways," Alabama Democratic Party chairwoman Nancy Worley told TheBlaze. "It's a tribute to his skills, intelligence and ability and willingness to work with a variety of individuals to accomplish our goals."
The father of an 11-month-old daughter — "Miss Abigail," Daniels calls her — the state lawmaker said he's not sure what's next in his career, but he's enjoying the work he's doing now.
"Every position I've ever held in life has always been building something from the ground up, so this is no different," Daniels said.