He's been a conservative trailblazer for years, but to Dr. James Dobson, it's just about standing up for what's right.
This year marks the 40th anniversary of Dobson's broadcast career — an endeavor the famed psychologist and Christian leader told TheBlaze was "one of the scariest things I've ever done."
In 1977, Dobson opened a small, two-door office in Arcadia, California, walking away from a successful career in academia as a professor of pediatrics at the University of Southern California. It was a job he held for 14 years and one he said he enjoyed thoroughly. Nevertheless, he felt God calling him to start a ministry "dedicated to the preservation of the family."
At the genesis of his journey in media, Dobson, who had already published several best-selling books, began broadcasting on 34 radio stations and just a few years later, his ministry was exploding.
"I had no way of anticipating where this was going," he said. "Eventually, I was heard on 7,000 stations in 150 different countries and was heard by 220 million people a day. So I could not have anticipated that."
Shortly after his radio career began, Dobson, 81, expanded his ministry with the start of Focus on the Family, a nonprofit organization centered on promoting traditional family values through various media platforms.
In 2003, Dobson stepped away from his role as president and CEO of Focus on the Family but remained on the ministry's board until 2009, when he resigned, citing "significant philosophical differences" with the nonprofit's president, Jim Daly, who still helms the outfit.
While Daly wanted to spend less time focusing on hot-button issues he perceived to be exceedingly political, Dobson insisted on the importance of addressing topics like abortion and same-sex marriage.
The day after his resignation, Dobson founded Family Talk, a similar brand that features a flagship radio broadcast by the same name, hosted by the doctor Monday through Friday of each week. The program is carried by 1,300 outlets and is based in Colorado Springs, Colorado.
Regardless of where his microphone sits, though, Dobson has stood firm for more than 40 years, espousing the same values he championed the first time his broadcast aired. And now everything Dobson has ever written or recorded is compiled in the Dobson Digital Library, an online database established to commemorate his 40 years in broadcasting.
While his positions have often been controversial, to him, it's never been political — it's moral.
"People accuse me of being political," Dobson said. "It's really a bum rap because to be political is to be very involved in political parties and candidates and trying to gain power through the political process.
"That has really never been my goal," he continued. "I have been very, very involved in trying to influence governmental policies that have an impact on the family, including [abortion and gay marriage]."
Dobson has had the opportunity to collaborate with former Presidents Ronald Reagan, George H.W. Bush, George W. Bush, and he received a commendation from former President Jimmy Carter. He's meeting with President Donald Trump this week to celebrate the National Day of Prayer.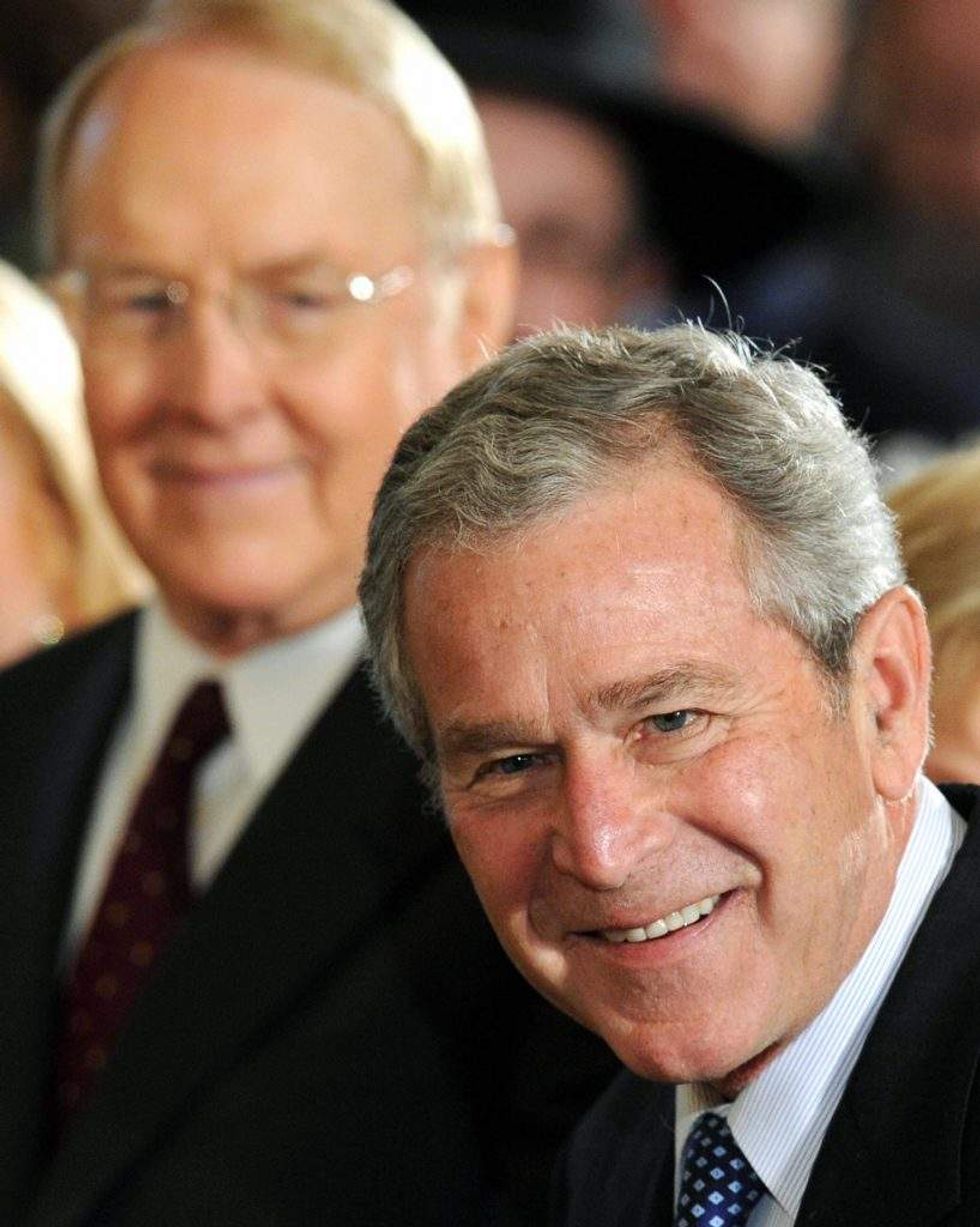 Then-President George W. Bush sits alongside Dr. James Dobson during an event commemorating the National Day of Prayer in the East Room of the White House on May 1, 2008. (Saul Loeb/AFP/Getty Images)
He said he's had experiences he "would not have expected" when he began his career several decades ago.
Dobson noted it is important to differentiate between being "political" and being interested in shaping public policies that have moral ramifications. And despite the backlash he's faced over the years for his unwavering convictions, Dobson said he wouldn't do it any differently today.
"It would be very selfish of me to be making decisions related to the great moral issues of our time just to advance my audience," he told TheBlaze. "Ultimately, I'm responsible to God. And who cares what happens to James Dobson and his attempts to communicate across the nation?"
He went on to say he wants to "do what's right" by defending "morality and decency."
"There's nothing more important to the moral values and tenor of our nation than promoting and caring for and defending the family and also with it the entire next generation of children," Dobson said. "How really self-serving it would be to put myself ahead of that?"
When it comes to abortion in particular, Dobson arrived at his pro-life perspective by way of a very personal experience: His and his wife Shirley's decision to adopt a child. The Dobsons have two children, Danae and Ryan.
"I got a good, hard look at what it means to be a father and so my views began to swing strongly," he said. "And I have been deeply committed to the unborn child ever since — we're talking babies here, we're talking nearly 60 million of them who have been sacrificed.
"You can pass all that off as a woman's right to choose," he continued, "but that's not the issue. The issue is the sanctity of human life."
And looking back on the 2016 presidential election, Dobson, like many conservative Christians, had one issue in mind — the Supreme Court. He said if Trump had not won, the high court "would have changed radically and the nation would ... have never recovered."
Dobson praised Supreme Court Justice Neil Gorsuch's appointment and confirmation to fill the seat of the late Justice Antonin Scalia, who died suddenly as the nation was in the throes of a heated presidential campaign.
"Because of that, the court is ultimately going to have a very positive effect on the stability of the family and many other factors that are taking place," he said, adding that Gorsuch's confirmation "is causing us to feel like maybe there's hope for the future."
And for those who are starting out where he did some 40 years ago, in a climate that is increasingly hostile toward Christian values, Dobson shared a lesson his father taught him when he finished graduate school.
Dobson said that years ago, his dad, who was on a four-hour flight at the time, wrote him a lengthy letter.
"He wrote to me about moral values, he wrote to me about right and wrong, he wrote to me about doing — above all else — what God would have me do," Dobson recalled. "[H]e said the world has gone much farther into moral decline than the world into which you were born."
Dobson's father, who was a minister, encouraged his son to live out his faith in front of his children and pray for them daily.
"He ended [the letter] by saying, 'When you sit where I am today, you will know that everything you're trying to accomplish now — the racing and running and chasing after book sales and all this kind of stuff — is not gonna matter much,'" the broadcaster recounted. "'It's all gonna be pale and washed out. And you have to live like you will want to have lived when you are at the latter end of your life.'"
Dobson said he's "now where my dad was then, and I'm saying, 'Thank you, Lord, that I have tried to do what's right.' "