Barbara Liess — principal of Kensington Parkwood Elementary School in Montgomery County, Maryland — said she got the idea "after reading some business articles" about companies creating them for stressed-out employees, WTOP-TV reported.
Typically called an "anger room" or "rage room," the spot that Liess created on the school's loading dock was dubbed a "smash space," the station said. There, teachers could use baseball bats to pound away at their daily frustrations. The smashee? A rocking chair set for the scrap heap, Bethesda Magazine reported.
Well, Liess — who's logged 10 years at her post — fell under criticism for her "smash space" and issued an apology about a week ago, WTOP said, adding that Liess called the idea "a lapse in judgment."
But on Tuesday, she took things a step further, telling parents in a letter that she's stepping down effective June 30, the magazine reported. She  noted that "recent events have been a distraction from the positive things we have been able to achieve."
Liess started the "smash space" in March, Bethesda Magazine reported in an earlier article, where a sign warned partakers to wear goggles and closed-toed shoes before exacting punishment on the rocking chair. The school district indicated in late April that the "smash space" — which Liess said students couldn't see or hear — no longer exists, the magazine reported.
It appears the "anger room" phenomenon has been growing in popularity, as some businesses have set them up for employees to destroy objects to their hearts' content for stress relief. It's also been reported that smash spots have popped up as businesses, and folks can pay for a few minutes of demolition.
While some say the rage venting is beneficial, others argue it's not psychologically helpful.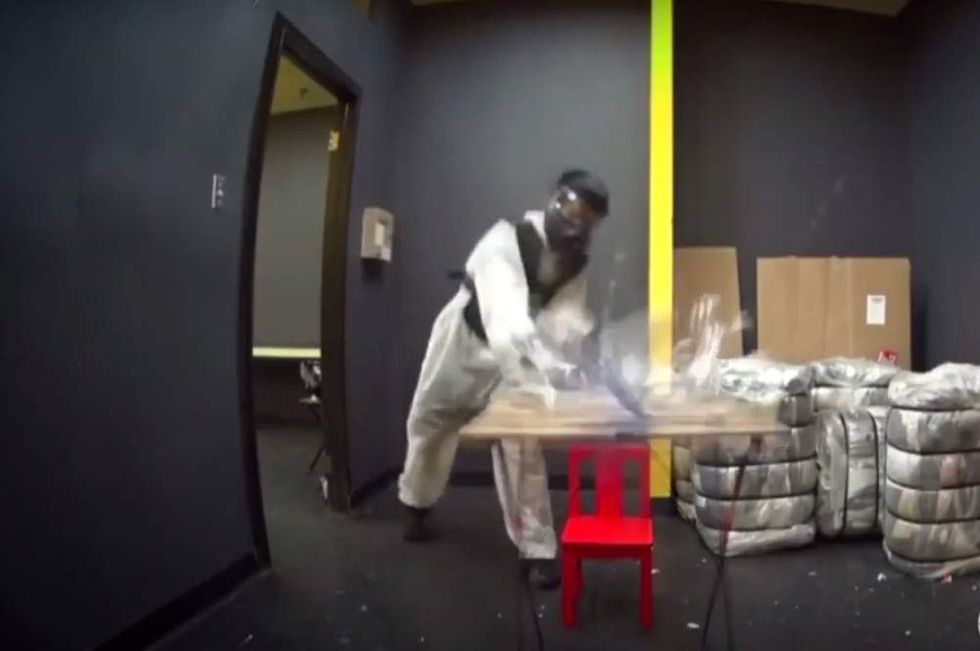 Image source: YouTube screenshot
"I absolutely regret my decision to provide staff with an opportunity to 'smash' the rocking chair. This decision was not in response to any teacher comment or behavior, rather a misguided attempt by me to provide staff with an outlet," Liess wrote in her apology letter, the magazine said. "Our staff is committed to modeling for students and one another productive and appropriate ways for handling stress. I recognize that while well-intended, this scenario is counter to what we teach students and has no place in a school."
PTA President Jessica Chertow noted that a rocking chair smashing took place during a staff meeting, the magazine added, but she wasn't sure how many teachers participated.
At least one parent had no issue with Liess' "smash space."
"It's a better thing to do than to take frustrations out on my kid," Damjan Jevtic told the magazine, noting how difficult teachers' jobs are.
Here's a report on the "anger room" trend:
(H/T: EAGNews)