Arlington High School seniors donned their caps and gowns and made their way into the sanctuary of Bellevue Baptist Church in Memphis, Tennessee, Tuesday night for their long-awaited graduation ceremony.
As you might expect, an audience member began taking video of the momentous occasion.
But as the strains of "Pomp and Circumstance" are heard in background and soon-to-be grads file down the aisle, the camera soon turns to a handful of adults in another row.
They were arguing, then shoving, then pulling hair, then punching and laying each other out — with a number of f-bombs accenting things — in front of stunned fellow attendees.
And it was all apparently over a saved seat, WMC-TV reported.
In one video, a white-haired man is holding a camera aloft and shoves a woman who appears to try to get past him. She shoves him back and seems to add a right cross. Water from a plastic bottle is sprayed. Then two other women get violent before yet another man with long black curly hair steps in, says "back the f*** up," and shoves a woman.
That apparently doesn't sit too well with somebody whose hand is seen reaching in and pulling the guy's hair before a woman lands a few fists upon him.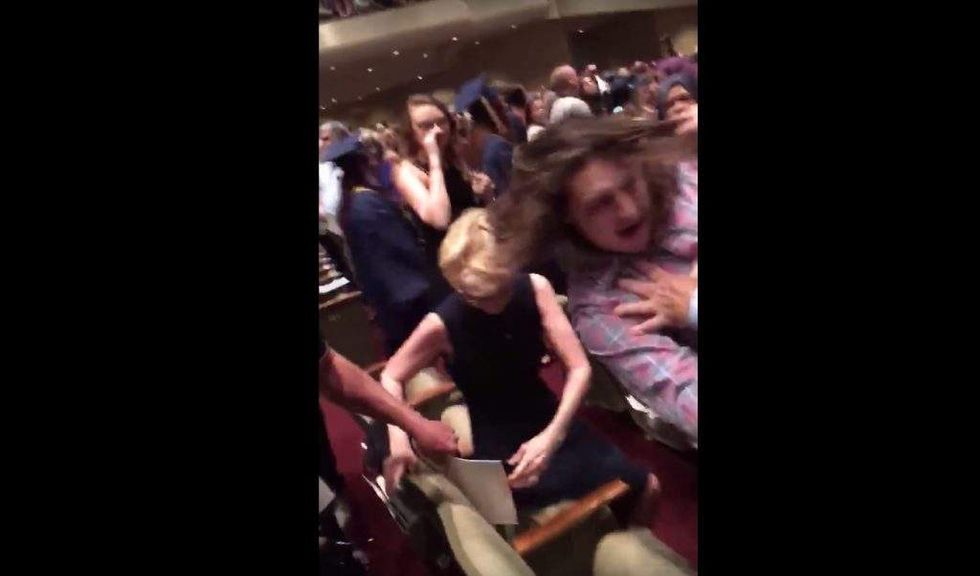 Image source: YouTube screenshot
Then a completely different woman steps in from behind and warns "don't touch my f***ing boyfriend" — but she's soon deposited to the carpet, gets her hair pulled, and weathers punches to the head.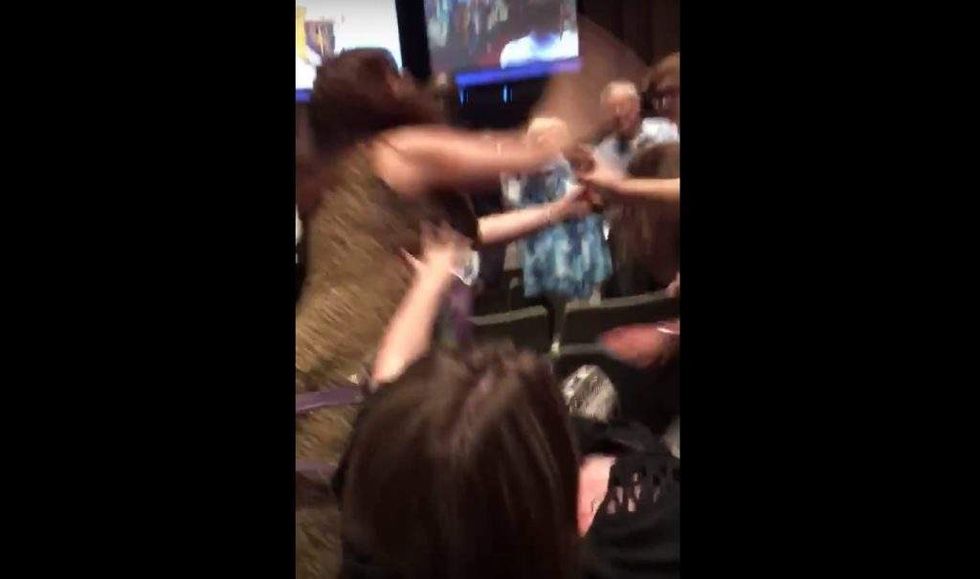 Image source: YouTube screenshot
Yet another man soon enters the fray and forces one of the battling women flat on a seat.
Here's the clip. (Content warning: Rough language):
"It's graduation!" one onlooker is heard saying on the clip. "Lord, forgive me. Lord, forgive me."
When all was said and done, it appears at least seven adults got involved physically during the altercation.
A later video shows one of the brawling women in handcuffs and laying on a floor of what presumably is the church lobby as another woman who got violent earlier yells and has to be restrained. WMC said church security were dealing with the altercation and that police apparently were never called.
"A different part of town, if this was anywhere else, the police would've been there and there would've been a bit more force," fight witness Octavius Adams told the station, adding that he was there to see his cousin graduate.
Arlington school officials told WMC they contracted security through Bellevue Baptist and added that six sheriff's deputies were on hand as a precaution.
(H/T: EAGNews)