In yet another report based on anonymous sources, the Washington Post reported Friday that Jared Kushner, President Trump's top aide and son-in-law, was attempting to secure a secret channel of communication between the Russian government and the Trump transition team.
Exclusive: Russian ambassador told Moscow that Jared Kushner wanted secret communications channel with the Kremlin https://t.co/kp7Z9eZwux

— Washington Post (@washingtonpost) May 26, 2017
Trump and his supporters have long criticized reports based on anonymous sources as either completely made up by reporters, or illegal leaks from the "deep state" of government employees actively working against the president and his agenda.
According to the report, U.S. officials intercepted communications of Russian operatives discussing Russian ambassador to the U.S. Sergei Kislyak telling superiors that Kushner asked him about the possibility of such a secret communications channel during a meeting in December at Trump Tower.
Michael Flynn was also in attendance at the meeting, according to WaPo. Officials made it clear that it was communications of the Russians that were being monitored and not that of Jared Kushner or other Trump associates directly at Trump Tower. That would have confirmed the accusation from Trump that Trump Towers was surveilled by former President Obama.
The report says Kushner wanted the back channel to avoid monitoring of their communications, and that Kislyak was "taken back" by the suggestion that included the possibility of arranging a meeting in a third country.
The Washington Posts' Adam Entous acknowledged the possibility that Kislyak was inserting false information, or exaggerating, in order to manipulate and complicate reporting in the West.
Per @washingtonpost, @jaredkushner proposed a secret channel for comms. w Russia. @adamentous, on his reporting https://t.co/ZrgE0idihS

— OutFrontCNN (@OutFrontCNN) May 27, 2017
He related that the Washington Post had received a letter detailing the meeting on December 12th, but didn't publish it because they were uneasy about the source. He tells CNN that they ran with the story after hearing the same details from U.S. officials.
Kushner is currently under investigation by the FBI for his role in alleged collusion between the Trump campaign and the Russian government before the election.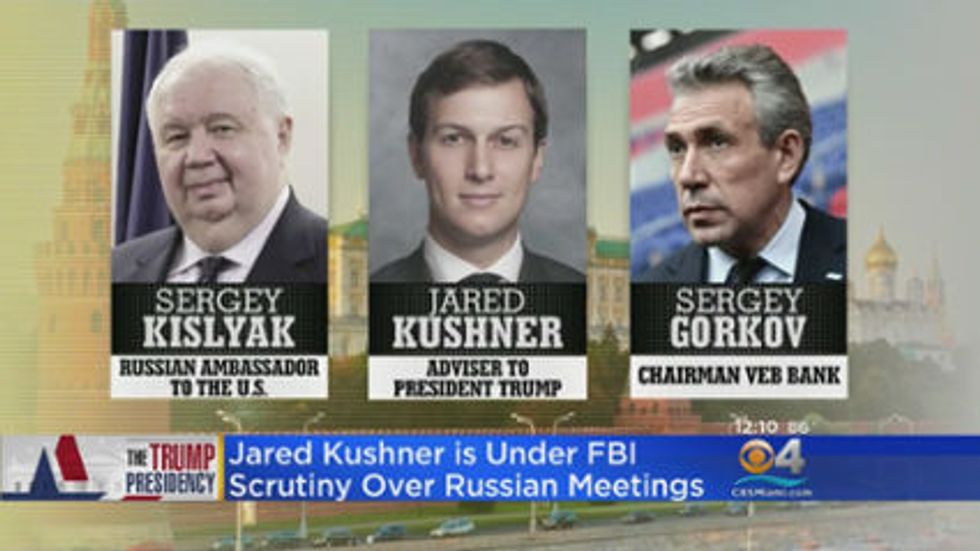 [Ed. Note: This post has been edited to clarify that the WaPo report is about a meeting before the inauguration, not the election.]