Islamic terrorism has once again stuck the United Kingdom.
Less than two weeks after a suicide bomber attacked a crowded Ariana Grande concert in Manchester killing 22, Islamic terrorists harbored in the United Kingdom have killed another seven and injured another 48 people, according to CNN.
Three masked men began the attack when they drove a van into pedestrians on the London Bridge. According to witnesses, the van was traveling at approximately 50 miles per hour when it began to strike pedestrians. After plowing through crowds of people, the attackers exited the vehicle and began stabbing attacks at nearby restaurants and bars.
The terrorists targeted people in the Borough Market area, a popular London location with many restaurants and bars. Witnesses say the attackers had "foot-long" knives. Because England doesn't allow its citizens to carry guns for protection, Londoners were forced to fight back against the attackers with nothing but restaurant chairs and pint glasses.
As the attackers swung their knives indiscriminately, eye witnesses say the terrorists shouted "This is for Allah" — a reference to the Islamic god.
The attack began at approximately 10:08 p.m. London time or about 5:08 p.m. EST.
Police say the three attackers were shot dead within eight minutes of their initial attack. At least one of the attackers was covered in what appeared to be a suicide bomb vest, but police say the vest was fake and was only meant to sow further panic in police and citizens.
In response to the attack, British Prime Minister Theresa May said that British culture, which accepts the "hate" preachers that spread the ideology of radical Islam, needs to change.
"Our country has made significant progress in disrupting plots and protecting the public," she said, according to the Telegraph UK. "Our society should continue to function in accordance with our values, but when it comes to taking on extremism and terrorism things need to change."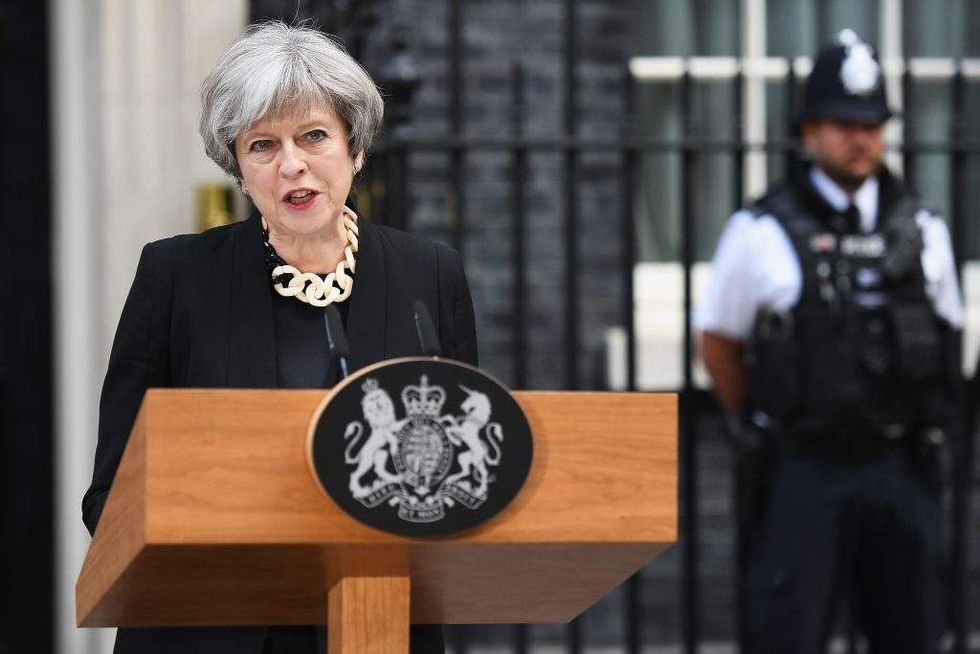 Britain's Prime Minister Theresa May addresses the media as she makes a statement, following a COBRA meeting in response to last night's London terror attack. (Leon Neal/Getty Images)
Explaining that there is "far too much tolerance of extremism in our country," May said that British police will begin cracking down on extremism more than ever before.
May explained that Saturday's attack was only connected to Manchester in one important way:
They are bound together by the single evil ideology of Islamist extremism that preaches hatred, sows division and promotes sectarianism.It is an ideology that claims our Western values of freedom, democracy and human rights are incompatible with the religion of Islam.

It is an ideology that is a perversion of Islam and a perversion of the truth. Defeating this ideology is one of the great challenges of our time but it cannot be defeated through military intervention alone.
The attack is the third terrorist attack England has seen this year. In March, an Islamic terrorist mowed down pedestrians on the Westminster Bridge, killing four people. And in May, a suicide bomber attacked a crowded concert in Manchester.
In response, English intelligence officers have carried out raids across the country all year. They say that since the Westminster attack in late March, police have foiled five "credible" terrorist plots. Police have already carried out raids early Sunday morning in east London, according to CNN.
According to the Associated Press, police have so far made 12 arrests in connection to the attack.
BREAKING: UK police say they have arrested 12 people in east London over London Bridge attack.

— The Associated Press (@The Associated Press) 1496578301.0
London Mayor Sadiq Khan, London's first Muslim mayor who has been criticized for allegedly being soft on Islamic extremism, condemned the attacks in a statement.
"We are all shocked and angry today, but this is our city," Khan said Sunday, according to NBC News. "We will never let these cowards win, and we will never be cowed by terrorism."
The attacks come four days before England's UK general election where Britons are slated to vote on their parliamentary representatives. British leaders said they would not postpone the election, but candidates would suspend major campaigning for one day.
President Donald Trump in a statement said that he offered his condolences and support to the UK.
Whatever the United States can do to help out in London and the U. K., we will be there - WE ARE WITH YOU. GOD BLESS!

— Donald J. Trump (@Donald J. Trump) 1496532285.0
Trump also used the moment to double down on his effort to institute his "travel ban," which has been so far rejected by federal courts. Trump believes that restricting refugee intake and travelers from Muslim-majority countries will lessen the potential for terrorist attacks in the U.S.