Like every high school senior, Marvin Wright will never forget his graduation day. But in his case, the memories aren't likely to be fond ones.
Wright — senior class president at North Carolina's Southwest Edgecombe High School — worked for more than two weeks on his speech for last Friday's graduation ceremony, the Wilson Times reported.
But on graduation day, school administrators told Wright he'd have to read a speech they prepared for him rather than his own, WRAL-TV reported.
"To be honest, the speech that they wrote wasn't me at all," Wright told the Times. "I feel like they tried to belittle me in a way because I had more to say. I feel like they couldn't describe the ways that I felt and the things that I experienced. There were only four sentences and I was like, 'I really worked hard on this speech and as senior class president, I think I should read my own speech,' and they was like, 'No, this is what you are going to read.'"
But Wright — in what the paper called "an act of defiance encouraged by other students" — decided to give his own speech anyway.
So Wright printed a hard copy of his speech, the Times reported, adding that he said school officials were supposed to place the hard copy in a folder on the podium.
Then came the first bump in the road.
"So it was time for me to speak at graduation and when I reached to get my folder off the podium, my speech wasn't in there. It was the speech that they wrote. So the only copy I had of my speech was on my phone, so I took out my phone and read my speech," Wright told the paper, adding that he was distracted by officials talking behind his back while he read his speech. "... I was trying to listen to what they was trying to say and also reading my speech. It was just hard."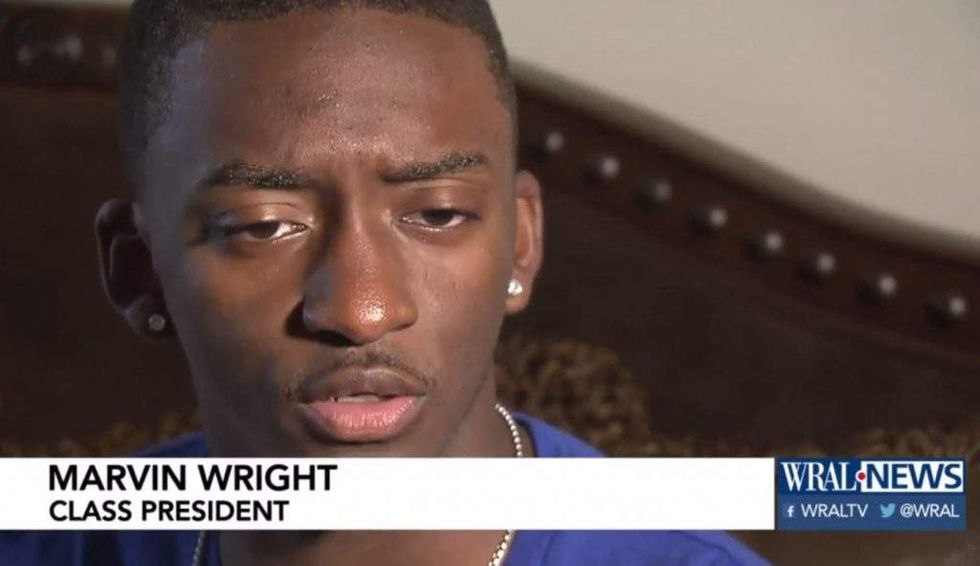 Image source: WRAL-TV video screenshot
Indeed a video shows principal Craig Harris — seated onstage behind the podium— leaning over and talking to other officials as Wright was giving his speech.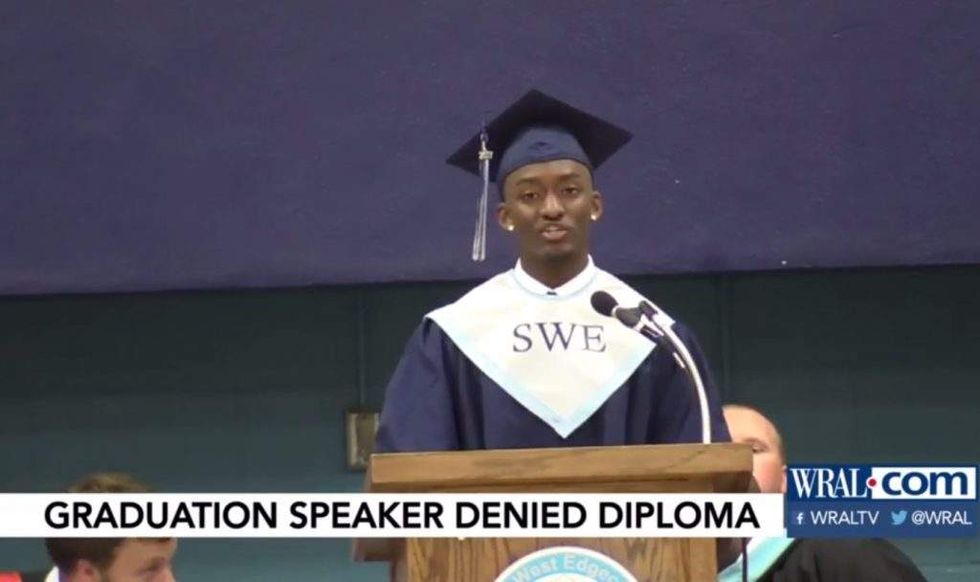 Image source: WRAL-TV video screenshot
"My thing to him was to follow your heart," Wright's mother, Jokita, told WRAL. "He put God first. He spoke about parents, his classmates and spoke about his mom."
After graduation, the Times said students picked up packets containing their diplomas, transcripts and report cards — and that proved to be Wright's second bump in the road.
"My folder wasn't in the stack," he told the Times. He was told Harris had removed it.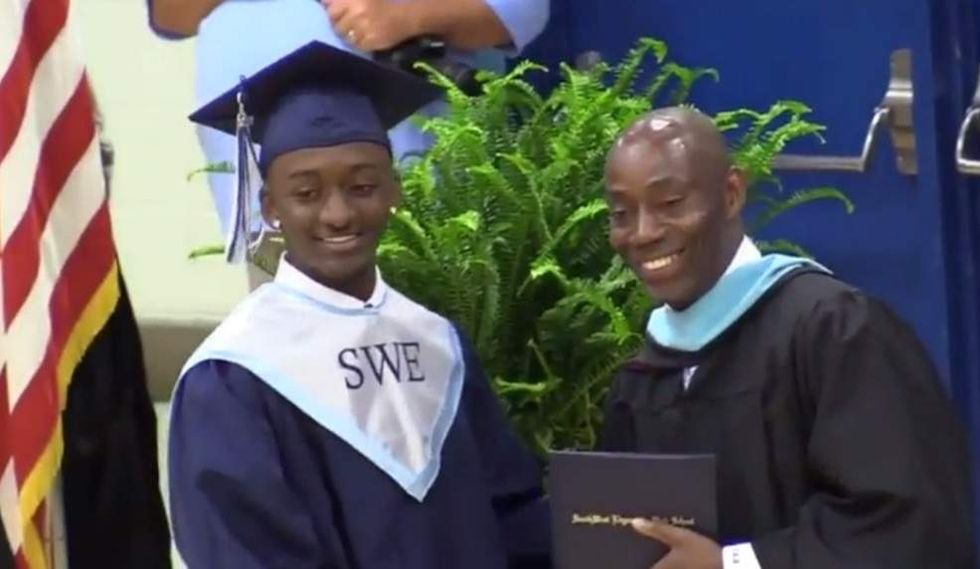 Image source: WRAL-TV video screenshot
"I was upset and embarrassed," Wright told the paper, adding that all the seniors were "walking around with their bright orange folders" — save for him, who was "walking out with nothing in my hand."
"I only have one chance to graduate from high school, and it was really an embarrassing moment," he told WRAL.
It was hard for Wright's mother, too. "(He said,) 'Mom, they took my diploma, they won't give it to me,'" Jokita Wright told the station. "At that moment I was totally upset. I was upset."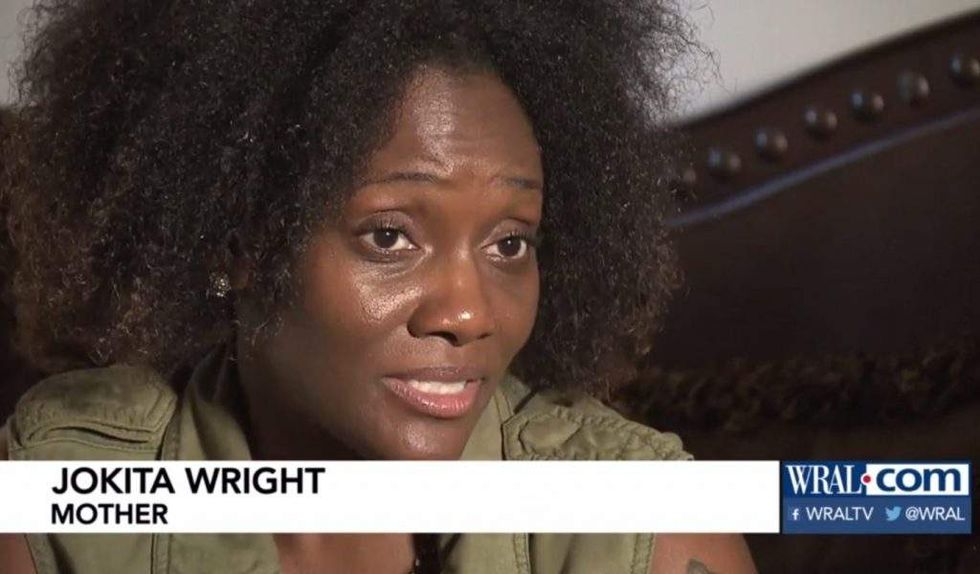 Image source: WRAL-TV video screenshot
Wright told the Times that he feels his First Amendment rights were violated. "I couldn't say what I wanted to say," he told the paper, "and when I tried to say what I wanted to say, there was consequences."
Superintendent John Farrelly said Wright's speech wasn't itself a problem.
"I heard his speech and did not have any problems with the content," Farrelly told the Times. "The content was not an issue.
"There is an expectation that is communicated to all graduation speakers that the prepared and practiced speech is the speech to be delivered during the ceremony. That was made extremely clear to the speakers. The student did not follow those expectations," Farrell told the paper, noting the Wright using his phone onstage was against the rules, too.
Despite all that, the superintendent admitted to the Times that the "diploma never should have been taken from the student" and that he's "communicated with the family to apologize on behalf of the school."
Wright told the paper he heard as much on a voicemail message from Farrelly on Monday evening — but it wasn't quite enough.
"I appreciate it," he told the Times, "but it would have meant more if the senior adviser and the principal had called me because they were the ones that caused it."
Harris swung by Wright's home Sunday with the piece of paper the graduate was waiting for.
"He handed my diploma and he said, 'If your mom has got any questions, just give me a call,' and just walked off," Wright told the Times. "No apology or anything."
Wright signed commitment papers Monday to enter the U.S. Navy, the paper said, and is scheduled to report for duty Oct. 10. He plans on being a hospital corpsman, the Times said.
This story has been updated.
(H/T: EAGNews)