A pregnant North Carolina woman said she saw a man rifling through her SUV in an Asheville Walmart parking lot Wednesday afternoon — and that he took off running with her purse after she confronted him.
Christine Braswell, 26, said she started chasing him on foot but then had a different idea.
"Me being five months pregnant, I chased a little ways then come back, jumped in the car, threw it in gear and come across the curb and ran him over," she told WLOS-TV. "I was not going to let him get away with it. It's not right, it's not fair."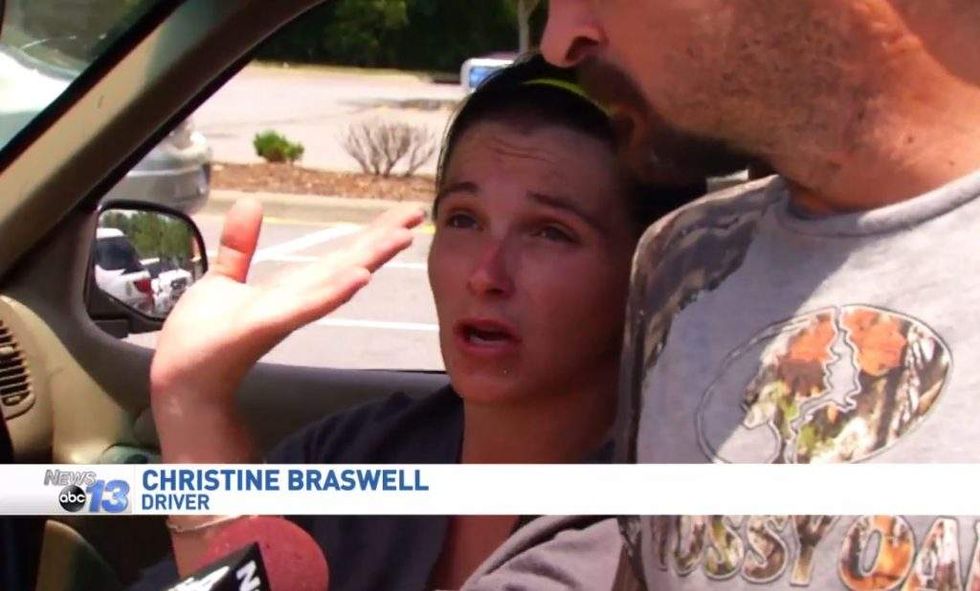 Image source: WLOS-TV video screenshot
Blake Bennett told the station he also confronted the man, later identified as Robert Raines.
"When I walked out of Walmart, he had her purse and was pulling all of her stuff out," Bennett told WLOS. "Then me and my friend told him to put it down and 'What are you doing?'"
Witness Janice Kelley told the station "she slammed on her brakes, crammed it in reverse, and run over the median over there ... and hit him in the back. I mean, he was runnin', and she flat hit him."
Raines was transported to a hospital, the station reported, adding that police said he's expected to be OK and suffered only minor injuries.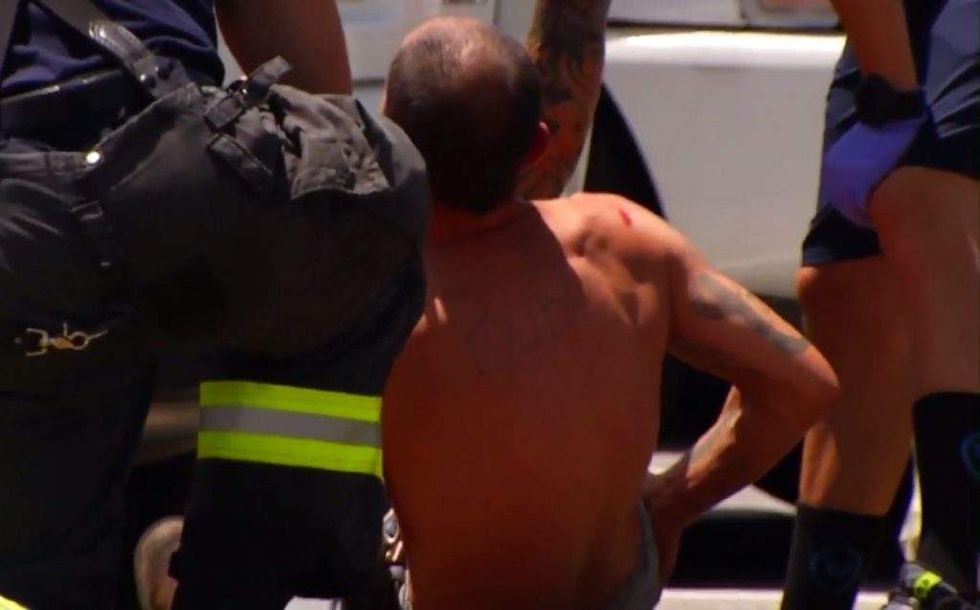 Image source: WLOS-TV video screenshot
Raines is charged with felony breaking and entering, larceny and misdemeanor damage to property, WLOS said, adding that Braswell claimed he broke the screens on her iPad and phone.
Here's video of the incident:
And as for Braswell? The station said she's charged with misdemeanor assault with a deadly weapon.
A defense attorney told WLOS in a follow-up story that Braswell can't claim self-defense because Raines fled — but added that there was no attempted murder charge against Braswell because there likely was no premeditation on her part.
"When something like that happens, rarely is the person who is the victim operating in a cool mind. They are very upset and angry," Steve Lindsay told the station. "Once he gets the pocketbook and moves away, she is no longer in jeopardy."
(H/T: Blue Lives Matter)