Rush Limbaugh, during Thursday's airing of his nationally syndicated radio show, went all in on President Donald Trump's tweets slamming "Morning Joe" co-host Mika Brzezinski's IQ, face, and Joe Scarborough's mental health.
Addressing the history of Trump and his issues with the MSNBC show hosts, Limbaugh said, "Let's look at Trump here and his tweets now on Mika Brzezinski and Joe Scarborough. If you go back to the campaign, Trump has branded people that he considers his opponents. We got Low Energy Jeb. We have Little Marco. We had Lyin' Ted. We had Crooked Hillary. Now we have Low IQ Crazy Mika and Psycho Joe. Trump's tweets today have everybody bewildered. What in the world is he thinking? And it's actually not that. The tweets tell us what he's thinking."
Though Limbaugh doesn't claim to know exactly what's happening with Trump and his opponents, he's willing to venture a guess.
"I do have some insight for you that might — nothing can justify this, but it might make you look at it a little bit differently," he said, rehashing Trump's tweets which read, "I heard poorly rated @Morning_Joe speaks badly of me (don't watch anymore). Then how come low I.Q. Crazy Mika, along with Psycho Joe, came to Mar-a-Lago 3 nights in a row around New Year's Eve, and insisted on joining me. She was bleeding badly from a face-lift. I said no!"
Limbaugh said, "They're having collapse fits at CNN."
"Just a couple of stories here," Limbaugh added. "And folks, I'm just trying to add spice, information to this. I have no idea why Trump decided to do this. No clue whatsoever. I can tell you that the establishment, as you could well understand, is just beside itself at this display of barbaric behavior, this insolence, this crudity, this yuck!"
Limbaugh later launched into a possible explanation of the vitriol.
"So I don't know when this was," he began. "Yes, I do. It was 2012. So five years ago, and I believe it was a Friday afternoon. I'm sitting here minding my own business, and I get a note that Mika Brzezinski and Scarborough are in town. There's something going on in town that they're here, they're here making an appearance. It might have been Horowitz's Restoration Weekend or some such thing as that. I think it was at The Breakers. And they asked to come by."
"I met Scarborough a long, long time ago," he continued. "He was a member of the freshman class in 1994. I had never met Mika Brzezinski."
Limbaugh later explained that in 2017, he was visiting the White House with wife Kathryn. He said, "We got there right at 5 o'clock, right as Trump was meeting with the Tuesday group, a group of Republican House members. There were 17 'no' votes. We watched the whole thing, right off Oval Office. He converted 16 of those votes to 'yes' votes. ... At dinner, I don't know how it came up, he asked me if I knew Scarborough and I said, 'Yeah, I've met him.' He said, 'Those two are weird.' And I just sat there. He said, 'Yeah, New Year's Eve, they call, they begged to come to Mar-a-Lago. They want to be around me. They come to Mar-a-Lago. I said, 'I gotta let 'em in, I'm president-elect, they want to come.' I didn't want them there, but they wanted to come. And they hang out for all three days, and I kind of felt obligated to have 'em.'"
Limbaugh noted that Scarborough and Brzezinski had been "going after" him for years, but he's brushed it off.
Trump, he said, not so much.
"Now, Trump is not that way," Limbaugh said. "Trump obviously cares. And Trump, when you hit Trump he is gonna come back at you times five harder. That's just the way he does it. ... He's not gonna sit back and take it. If you're gonna say despicable things about him — by the way, this is not new. I mean, Trump has been doing this ever since he became a candidate. And this is what it looks like."
Talking about the offense taken by leftists, Limbaugh added, "All you have to do is disagree with a leftist and you automatically become a bully. The people that were bullies when I was growing up were constantly attacking and mocking and making fun of and attempting to take advantage of and usually trying to force an army of people along with them. They would isolate you and they would genuinely try to scare you."
"But that's not what it is anymore," he said. "Today's bully is simply somebody who doesn't back off their position. And so they call Trump a bully. Or they call [Sean] Spicer or whoever a bully. If you don't change, if they attack you because you don't agree with them, and you don't sit there, if you fire back at 'em, you are bullying them. It is another way that they have tried to take control of the language, like changing the definition of marriage to now changing the definition of bullying."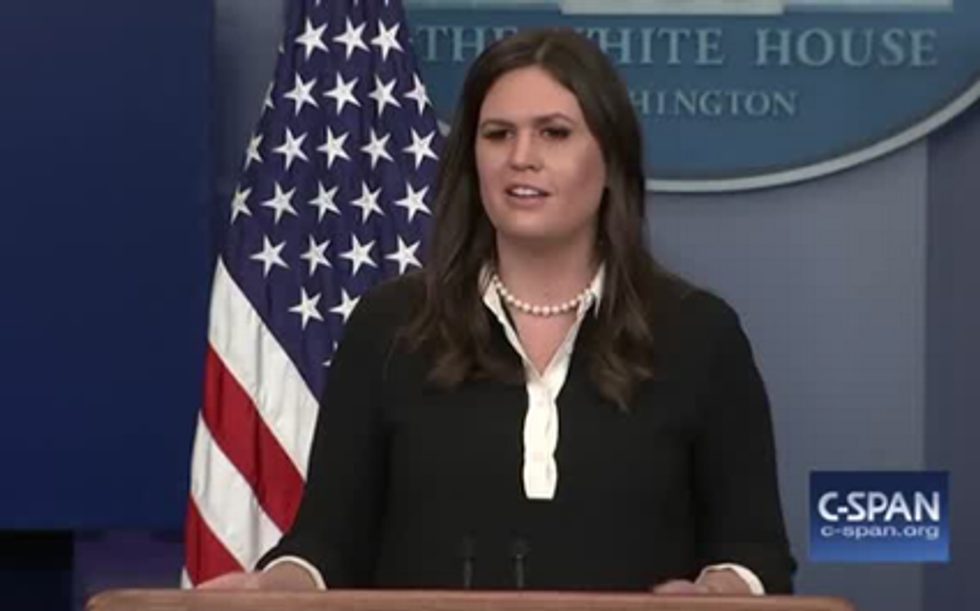 Note: Original article edited for transcription clarity.