Two people were onboard a twin-engine Cessna 310 when it crashed onto the very busy 405 freeway in Southern California Friday. An eyewitness captured the crash in a dramatic video posted on social media.
The video shows the plane wavering before landing in the center of one of the busiest freeways in California. Many other videos from passersby captured the aftermath.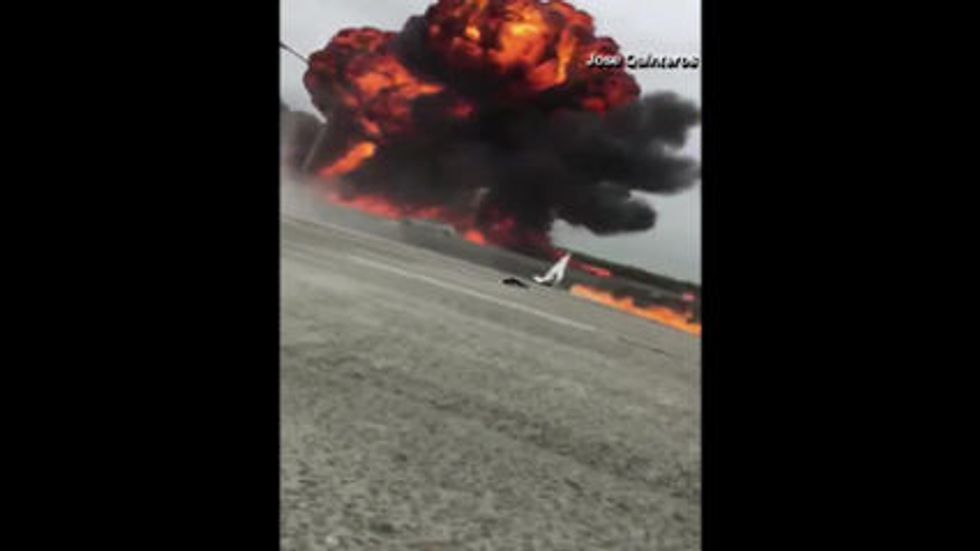 ABC News says the plane had two occupants, a man and a woman, and they suffered traumatic injuries in the crash and the ensuing explosion and fire.
Amazingly, no one on the freeway was injured.
A witness told KABC that they watched as the plane "hit the northbound side and bounced into the southbound side and burst into flames immediately."
She said she saw someone drag a man out of the crashed plane.
"They were laying on the ground, clearly, covered in blood, but they were speaking to us," she said. "We thought that we were going to witness people just burning to death ... it was the most frightening thing I have ever seen."
Other videos and pictures hit social media from the crash:
Small aircraft crashed on 405 at John Wayne #crash #johnwayne #405 https://t.co/aQSOwtuSZi

— Rafi Mamalian (@Rafi Mamalian) 1498840959.0
Plane crash on the 405 and MacArthur. Unreal. I hope everyone is ok. https://t.co/PZXapao6DL

— Drew Hoffman (@Drew Hoffman) 1498842145.0
Just saw a plane just crash land on the 405 freeway right in front of me! Scariest thing I've ever seen! @KTLA https://t.co/8x2OFjgli9

— Christian (@Christian) 1498841385.0
Fox News reported that the plane clipped a car, but the driver was not harmed. The Associated Press reported that the pilot declared a mayday after one engine failed on the plane.