A satanic monument that had been scheduled for installation at a Minnesota park won't be going up after all.
The Satanic Temple's monument — a black cube adorned with pentagrams and an upturned helmet — would have been the first satanic monument installed on public property in U.S. history.
But the Belle Plaine City Council voted Monday night to do away with a free-speech zone in Veterans Memorial Park where a monument with a Christian cross sits — and where the satanic monument would have been installed as well, the Shakopee Valley News reported.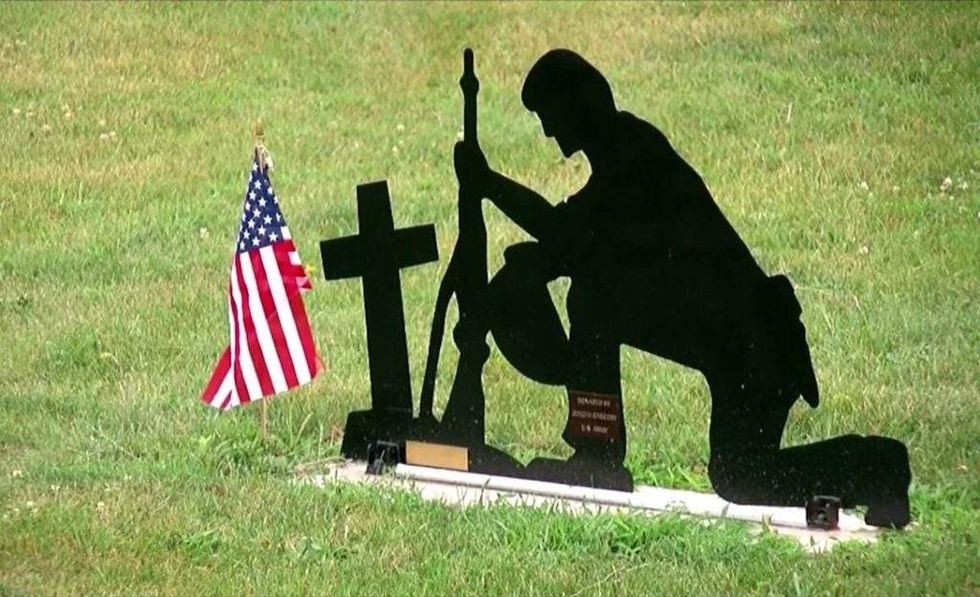 Image source: WCCO-TV video screenshot
In short, no free-speech zone meant no satanic monument — and no cross monument.
"Our intent was good … but it just became too convoluted," council member Theresa McDaniel said, according to the News.
Residents had a tough fight getting the cross monument in the park, as it contains a religious symbol. It was first removed from the park — but after the park's free-speech zone was created, that opened the door for the installation of up to 10 monuments containing any symbolism.
The city green-lighted the satanic monument after a religious freedom group threatened to sue in order to get it installed in the park — a decision that drew national attention to the city.
Over 100 people protested against the satanic monument Saturday, WCCO-TV reported. Several members of Minnesota's Left Hand Path Community, which supports the satanic monument, also showed up at the protest, the News said.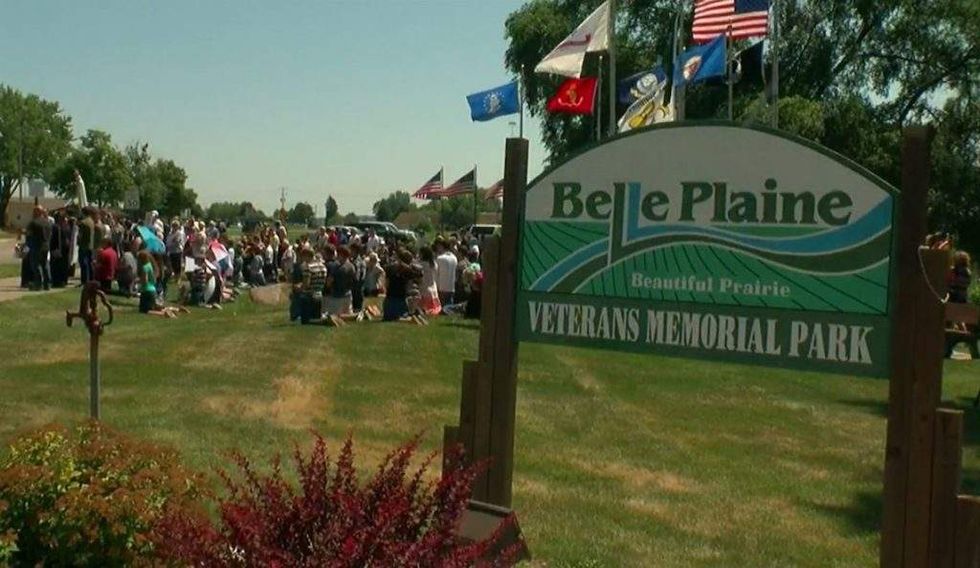 Image source: WCCO-TV video screenshot
"I don't think there's too many Satanists around here, but it's free speech," City Council member Cary Coop told WCCO days before Saturday's protest, adding to the station that he originally voted against having a free-speech zone and anticipated other groups would want spots in it.
Coop also told the News that "I think people are really, really tired of it. It's been non-stop controversy for a year now."
Belle Plaine resident Kyle Tietz told the station he'd prefer the city council stick with the free-speech zone.
"They fought a battle, they made a decision. Stick with it," he told WCCO. "Let everybody put their own things up. Everybody has an opinion. That's what makes this country great … This is the veterans park, isn't it? That's what they fought for."
(H/T: Heat Street)