Grieving mother Karen Klee had the opportunity to read her impact statement in a Michigan courtroom Monday — just feet away from the 17-year-old who pleaded guilty to murdering her son, Ann Arbor high schooler Jordan Klee.
But Klee's mother — openly weeping — had her cousin read her statement instead, MLive reported.
"This year was supposed to be a year of celebration ... instead it was nightmare," Karen Klee's statement read. "On the nights I manage to sleep," her statement said, "I hear my son scream for me."
Yet Danta Wright — handcuffed and looking like he couldn't care less — just smiled, shook his head from side to side and apparently even let loose with some laughter as Klee's impact statement went on.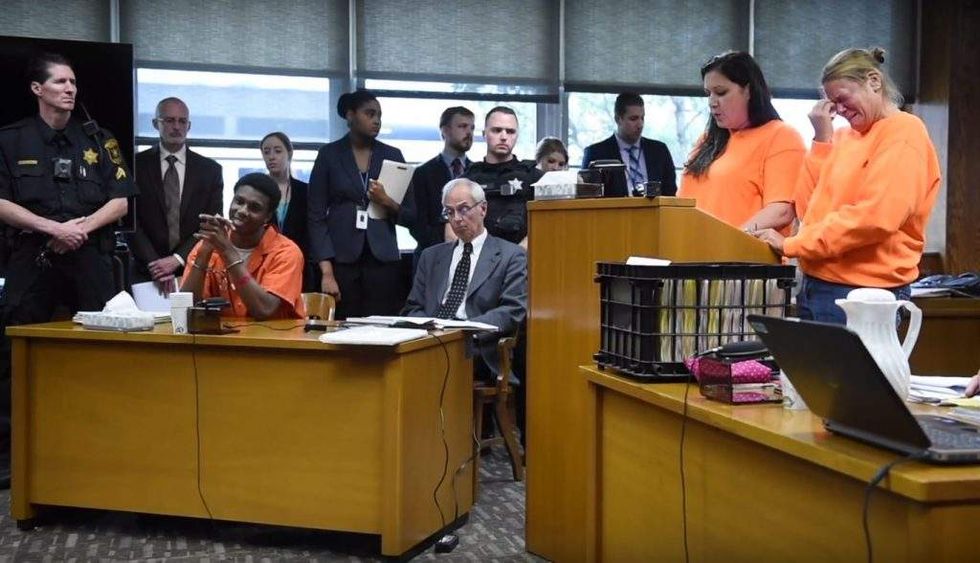 Image source: YouTube screenshot
And after a handful of seemingly nonchalant words from the defendant, Washtenaw County Trial Court Judge David S. Swartz took him to task, MLive said.
"[W]atching you sit there, smile and laugh and shake your head like this was no big deal, I'm very tempted to just say I'm not going to accept this sentence agreement," Swartz told Wright, adding he'd never rejected a plea deal before.
"We'll go to trial, and if you're convicted of felony murder, you'll go to prison for the rest of your life," he continued, the outlet said. "That means you'll die there. That's what I'm tempted to do."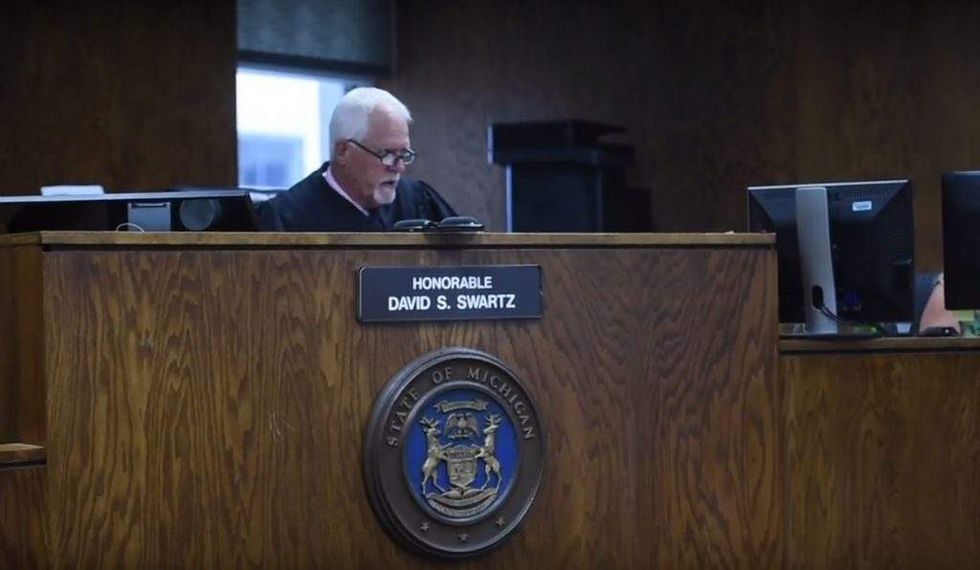 Image source: YouTube screenshot
With that, Swartz gave prosecutors time to reconsider their plea and sentence agreement that would send Wright to prison for 25 to 52 years, MLive said.
And all the smiles then disappeared from Wright's face.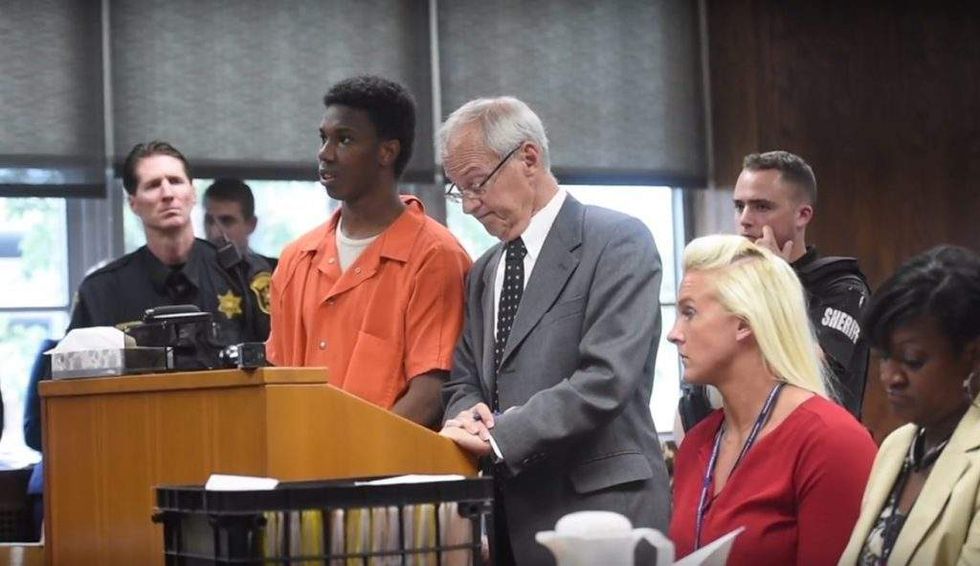 Image source: YouTube screenshot
Then Assistant Washtenaw County Prosecuting Attorney John Vella asked for time to consult the Klee family as to whether they wanted the judge to reject the plea deal and instead go to trial, the outlet reported.
The meeting took an hour.
But when courtroom proceedings resumed, Vella said the family wanted Swartz to keep the plea deal so they could move on and try to forgive Wright, MLive said.
David Goldstein, Wright's attorney, told the judge that his client wanted him to apologize on his behalf and said Wright's smiles were the result of fear, his age and behavioral problems, the outlet reported.
"At his age, in his condition, he might not be able to express it as well as some other defendants," Goldstein said, regarding Wright's fear and remorse, MLive noted.
Repeating his concern with Wright's degree of remorse, Swartz sentenced him to 23 to 50 years in prison for armed robbery, conspiracy to commit armed robbery and second-degree murder, the outlet said.
Wright had previously pleaded guilty to those charges, MLive reported, adding that Wright admitted to shooting 18-year-old Klee while attempting to rob him.
Wright is one of three teens to have entered pleas in the death of Klee, whose body was found Oct. 4, 2016, on a pathway in Ann Arbor, the outlet said, adding that Wright and two others were accused of attempting to steal controlled substances and/or clothes and/or shoes, court records noted.
Later, Wright's mother, 38-year-old Antronette Cartar told MLive she believes her son is innocent and that his mental health issues — which she wouldn't describe, the outlet said — weren't taken into account.
As for son's laughter during his sentencing hearing?
"That's how he handles everything," she told MLive.
Here's video of the judge's reaction to Wright's behavior:
This story has been updated.